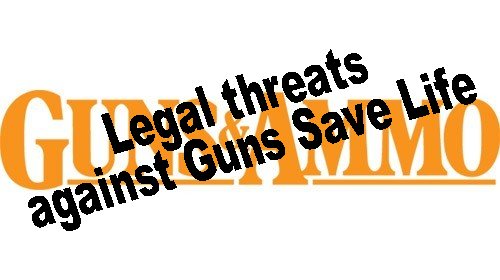 Got a little message this morning from Guns & Ammo's Online Shooting Editor, via Facebook!   Seems they aren't real pleased at us calling them out for their puff-piece on Taurus' new turd of a gun, the "Taurus Curve".
I must say, I've been threatened with legal action plenty of times before (I think this makes number ten), this one is the first threat delivered via Facebook!
To Whom it May Concern,

Regarding your website's illegal use of our photography and slanderous statements about our publication (Guns & Ammo), you have until Nov. 21, 2014 at 8 a.m. CT to remove all content from your website that was stolen and/or improperly quoting our publication.

https://www.gunssavelife.com/?p=14719&utm_source=rss&utm_medium=rss&utm_campaign=taurus-turd-guns-ammo-loves-taurus-new-taurus-curve-a-curved-380-pocket-pistol

If the material is not removed by that time, we will seek legal action immediately.

Please feel free to contact me with any questions.

Regards,
——————————-
Dusty Gibson
Online Shooting Editor
InterMedia Outdoors
2 News Plaza
Peoria, IL 61614
Office: (309)-679-5098
Mobile: (630)-618-0253
Dusty, you can call me John.
He said to call with any questions, so I did.   I called him to get some specifics of how I slandered them in calling their story on the new Taurus gun what it was:  a puff piece.
Dusty's reply:  "I'm going to have to defer to my publisher on that."
Fair enough, Dusty.
Frankly, that G&A story was a disservice to their readers.  I stand by what I wrote.  Taurus' new gun is dangerous and liable to get users killed or sued.
Little did I know Guns & Ammo would threaten to sue us for reporting the truth.
I told Dusty the piece wouldn't be coming down now or tomorrow or anytime after that.
Guess I won't be writing for Guns & Ammo anytime soon.  Oh darn.