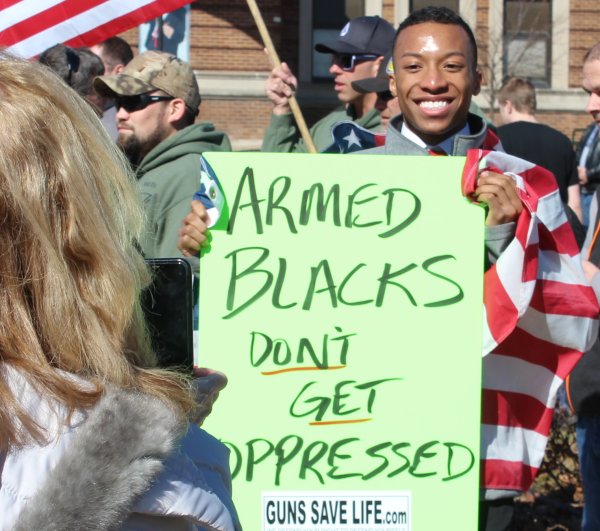 Illinois gun owners live their lives without thinking much about gun control – most of the time. Right now though, Illinois gun owners see red with the passage of bills to ban common guns and standard-capacity magazines. To say nothing of the efforts of gun control industry radicals to run the Prairie State's local gun shops out of business with onerous, state- and local-level Gun Dealer Licensing.
Spontaneous pro-gun rallies downstate have turned out hundreds of people (Bloomington & Decatur). And the crowd sizes continue to grow.

On March 24th, the national March for Your Guns will take place across America. The radical Leftist sponsored and organized "March for Our Lives" event will bring groups of misguided folks, useful idiots (see photo below) as well as die-hard gun grabbers to cities near you.
The Illinois State Rifle Association has announced counter-demonstrations and Guns Save Life is proudly teaming up with them to get the word out.
(ISRA) – As you probably know already, the gun control movement has taken full advantage of the crimes committed in Florida and Nevada to bolster its efforts to eliminate civilian gun ownership. Bloomberg and his henchmen have now enlisted an army of impressionable children to do his anti-constitutional dirty work. Too old and tired for trench warfare themselves, the likes of Schumer, Harmon, and Pelosi are exploiting the energy of our young people to fulfill the aging anti-gunners' bucket list.

Cynically titled the "March for Our Lives," Saturday's events would be more properly dubbed, "March for Your Guns." Organizers of these events are demanding legislation that would ban and confiscate nearly every gun you own, repeal concealed carry, and leave you with nothing in your safe but your grandma's silverware.

Attend the event near you. Be prepared to vigorously defend the 2nd Amendment and your rights as a law-abiding gun owner.

Pass this information along to your gun-owning friends and family. Tell them to attend as well. Also, post this alert to any and all Internet bulletin boards and social media sites to which you belong.

REMEMBER – YOUR RIGHTS ARE ONLY AS STRONG AS YOUR RESOLVE TO PROTECT AND PRESERVE THEM

Chicago: 11:00 AM, Union Park, 1501 West Randolph
Downers Grove: 11:00 AM, March from Downers Grove North High School to the Main Street Metra Station. Second Amendment supporters will rally at the train station and wait for the arrival of the gun-controllers.
Glen Ellyn: 10:00 AM, march begins at the Lincoln School.
Schaumburg: 9:00 AM, a rally against the 2nd Amendment will take place at the town center, 130 S. Roselle Road.
Frankfort: 2:00 PM, anti-gun rally at Kansas and White Streets.
Vernon Hills: 11:30 AM, Hawthorn School, 600 N. Aspen.
Elgin: 12:00 PM, Public Library, 270 N. Grove.
Oswego: 11:00 AM, Oswego High School, 4250 Route 71.
Springfield: Noon, State Capitol
Decatur: 1:00 PM, Old King's Orchard Community Center, 815 N. Church Street
Champaign: 2:30 PM, Douglas Park, 512 E. Green
Danville: 10:00 AM, Temple Plaza, Vermillion and North
Charleston: 11:00 AM, Doudna Steps, 600 Lincoln
Bloomington: 11:00 AM, History Museum, 200 Main.
Carbondale: 1:00 PM, 120 N. Lincoln
Join us at one of these rallies near you. Take an hour of your time, craft a hand-made sign (retail stores like Walmart have some inexpensive neon-colored poster board), and turn out to show your support for your Second Amendment rights.
Stay on the sidewalks on the periphery of the rallies and help educate folks on the proven value of firearm ownership. You know, with signs like the one at the top of this post. Or "Armed Gays Don't Get Bashed". Or plenty of other similar slogans.
Even if we only turn out a group measured in dozens, we'll still probably come close to outnumbering the anti-gun folks in some locations. At the same time, our presence will deliver the message that we're not going to lay down quietly while Leftists funded by would-be tyrants conduct a March for Our Guns.
Even if you're unable to attend the March 24th events, join the good guys in Springfield on April 25th for Illinois Gun Owners Lobby Day. Furthermore, watch Guns Save Life's website for more local gun rights rallies. Bring your family and celebrate freedom and liberty while helping to educate your fellow Americans. After all, we're not trying to manipulate people, just educate them so that we are all better citizens.
UPDATE!
Guidelines for this Saturday's Counter-Demonstrations.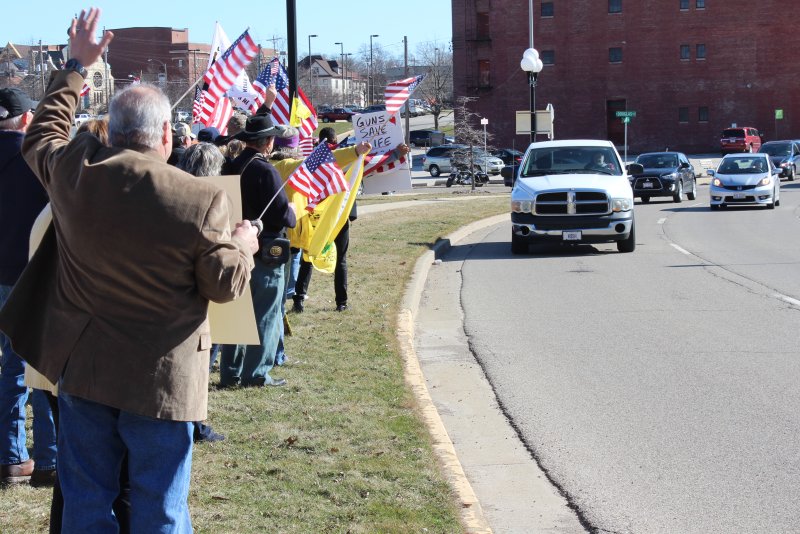 I've gotten a lot of calls about this weekend already. And between the Illinois State Rifle Association's email to members and our new issue of GunNews and our website's promotion of this Saturday's coming counter-demonstrations, plenty of people have noticed.
The media are excited, salivating over a potentially contentious "coming together" of the two sides. Oh yeah, the media will be there with bells on. So avoid wearing camo, or blaze orange. Dress nicely and bring a flag and another to share. Bring a sign or two.
Some on the other side are showing fear – "Oh my gosh! They're talking about carrying GUNS! Guns! It's not going to be safe!" Yeah, whatever Sallypants. We carry guns everyday and nobody notices. What's more, only violent bad guys has anything to worry about from our guns. And 99.44% of bad guys aggressively avoid potential victims who might fight back, much less who are armed. So look for very safe venues for these events. Yes, it will be safe enough to bring your kids! And spouses. And that's before the local police show up!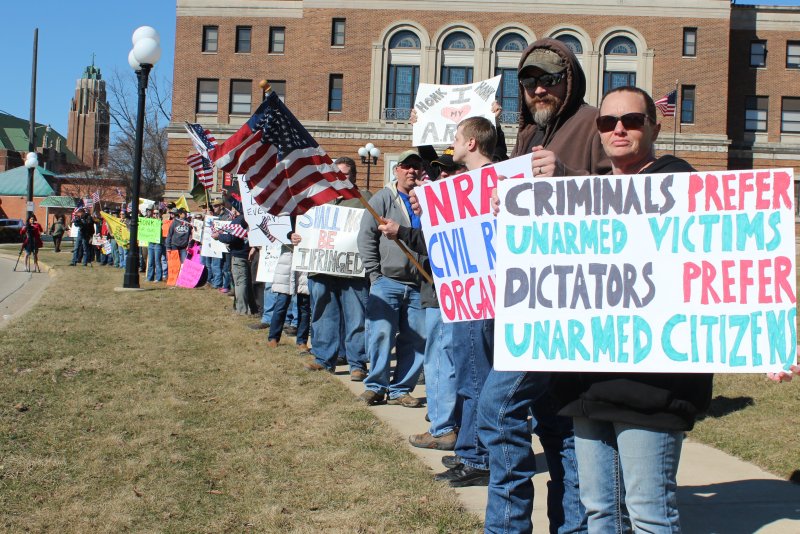 And some on our side, new to this whole idea of counter-demonstrating are nervous. It's okay.
Here's some answers to commonly asked questions.
1. Are we gonna have permits? We are not securing PERMITS. Not gonna do it. Besides, the other side has secured permits for some locations. What is our primary (scratch that, make that EXCLUSIVE) reason for no permits? Because if we get a permit, our gathering becomes a "gun free zone". We aren't down for "gun free zones" and we certainly aren't creating more of them to express our First Amendment rights. Worried about that? Read on…
2. Where are we going to rally? We are NOT going to rally.
3. If we're not going to rally, then what are we going to do? We're going to vigorously defend our civil rights to passersby (and the media) as we walk slowly down the sidewalks at the periphery of the anti-gun rallies. We'll have our flags and our signs and the people driving by will see us and our message as we *keep moving* and engage traffic with waves, smiles and our signs. "HONK for Gun Rights" would be some great message to bring on bright neon backgrounds.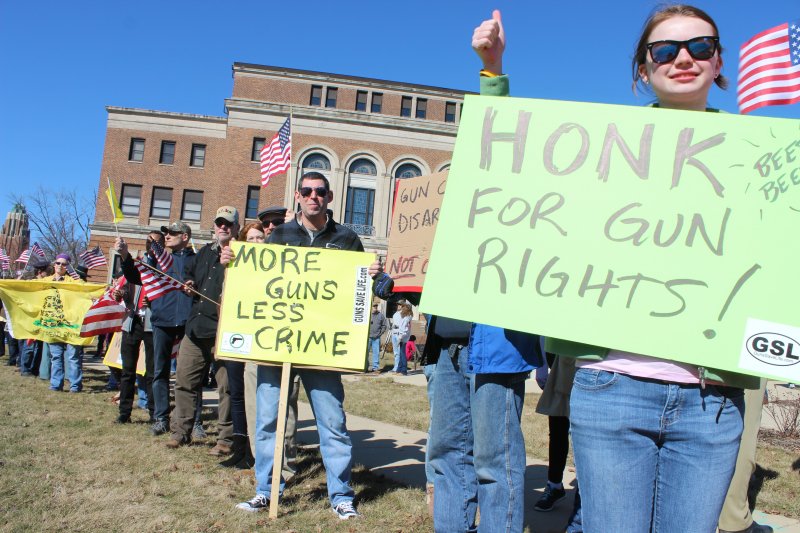 4. What if they have a march that will approach on the same sidewalk? Well, if we're there first, then they can walk around us down one side of the sidewalk. Or, if they are too intimidated to do that, they can march in the street. Kill 'em with kindness is the motto for the day. Remember, we're not trying to convince die-hard gun grabbers of the folly of their endeavor. We're there to let the media and the general public know that gun owners aren't going to silently sit back and let the Left in America March for our Guns.
5. Is this legal? Well, yeah! We're the good guys. We don't break the laws! So long as you stay on the sidewalk, and keep moving and not arguing or heckling with the anti-gunners, you'll be a-okay with the local police and local laws. Your mere presence will serve as a heaping serving of microaggression for some on the other side. They should suck it up and adult a little. Yes, some special snowflakes may meltdown, but that's a "THEM" problem, not a you problem.
6. And the most commonly asked first question: Can we carry? So long as you're on the sidewalk, and not stepping into a public park or other prohibited property, and not loitering in the same place (no, don't set up a lawn chair on the sidewalk, silly), you're good to go. As counter-demonstrators, we are NOT covered by the "gun free zone" created by the anti-gun rally's protest permit. In short, stay on the sidewalk or the parkway between the street and the sidewalk and keep moving and you're golden.
7. Is is going to be dangerous? No. There will be police there. And if you're licensed, you may carry under the provisions of Illinois' CCW law. Others certainly will be. Expect everyone on our side to be on very good behavior. Expect much the same – with the exception of middle fingers and a few obscenties – from the other side. Nobody's going to come with baseball bats and black masks. Bullies don't come for a fair fight and your .38 will trump their sticks and brass knucks every day of the week and twice on Sunday.
Helpful hints:
Retailers such as Walmart, Menards, Lowes, etc. have "foam board" which makes an excellent backing for your message. Some even have neon colors on one side. Buy a MAGNUM sized sharpie marker and create a short message. Leave the crayons for the other side to use for their messaging.
Come early and even if you're the first there, just walk slowly up and down the sidewalk where you expect the other side to meet. Ideally, we'll put ourselves between passersby on the street and the anti-gun rallies, effectively obscuring their message to the undecideds and the uniformed folks driving past. Wave, smile and embrace your cause. Stake out that real estate if possible before the other side arrives en masse.
Of course, do as the police ask with a pleasant smile and courteous demeanor. If the police are there, don't be surprised if the cops stand with their backs to us while facing the anti-gunners. Cops know who they have to worry about and who has their backs if and when things go sideways.
Here are some sign slogan suggestions:
GUNS SAVE LIFE (sorry, I had to put that one first.)
MORE GUNS, LESS CRIME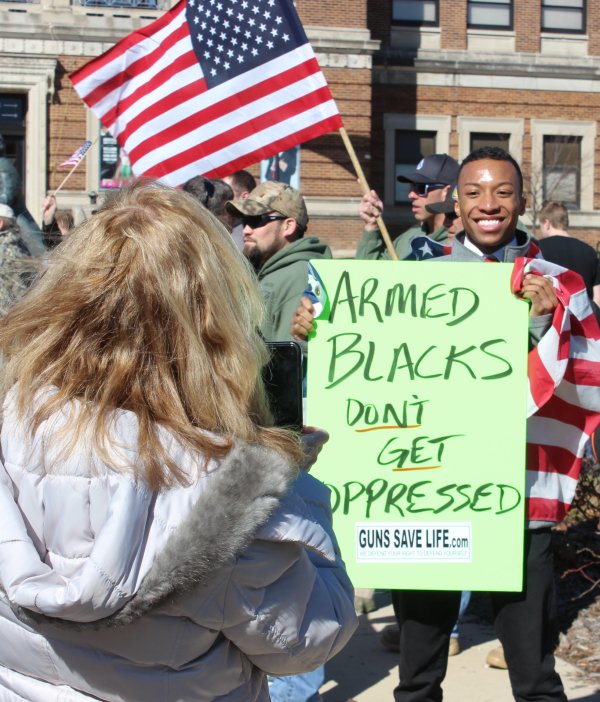 ARMED BLACKS DON'T GET OPPRESSED
ARMED GAYS DON'T GET BASHED
GOOD GUYS WITH GUNS SAVE LIVES
GUNS PROTECT CHILDREN
GUNS PROTECT FAMILIES
OLD ENOUGH TO JOIN THE ARMY
OLD ENOUGH TO BUY A RIFLE
GUN CONTROL IS RACIST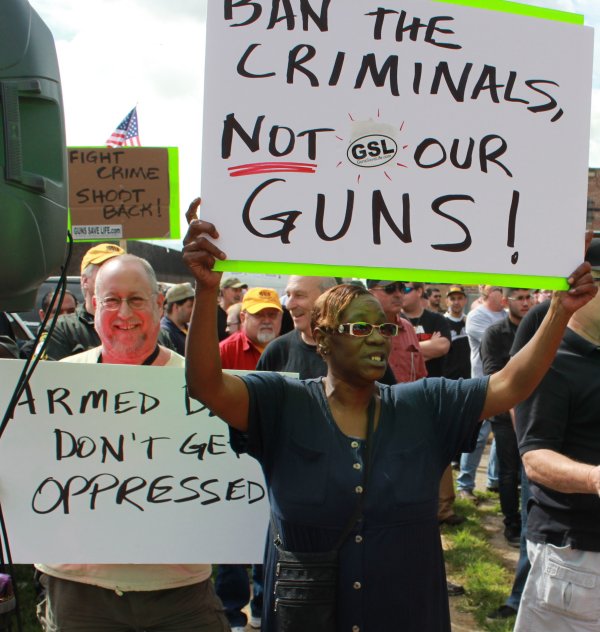 FIGHT CRIME, SHOOT BACK
BAN THE CRIMINALS, NOT OUR GUNS
GUN CONTROL IS SEXIST
GUN CONTROL LEADS TO TYRANNY
GUNS ARE SAFE AND FUN
DON'T LISTEN TO THEM. IT'S THE WEED TALKING. (With a giant arrow pointing towards the anti-gunners. This one really pisses off the left.)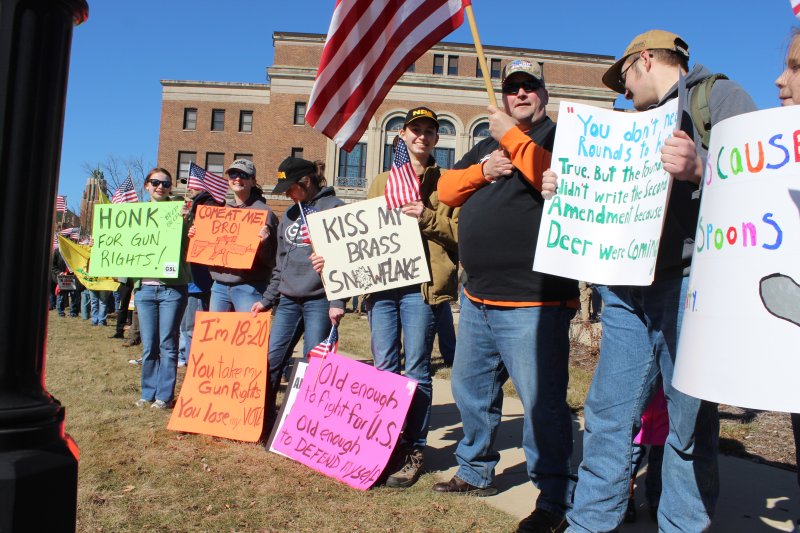 KISS MY BRASS, SNOWFLAKES.
GUNS = FREEDOM
GUNS ARE TOOLS
LIBERALS FOR GUN RIGHTS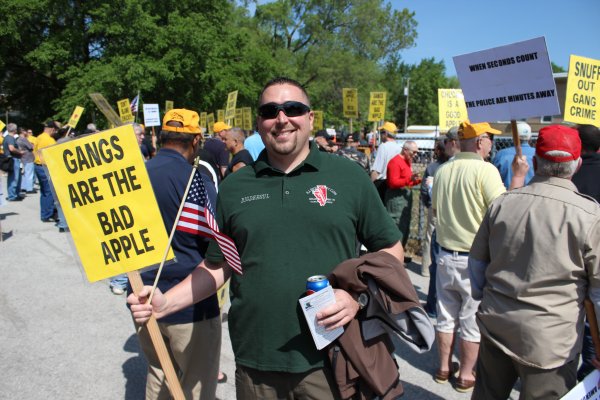 PROGRESS TOWARDS FREEDOM, NOT GUN CONTROL
GUN CONTROL IS RACISM
SUPPORT FREEDOM, NOT TYRANNY
GUN VIOLENCE = GANG VIOLENCE
"GUN VIOLENCE" REALLY MEANS GANG VIOLENCE.
CRIMINALS PREFER UNARMED VICTIMS
GUN CONTROL DISARMS VICTIMS, NOT CRIMINALS
BREATHE EASY. DON'T BREAK THE LAW!
GUNS DETER THUGS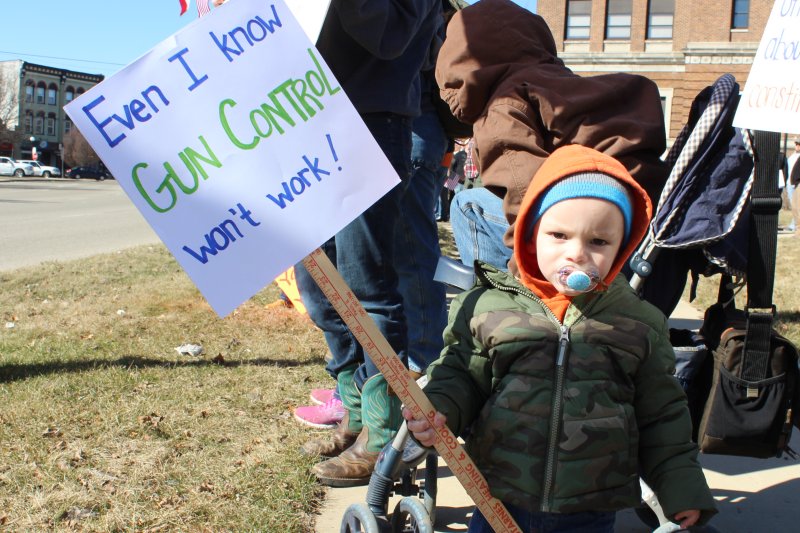 Carry on. Share this with your friends, family and everyone in your circle of influence. Let's go have fun Saturday for a just and noble cause!