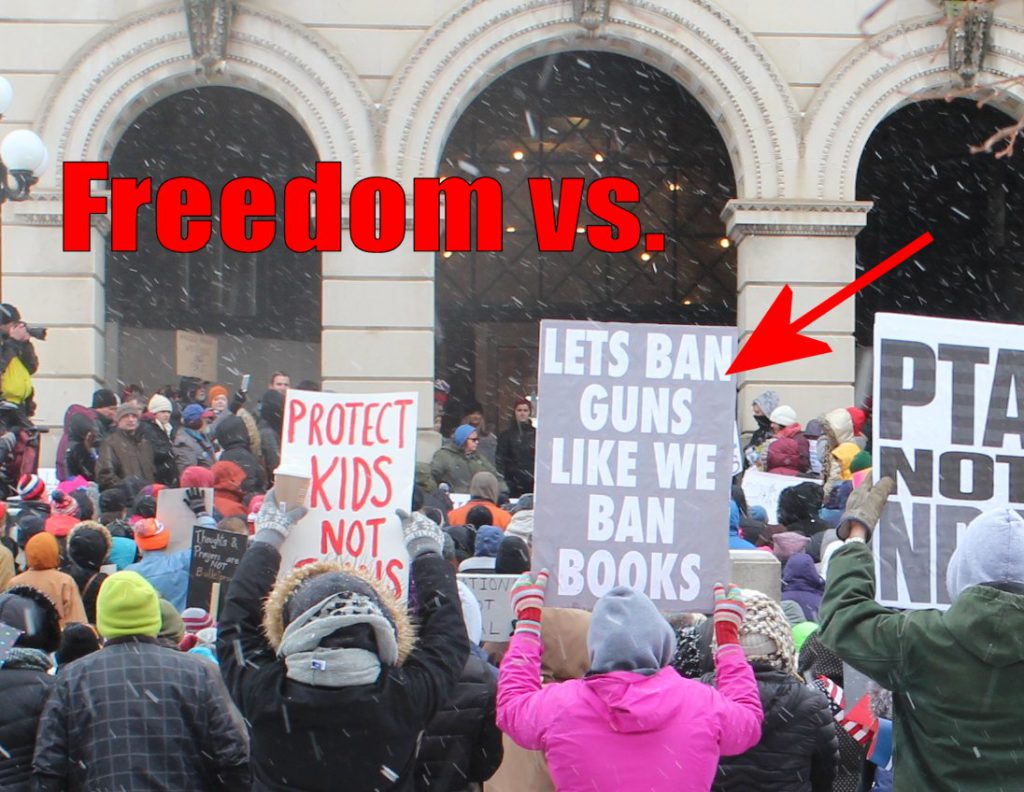 Saturday brought a host of March For Our Guns rallies across America. Headlined by the foul-mouthed attention whore David Hogg in Washington, the local rallies featured like-minded speakers telling the crowds how we should ban guns. And how we should stop the NRA TV from having a platform to exercise their First Amendment rights. And how the NRA and gun owners are evil.
Yes, good old David Hogg closed his speech with the Black Power salute. Or is it a modified Nazi salute?
Locally, in a number of cities in Illinois, gun owners turned out in the foul weather to show that we will not stand idly by as these Leftist radicals call for stripping us our our Constitutional rights. We counter-demonstrated on sidewalks next to busy streets, communicating our message to passersby and the mainstream media.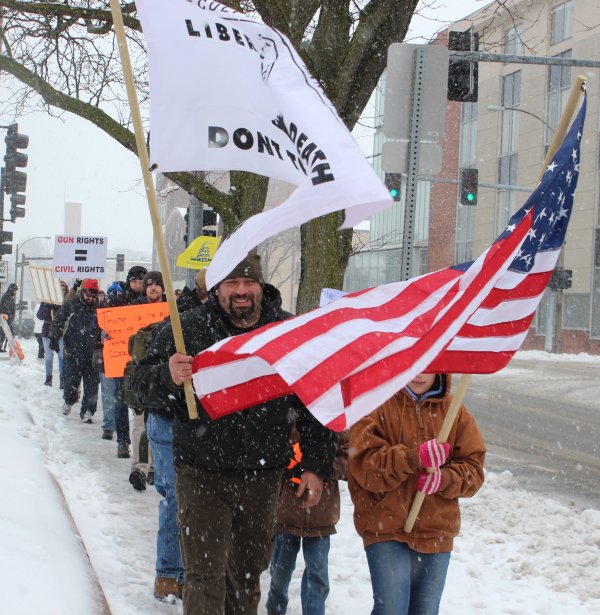 In BLOOMINGTON
While in Bloomington at least, the gun control advocates clustered in a big alcove where nobody could see them. Especially in the driving snow.
The police were present.
So too were some leftists not at all hesitant to get in our faces.
One male – in front of numerous minor children – harassed a group of 2A supporters with all manner of vulgar, profane and sexually graphic invective. Here he is in his glory: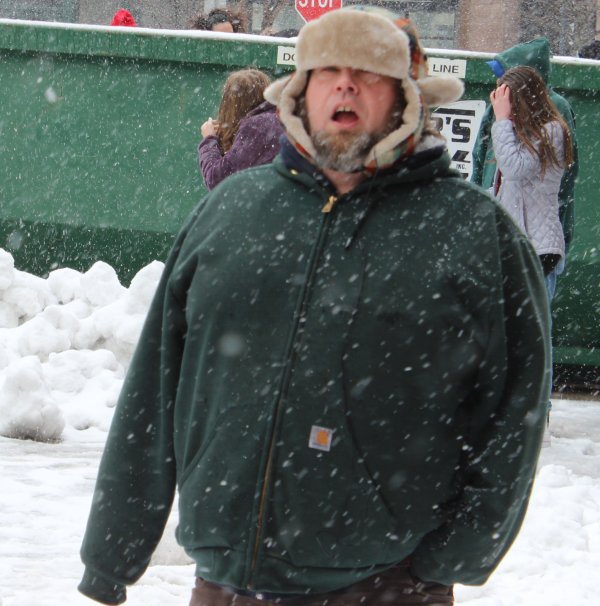 Another delightful human being took great umbrage to my sign "ARMED GAYS DON'T GET BASHED!".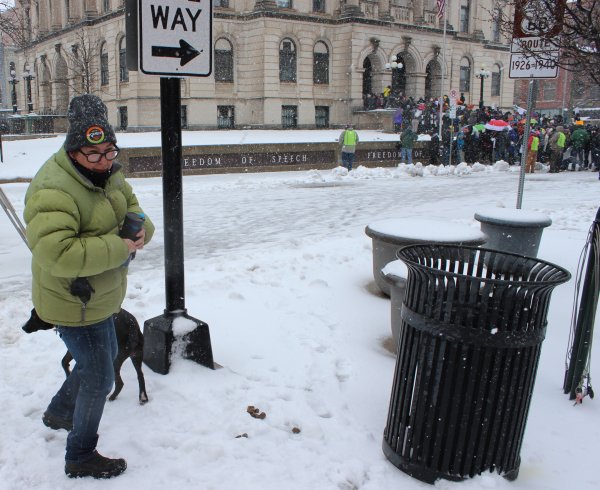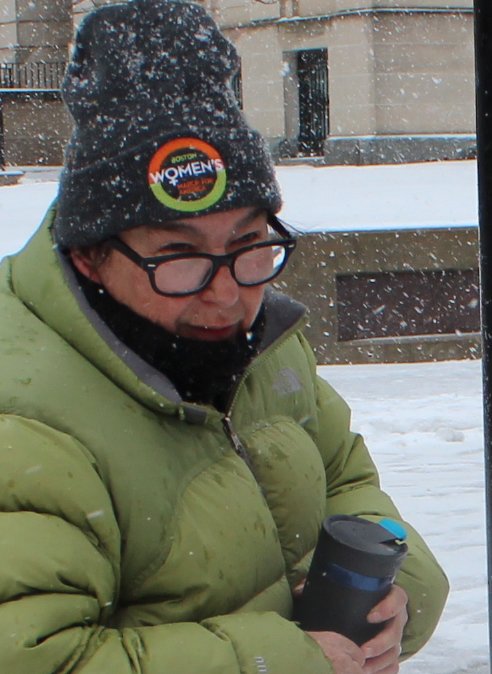 Not even ten feet from a police cruiser, she self-identified as a gay person and launched into a profanity-laced attack on me, my ancestors, my sexual orientation and what I had for lunch last week. "How dare you take our name in vane", referring to "GAYS".
"Huh?" I asked.
I noticed her dog took a dump while she spewed her first round of f-bombs at me. Her anger seemed to travel down the leash and caused the poor dog to lose bowel and bladder control. As the K9 finished his or her business and my new favorite best friend forever prepared to walk away without doing the socially responsible thing with her dog's waste, I suggested she clean up after her dog.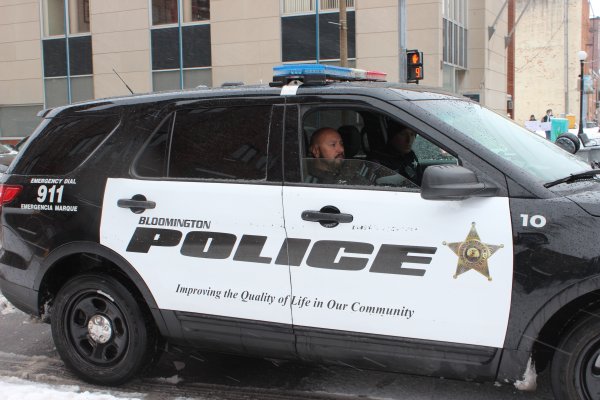 After looking around, she found a cup in the trash, picked up the feces and proceeded to look down into the cup and then at me. I stepped to the side to give the cops a good first-hand view of the action I thought about to happen, but then decency got the better of her and she discarded the cup full o' turds into the trash.
From there she followed me around like a bad habit for at least five minutes. I proudly raised my "ARMED GAYS DON'T GET BASHED" sign and held it high in the driving wind – and mugged for a few photos as this woman (she was no lady) must be a local icon in the gay mafia movement or something.
In the end, almost twenty pro-gun folks engaged hundreds, if not thousands of passersby, while the 200 or so anti-gun folks pretty much preached their message to themselves.
How did things go in your city? Send photos, links to video, and any narratives to me at jboch@gunssavelife.com.
Thanks a million. Gotta run right now though!