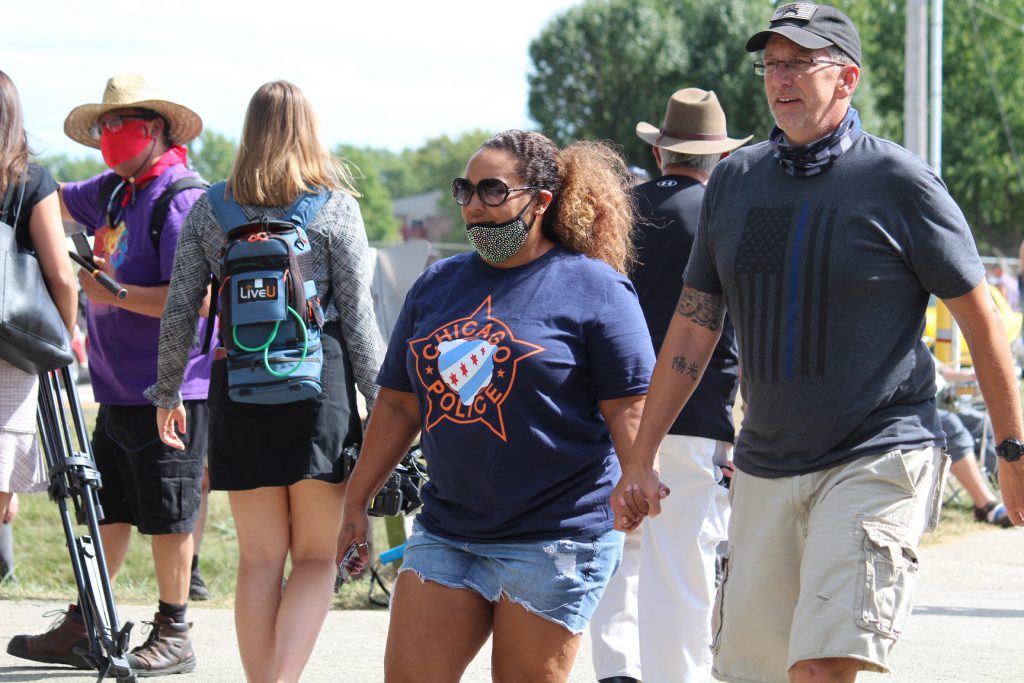 Bloomington's Back the Blue rally drew close to 700 supporters Sunday afternoon.  Meanwhile, at the entrance to the private GE Park, about 40 radicals rallied against the police.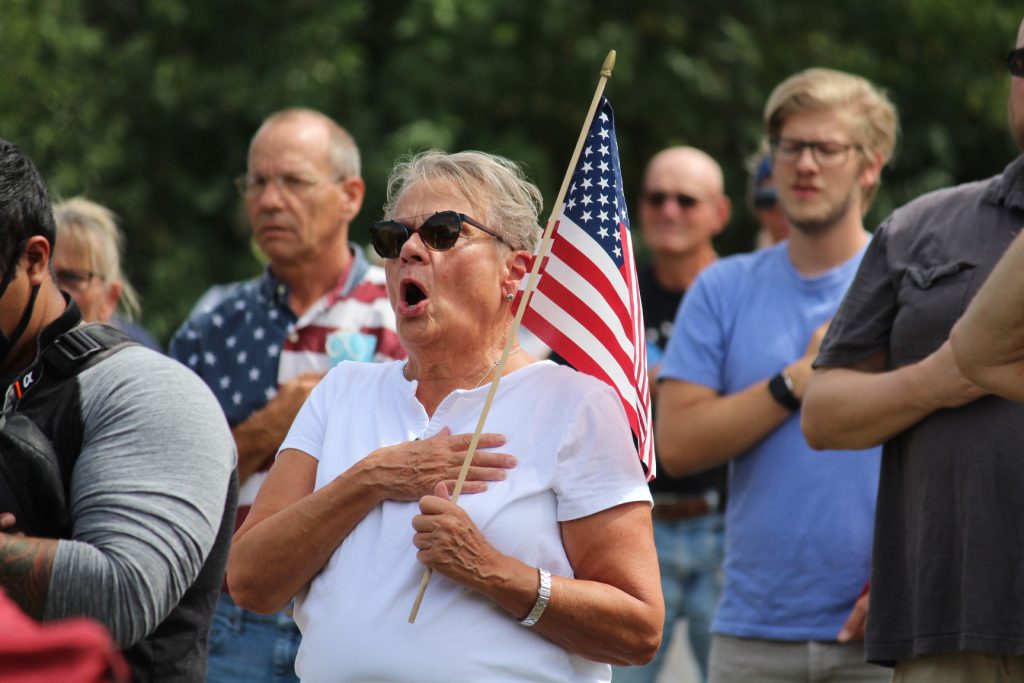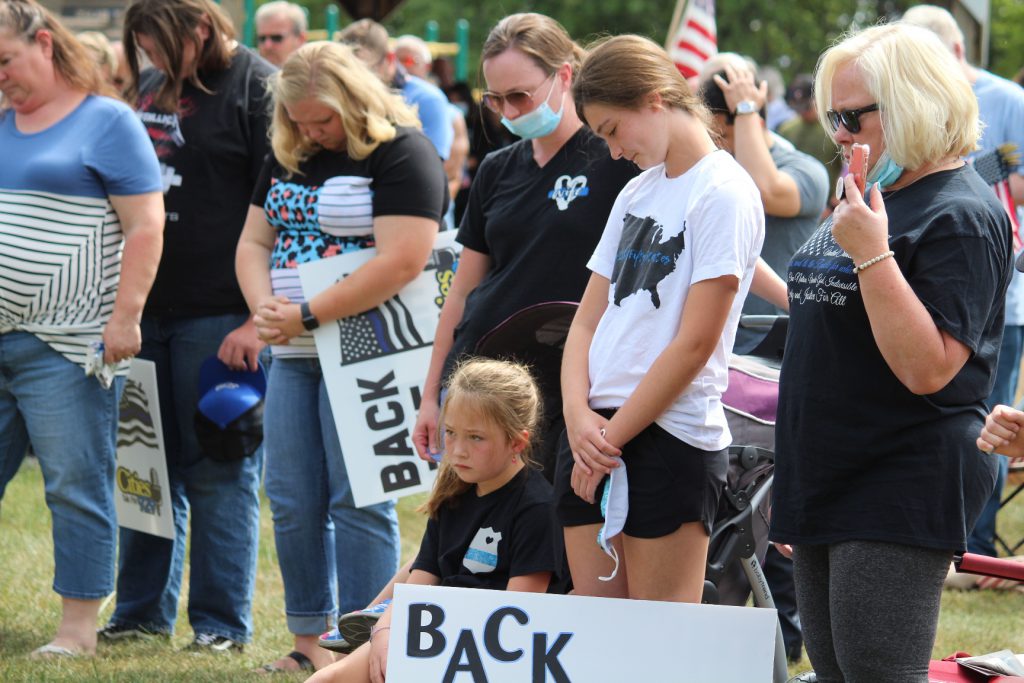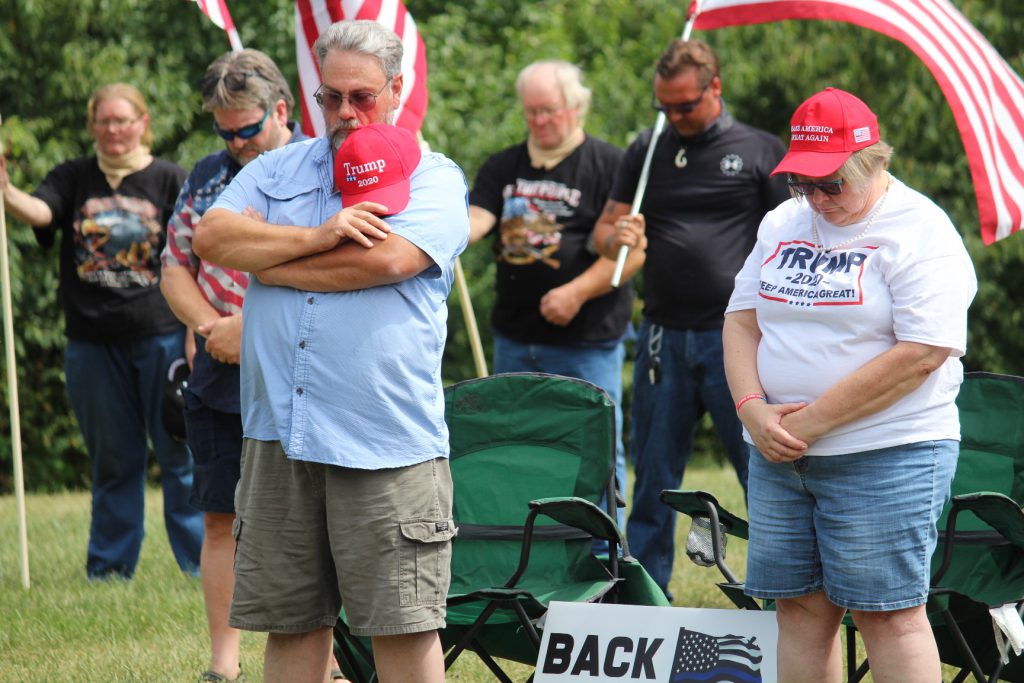 Inside the park, it was very solemn at times, and always patriotic.  In fact, it was almost festive.  A whole lineup of speakers told their stories and rallied the audience.  What's more, there was ice cream and refreshments available.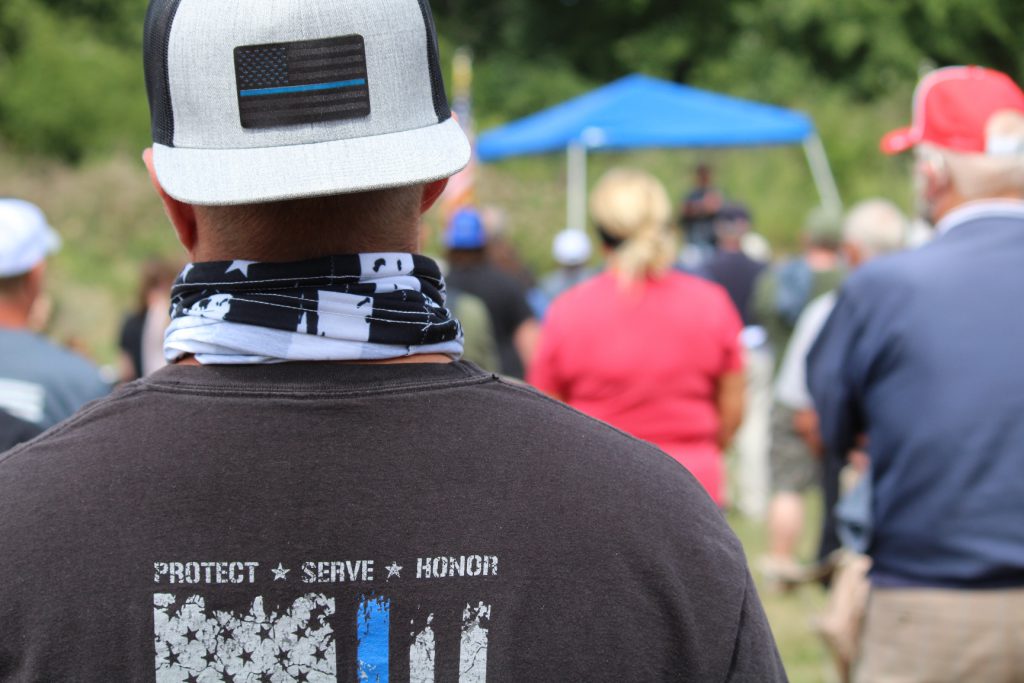 On the street outside, passersby gave all manner of support to police working traffic control and security outside the park and across the street.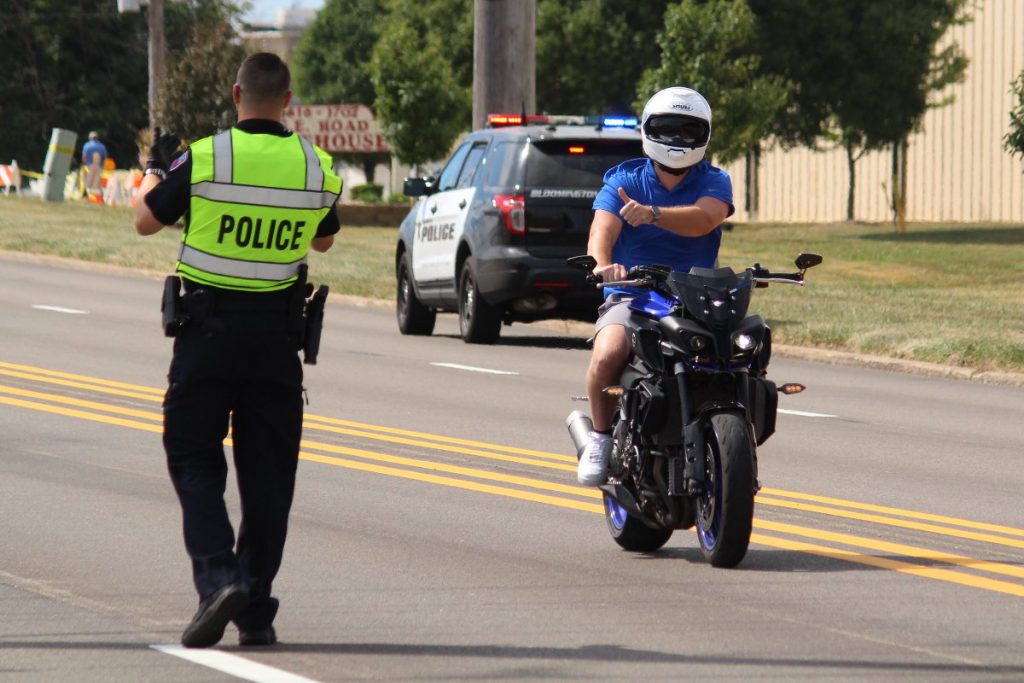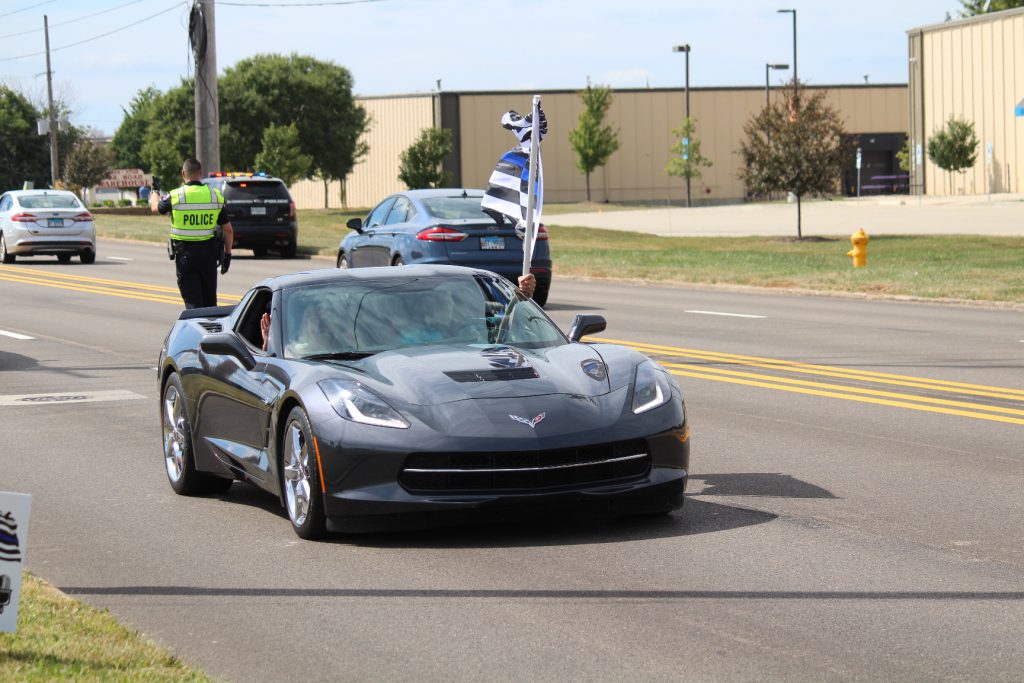 Obviously, the cops needed to watch the parking lot for vandalism by the cop haters.
Outside the park, a number of social misfits yelled chants and rude comments to police supporters as they entered the park.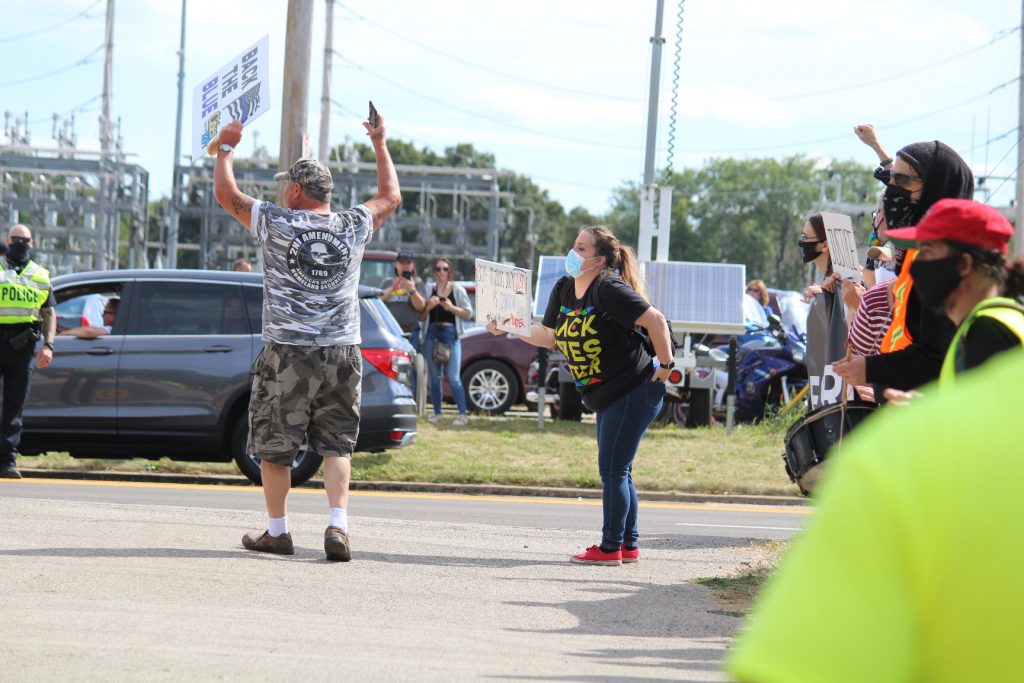 And they had some real special people outside that park.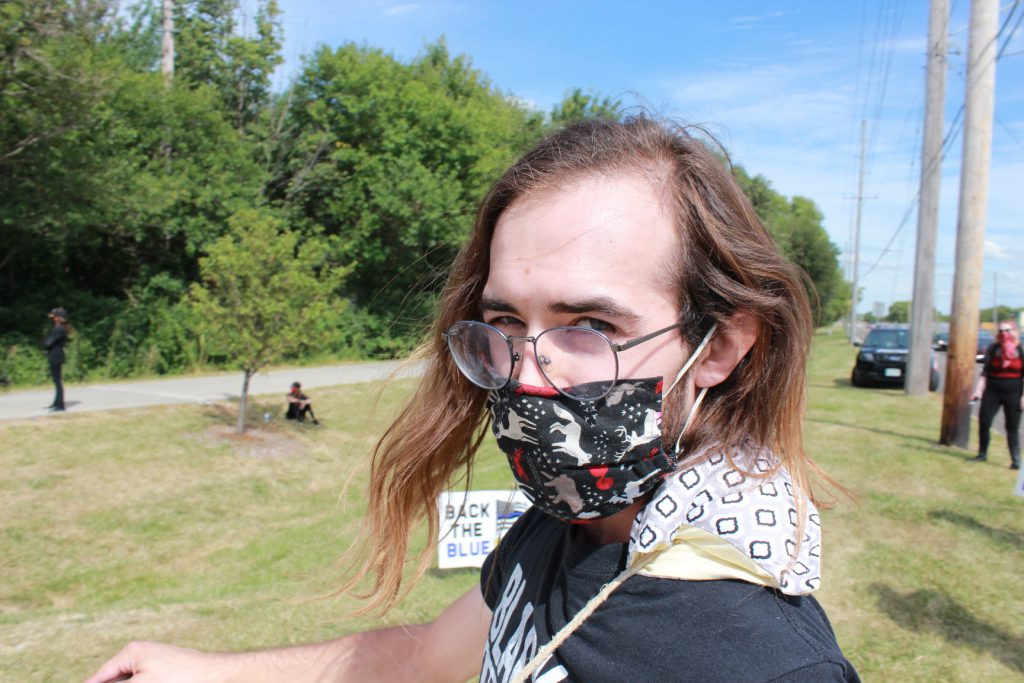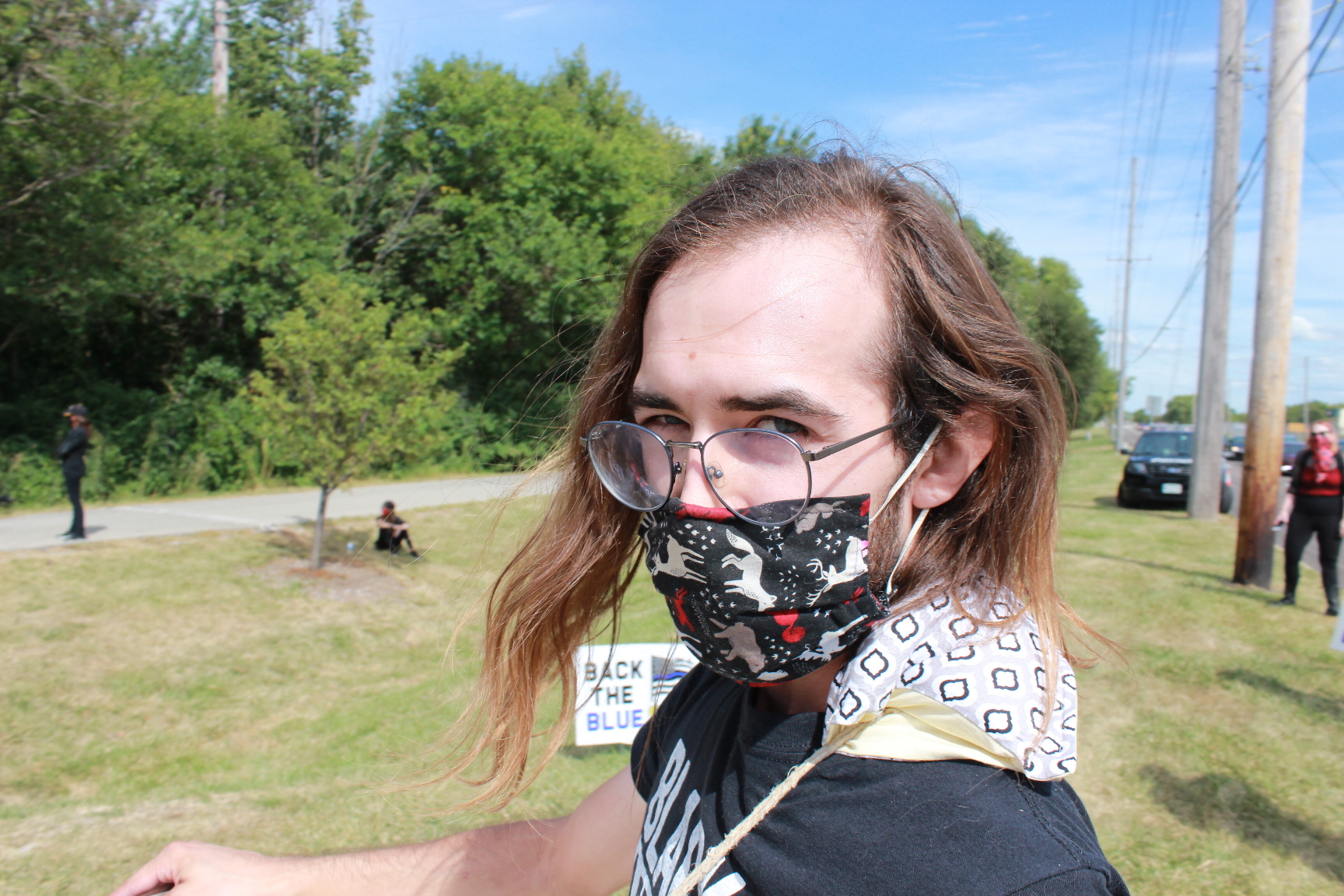 This man banged on a drum and when people verbally pushed back at his chants, his favorite refrain involved some form of the f-word.  He was a real communications specialist.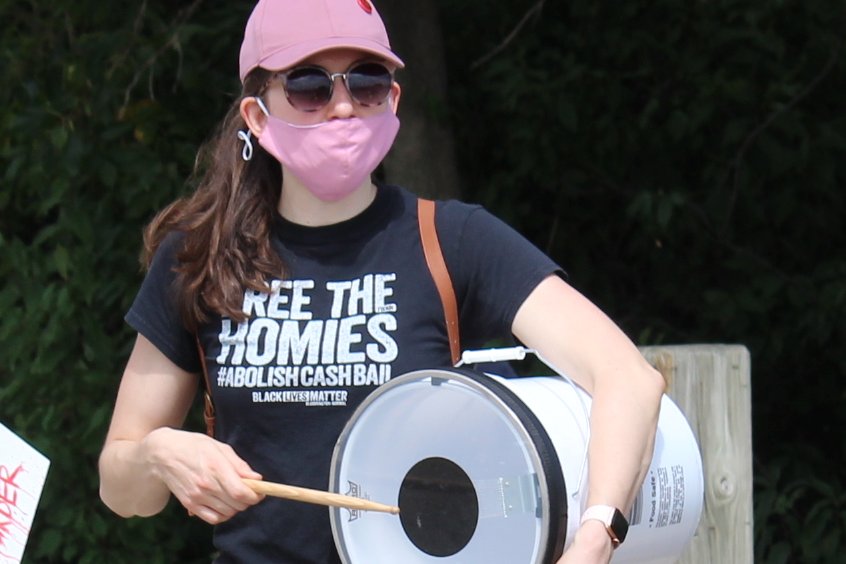 Her shirt says it all.  What could possibly go wrong with releasing America's prisoners?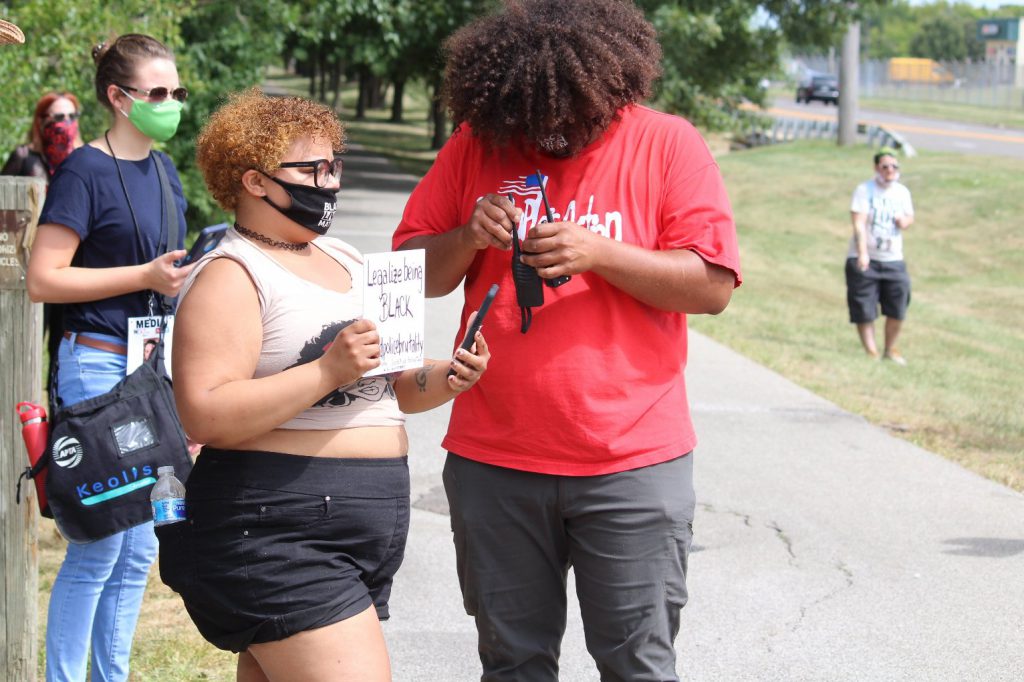 These two particle physicists worked to change channels on their $10 Baofeng radios (UV-888s) while dressing up for the occasion.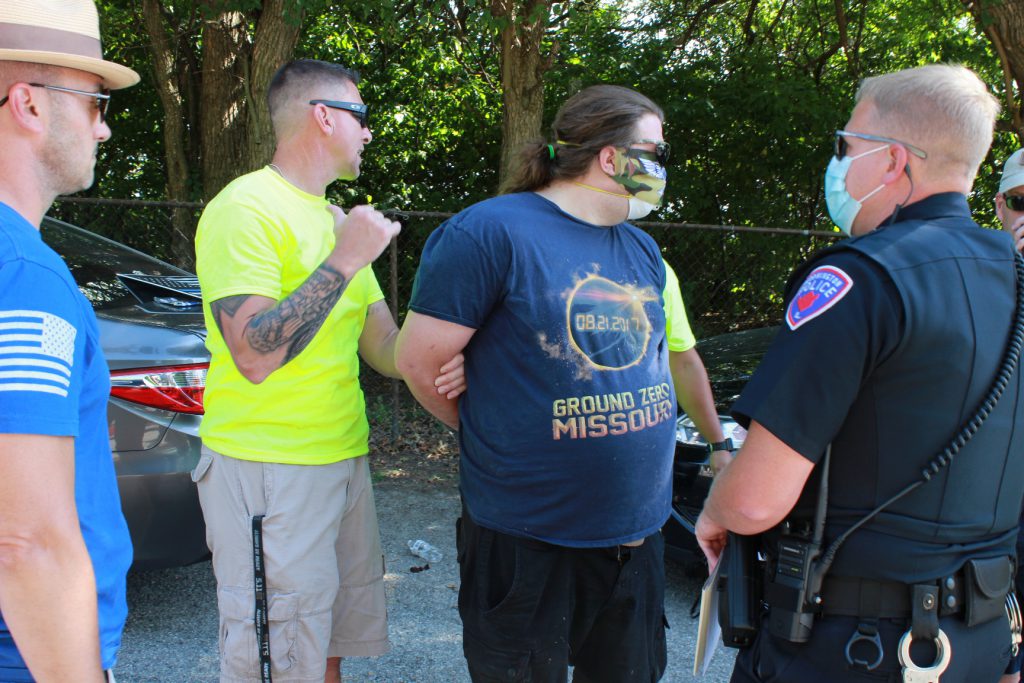 This special snowflake came inside posing as a supporter of the police.  He proceeded to where a number of kids were playing and started mouthing all manner of not-so-family friendly remarks against police.  He was promptly "escorted" to the front where he was arrested.  It is unknown if he was a registered child sex offender.
As the afternoon wore on and the anti-police folks outside grew more desperate, they became even more aggressive against the law enforcement supporters.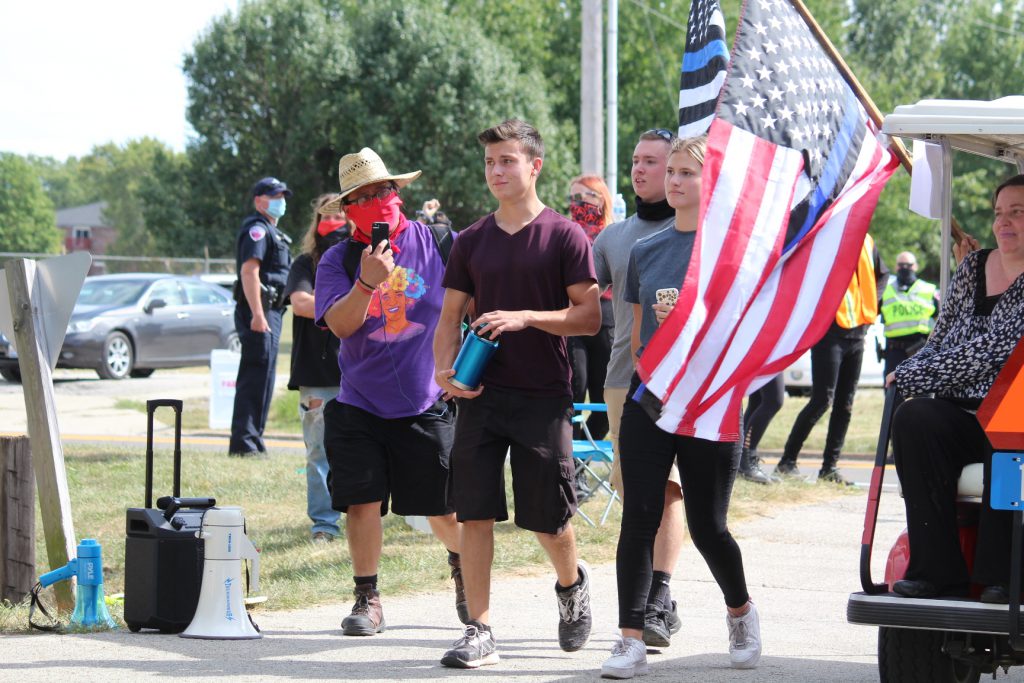 Above, Sonny Garcia, a local communist activist, tried to provoke a response from some young people as they entered the park.  As he livestreamed them, he repeatedly tried to bait them.  He suffered an epic fail.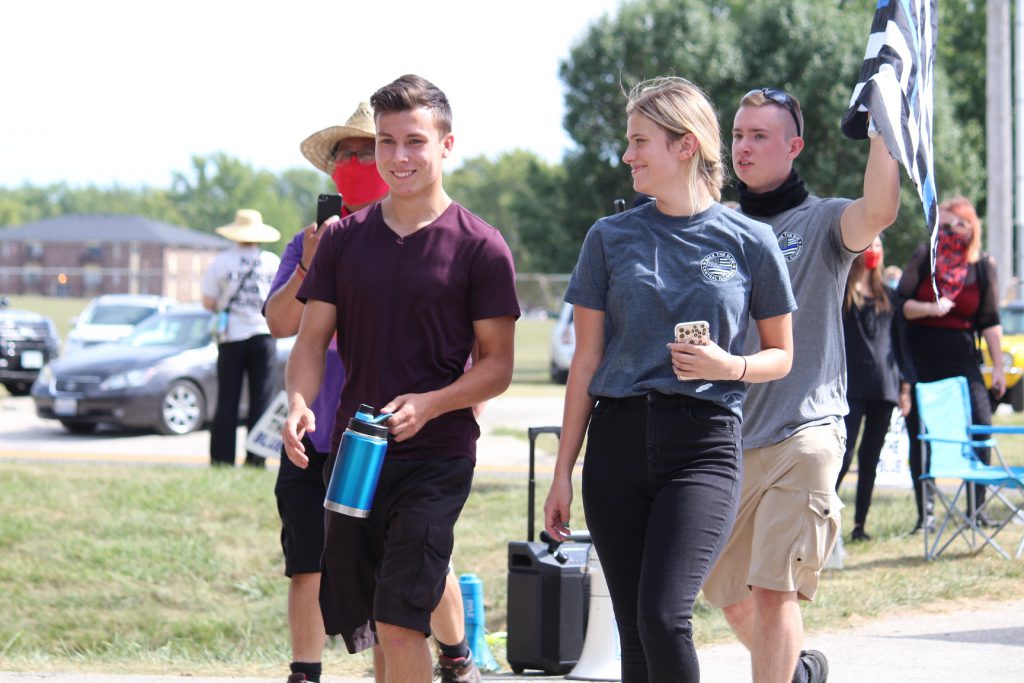 The young folks were more amused than intimidated.  Sonny Garcia's momma never taught him much in the way of manners.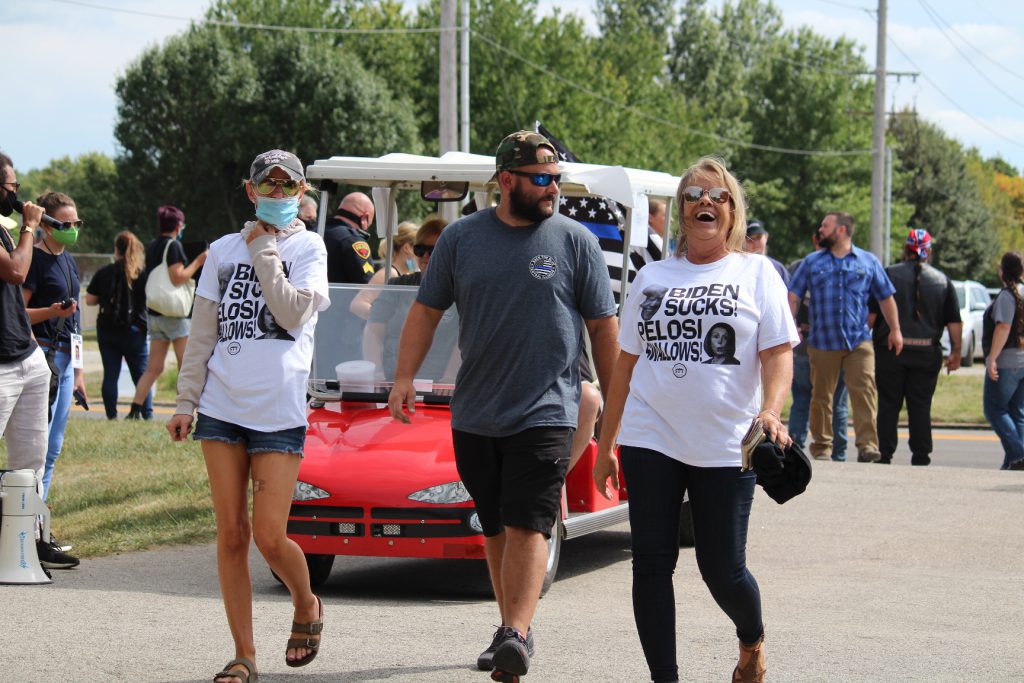 Here's another group highly amused by the childish chants of the heckling protesters.
All the while, Sonny Garcia, a building service worker for Illinois State University kept up his hectoring and badgering.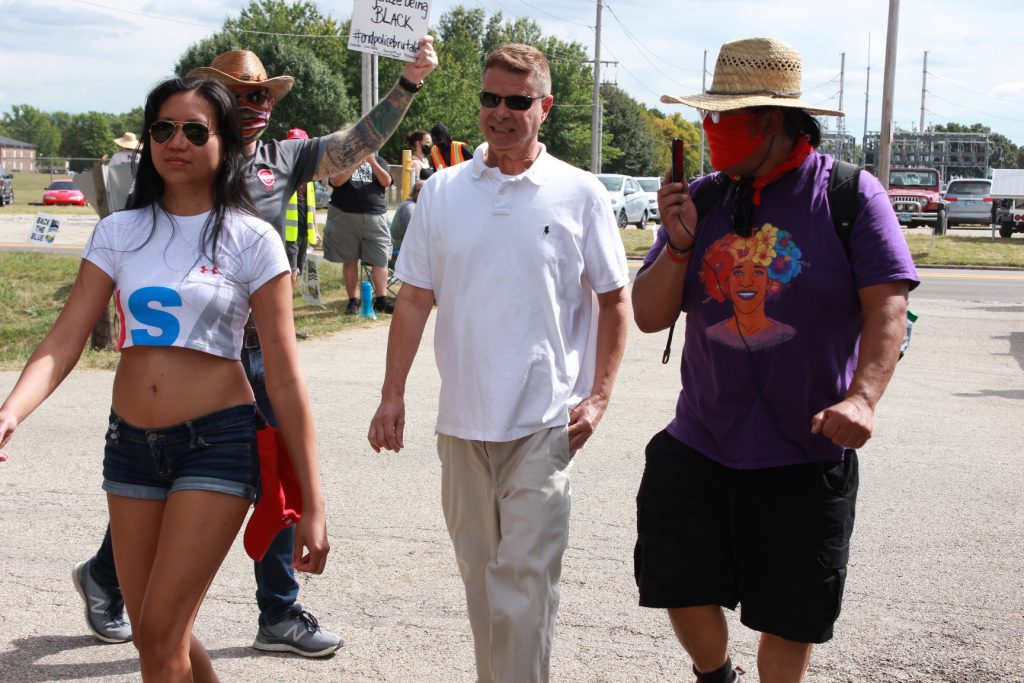 He continued his schtick many times, harassing this couple, too.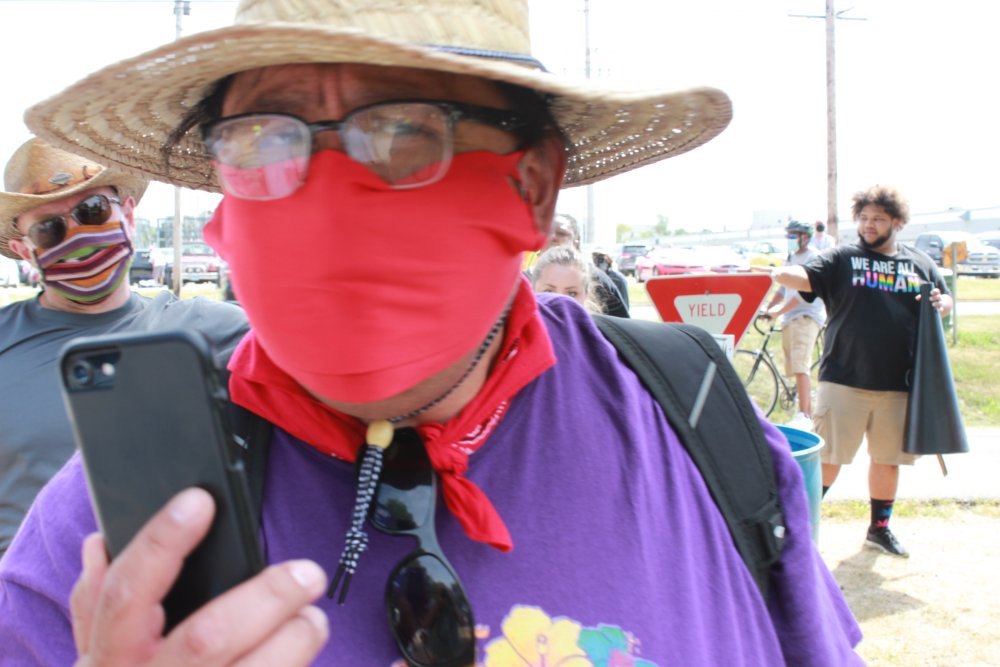 Sonny, the ISU janitor and union activist, wasn't watching where he was going and almost ran into me.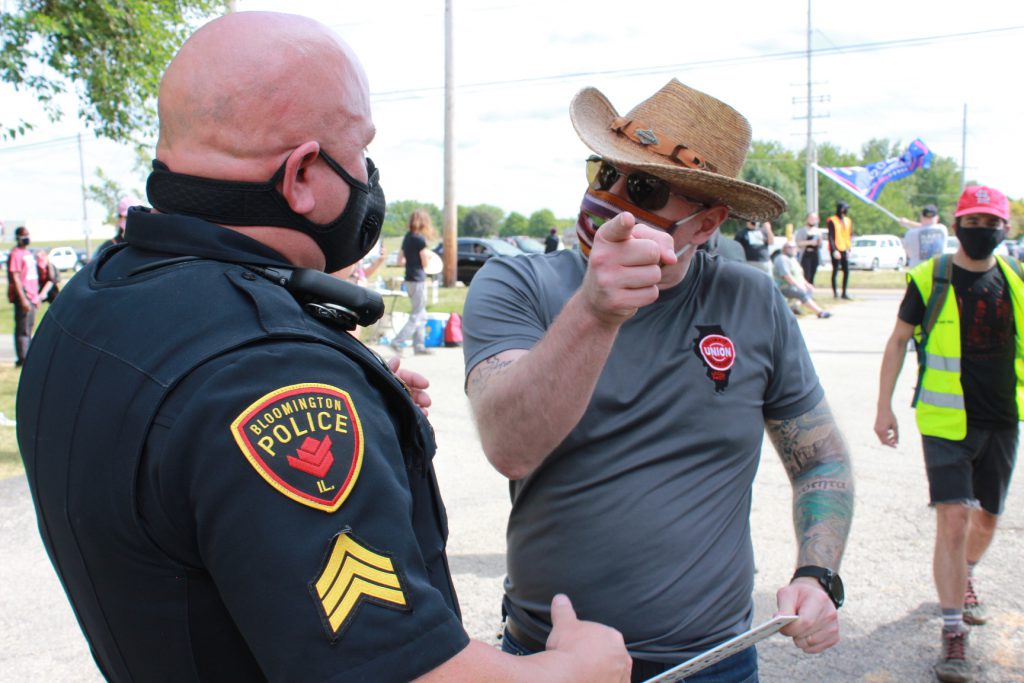 His right hand union organizer goon (from the Communications Workers of America Local 34071 – a media labor union) threatened me right in front of a Bloomington cop.  But he didn't have the stones to carry out his threat.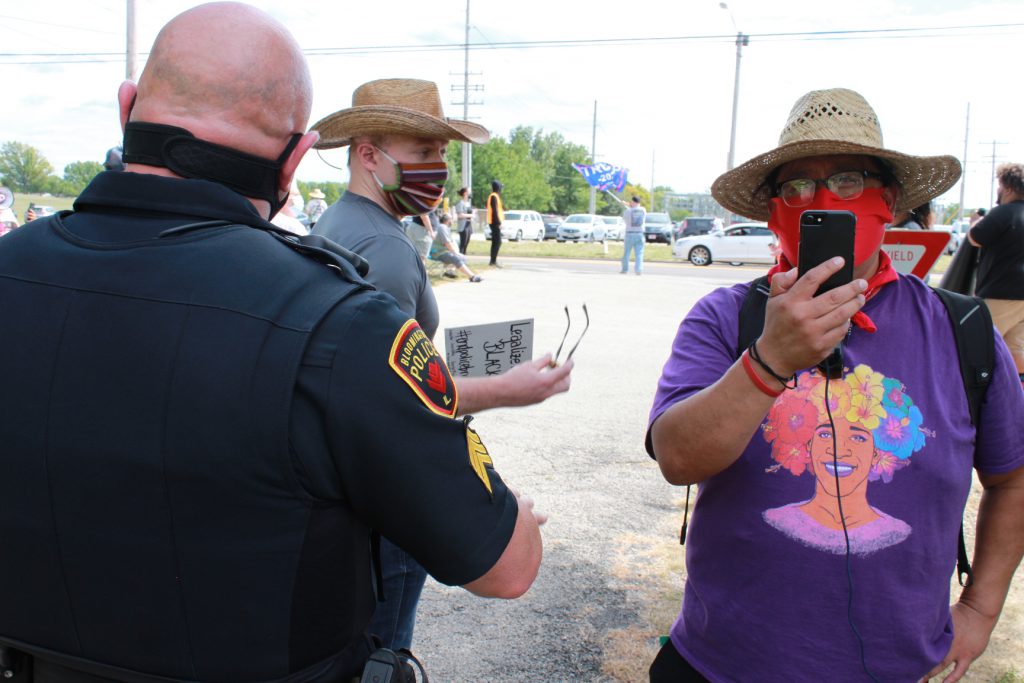 Meanwhile Sonny sticks his phone in my face.  He probably thought he could use my image to invoke the left's cancel culture against me.  He and his friends already tried that and failed miserably just a month ago.  That story is in this current issue of GunNews.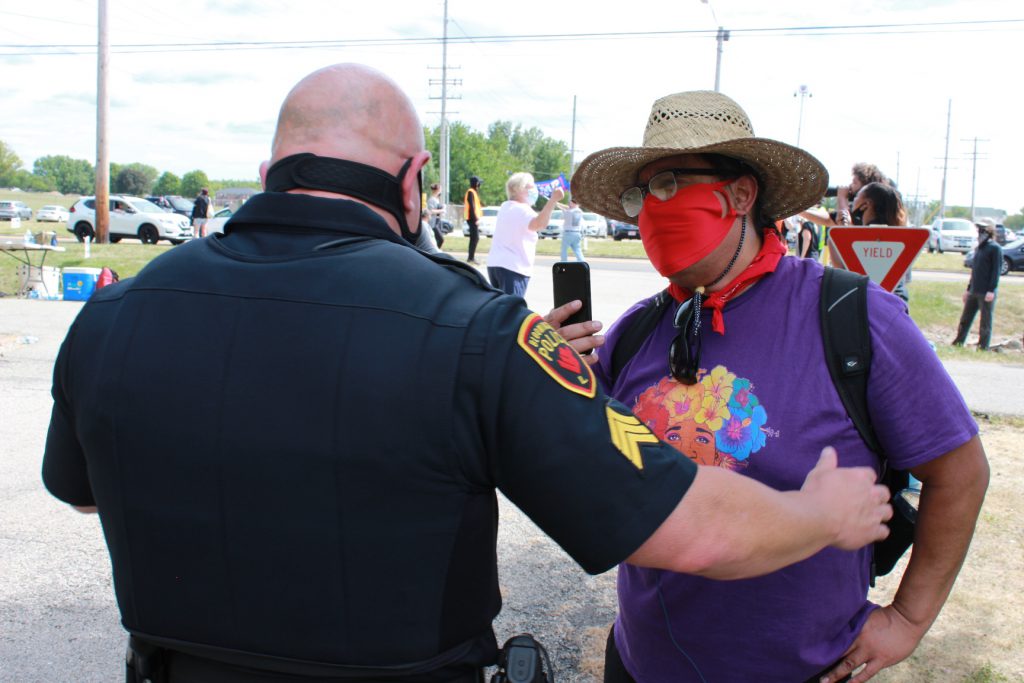 And the sergeant told him to stay back.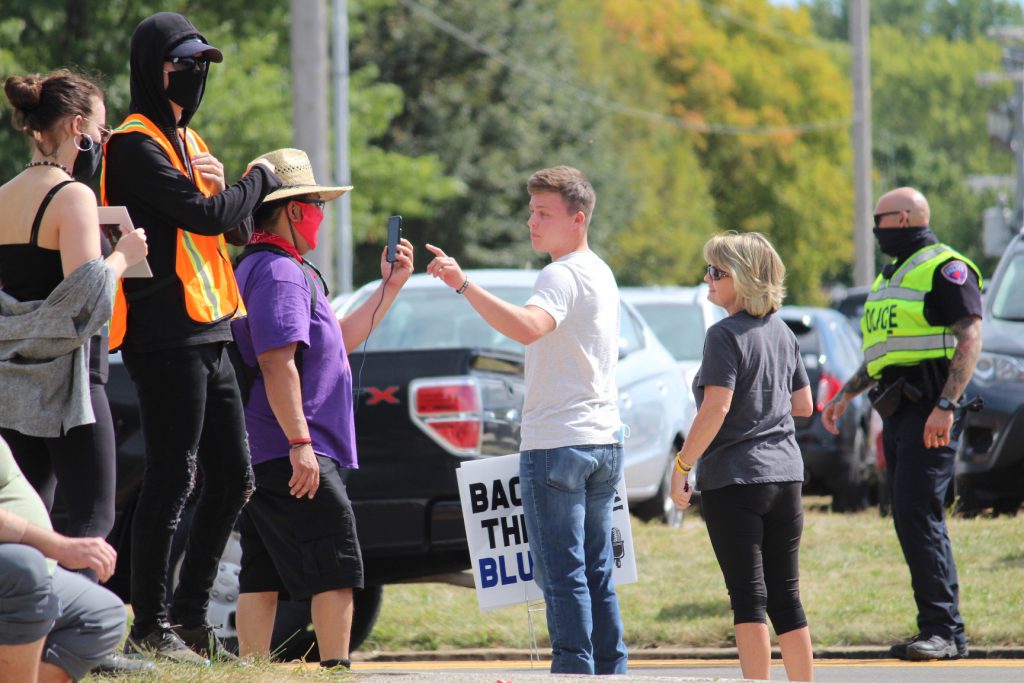 Not everyone appreciated Sonny's radical activism.  And the black bloc dude in the orange vest?  Judging by how he carried himself, I'd say he drinks a lot of soy.
Mr. "Illinois is better served without ICE" shirt / Black Lives Matter sign went off on this man who disagreed with his lecturing.
He did this with a lot of folks.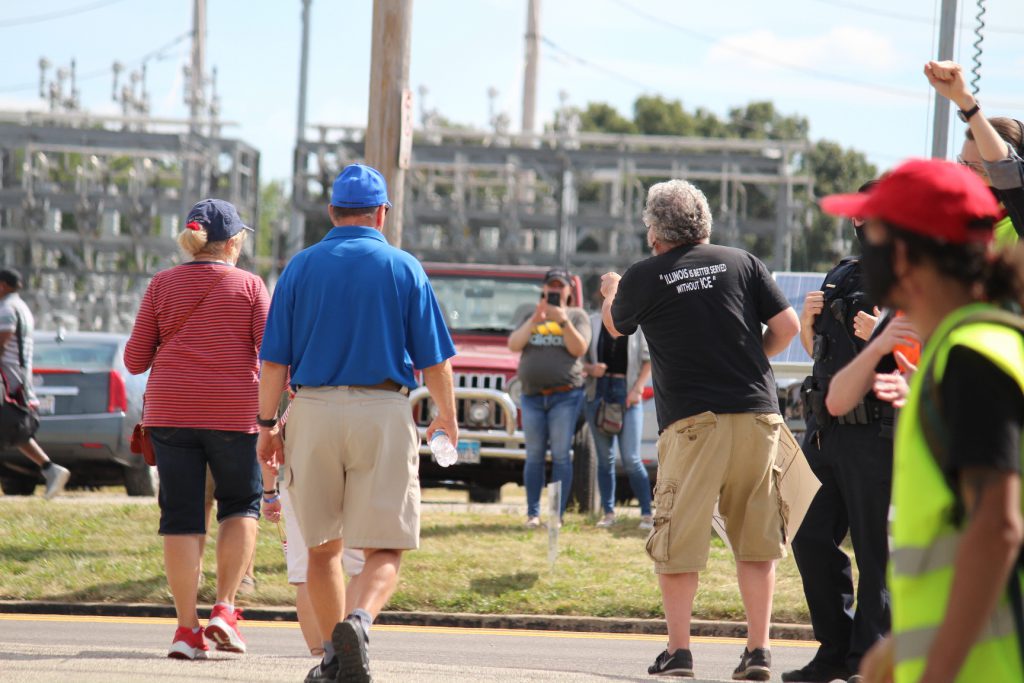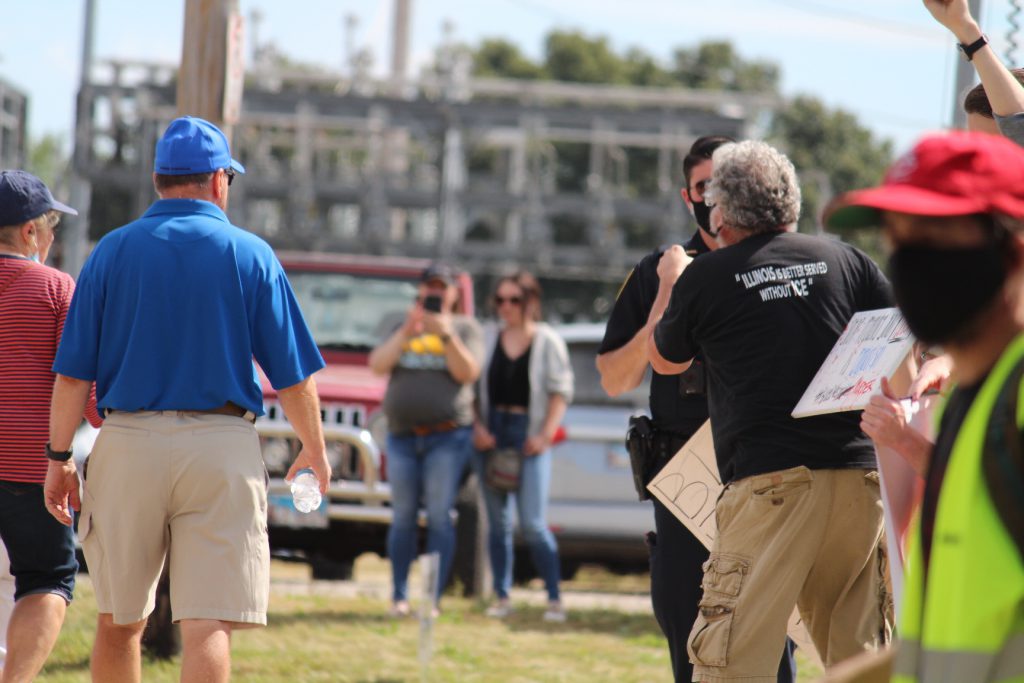 Same guy screaming at someone else before an officer stopped his pursuit of someone who brought up black-on-black crime in Chicago.  "If black lives really mattered to you," the police supporter said (paraphrased), "then why aren't you protesting up there."
The rest of the anti-police group, even the ones that didn't color their hair with Krylon paint, were equally crude, rude and obnoxious.  Not that using Krylon to color one's hair is a bad thing.  No, winning friends and influencing people has never been their strong suit.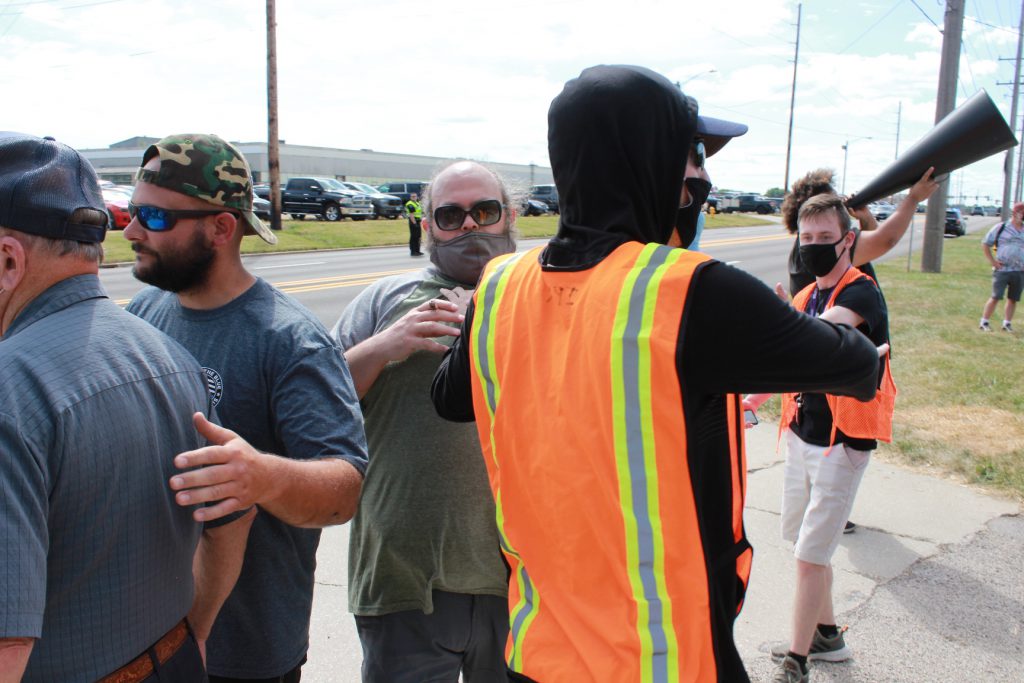 The green shirted man-bun guy was about to offer a limp-wristed roundhouse to the old man before others interceded.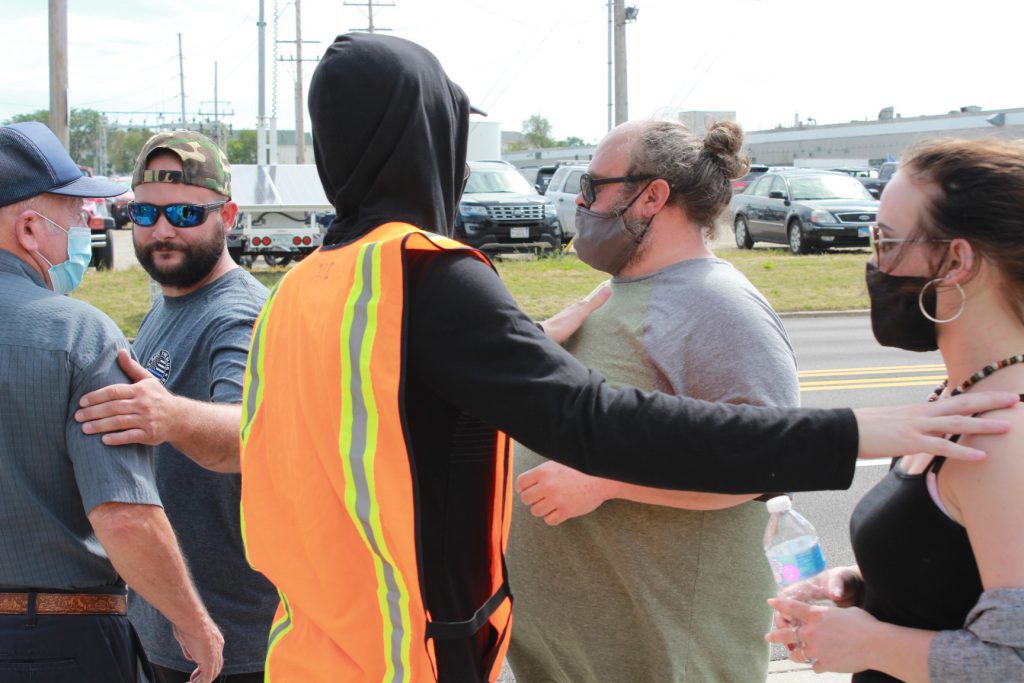 Frankly, the only thing that kept it a "peaceful protest" was the fact that a majority of the "Back the Blue" participants came strapped, and the large number of uniformed cops were also present.
What else did we notice?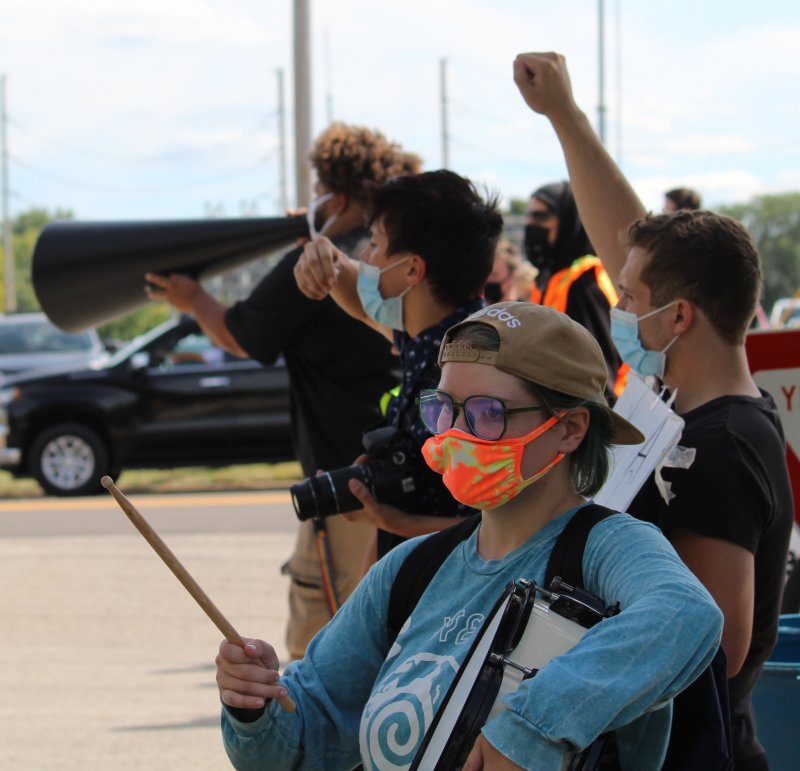 This demonstration, like many other "Black Lives Matter" events, was a little short on black activists.  I think I counted three or four out of forty people present.  Aside from Sonny Garcia and his fellow union goon, the rest, by and large, were non-black Democrat operatives with bylines (media) or (possibly) college students.
The anti-police demonstrators want to "defund" the police, end cash bail releasing arrestees without consequence for their crimes and "de-incarcerate" our prisons.
At the same time, they seek to ban gun ownership and the right to self-defense.
If you're unsure of that, just take a look at the Black Lives Matter website.