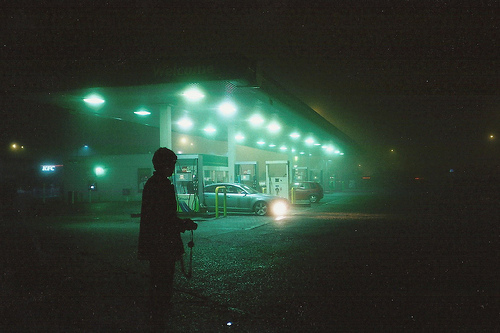 by John Boch
Warning:  Course language.
Rocco Wlodarek of Black Flag Firearms Training in Chicagoland once told me at a class, and at the GSL Chicago monthly meeting, that a gas station is one of the three places the average person is most likely to be accosted.
I have  lot of respect for Rocco.  He knows his stuff, and with that in mind, I've always dialed up the awareness a half a notch at gas stations while filling up.
Last night, I stopped on the way home to gas up at the Murphy USA station adjacent to Walmart on the west side of Bloomington.  It's not what anyone would call a "bad neighborhood", unless perhaps they were raised in Beverly Hills.
I get out, do another quick look around and swipe my card.  After I make a couple of selections, I glance around again.  Nothing odd.  I start the gas pumping and look around once more without even thinking.
I see some guy in a hat, walking in my general direction.  He's twenty plus yards away.  It's dark and had just finished raining.  I closed the driver's side door and moved clear of the pumps so I could get a better view of this person as I had nothing pressing to do.
I saw him on the other side of the island.  5′ 9″ish, white guy, trim, with a "Drudge" type hat (whatever you call those), a black, puffy down-like parka and dark pants – not jeans.  He wasn't a homeless guy, but I wasn't sure why he was walking.   He saw me.  "Guns Save Lives, huh?" he bellows.  He saw my bumper sticker.  He sounded about 40-50 years old.
I couldn't tell if he was friend or foe, but that didn't last long.
"Yep," I replied with a smile.
"You're those fucking people that put guns in the hands of killers.  Guns don't save lives, gun kill people, you stupid fuck."
My mind switched into tactical mode.  I glance around 360 degrees and consider options.  I'm a step away from the relative cover/concealment of the pump stand, but it would pin me between my van, the pump hose and the pump stand.  I stayed put.  "Move along, pal.  I don't want any trouble," I told him, extending my support arm in the universal sign of "stop, stay back".  Thank heavens for video surveillance.
He continues, with something along the lines of:  "No, fuck you.  Are you going to fucking shoot me?  Here's a better idea, you sick fuck:  Why don't you shoot yourself!"
I fish my phone out and try to dial 911.  It's in my strong side cargo pocket.  Perhaps I should find a new place for it?  I wanted the police to be on the line if this goes downhill any further.  My phone isn't cooperating with me.  "Just move along, sir," I said once more.  He was 30-45 feet away, far enough that I was "comfortable" with the distance as a reactionary gap.  I wasn't happy that I had to take my eyes off of him to fumble with my damn phone.
"You guys are fucking nuts.  You run around with your guns, ready to fucking snap and start killing people."  He's not intoxicated.  He seems in full control of his faculties.  It's just that he's in full rage mode.
He sees the phone and my surely focused frustration that I can't make it cooperate.
"Oh, you gonna call the cops?  Why don't you go fuck yourself.  Fuck you and fuck the police," he screams.
"Oh, boy.  He's one of the 'fuck the police' types," I thought.
"Just leave, sir," I yelled one last time.
He turns and starts walking away.  "Yeah, fuck you!"
Merry Christmas to you too, pal.
"Hello 9-1-1.  What's your emergency?"
I told them where I was and that some lunatic was screaming at me telling me to shoot myself and to shoot other people and I was concerned he was going to try to jump me.
"Please hold while I transfer you to Bloomington," she says.
I thought, "Jesus H. Christ.  I'm surely glad I don't need the police in a hurry. 911 doesn't put you on hold?  Bullshit.  Dialed 911, and I'm on hold.  Sure wish I had that gun I sold." 
Yes, it's funny what goes through your mind at a time like that.  GSL's Burma Slogan was racing through my mind and I watched this guy walk away while I was on hold.  I'm glad he wasn't advancing on me while I was on hold.
What seemed like ten to twenty seconds later, a second dispatcher comes on and I tell her what's up.  Come to find out she doesn't have anyone in that part of town and it'll be a few minutes at best.  I told her not to worry about it as my unbalanced lunatic was now a block and a half away, headed back to wherever he came from.
I'm glad this guy didn't catch me unawares, beginning his verbal tirade from six feet instead of thirty or forty.
I'm glad I didn't need the cops in a hurry.  I suspect I could have written a letter or two to Congress before police would have arrived.
That's why I carry.
Looking back, this guy was just a bully, pure and simple.  If he really believed I was a mentally unbalanced gun owner, ready to snap on a whim, surely he would have steered clear of me.  Instead, he wanted to bully me in a public setting – unless he was as much of a lunatic as I thought he was for launching his uncivilized broadside against me while I was minding my own business.
Is it time to take the sticker off my van?  Hell no.  I'm not going to be intimidated by social justice warrior bullies.  I'm thinking it might be time to put a second bumper sticker on my back window…