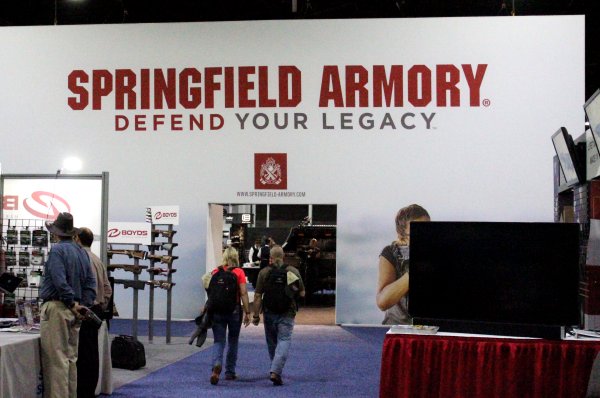 A special email alert from our friends at the Illinois State Rifle Association. It pretty much sums things up nicely.
Folks, if you're not engaged and involved, then barring a miracle, we're not going to be able to stop this bill. The sleazy sell-out by the Illinois Firearms Manufacturers Association (Springfield Armory and Rock River) has give some suburban Democrats cover to vote for this bill. SB-1657 got through the Illinois Senate. It's got a better than even chance at passage in the Illinois House. You would be well to write the governor today to urge his opposition to the bill.
John
S
PECIAL ALERT – GUN DEALER LICENSING BILL PERPETRATORS AND VICTIMS
PLEASE READ
As many of you know, the Illinois Senate recently passed a gun dealer licensing bill (SB1657) that has caused quite a stir in the gun-owning community. The ISRA believes that it is very important that you, the law-abiding gun owner, understand just who the perpetrator behind this bill is, and who the bill's victims are:

Victim #1 – The Law Abiding Gun Owner. If SB1657 is eventually signed into law, the biggest loser will be the law-abiding gun owner. The bill would place an enormous regulatory burden on any entity determined to be a "gun dealer." Under the bill, a "gun dealer" is any entity that sells 9 or more guns per year. The cost of compliance with the bill's requirements would add anywhere from $150 to $300 to the retail price of any new firearm. Many current gun dealers would find it pointless to remain in business. As a result, Illinois gun owners may find themselves having to drive hundreds of miles to find a dealer still in business. It's important to note that the 9-gun limit also applies to private parties who sell 9 or more guns per year. Therefore, someone trying to sell off their gun collection would have to be licensed by the state and suffer all the regulatory requirements that full-fledged gun shops encounter. In short, most Illinois gun owners would find that their right to keep and bear arms had been effectively nullified.

Victim #2 – The Independent Gun Retailer. If passed, SB1657 would require firearm retailers to drastically alter their business processes. Such would include upgraded training for employees, updated security systems, and increased expenditure of staff-hours dedicated to government inspections of their stores. The net result would be a significant increase in fixed overhead costs for independent retailers. Increased overhead costs would be passed along to customers in the form of higher retailer prices to the tune of $150 to $300 per gun. Increased gun prices would artificially drive down demand for firearms by the law-abiding public. In effect, SB1657 would establish a tax on a Constitutional right. It should be noted that "big box" retailers are exempted from the bill's requirements because their gun sales do not exceed 20% of gross yearly sales for all lines. The exemption puts independent dealers at a serious competitive disadvantage – further driving the demise of independent gun shops. Having very little skin in the game could prompt the big box retailers to withdraw entirely from the firearms market – thus leaving Illinois citizens with no accessibility to firearms.

Victim #3 – Illinois Firearm Manufacturers. Under the original version of the Senate bill, firearm manufacturers would have to comply with the licensing bill as well. The costs to manufacturers would be prohibitive and they would have to move out of state or shut down.

The Perpetrator:- Sen. Don Harmon (D-Oak Park).

Harmon represents one of several gerrymandered districts designed to neutralize west-suburban Republican power. A self-proclaimed "progressive," Harmon sees himself as a dragon slayer of sorts with the ISRA being on top of his list of dragons to slay. Since becoming President Pro Tempore of the Illinois Senate, Harmon has launched incessant attacks on the NRA, the ISRA, and lawful gun owners in general. It is now abundantly clear that Harmon's goal is to abolish civilian firearm ownership in Illinois.

Harmon's commitment to eliminating private firearm ownership is evidenced by the company he keeps. Harmon is especially cozy with anti-gun crackpots Mark Kelly and Gabby Giffords. Since September 2016, Harmon and his anti-gun cronies in the Senate have accepted over $600,000 in donations and lobbying support from Giffords to ram SB1657 right down your throat.

Harmon's Caspar Milquetoast appearance belies a shrewd, vindictive man driven by an obsessive dislike for guns and the people who own them. Harmon claims that SB1657 is designed to protect children from so-called gun violence. Yet, there are no provisions in the bill even slightly related to the safety of any child in the state. The truth of the matter is, Harmon's intention is to thrust the right to keep and bear arms into a death spiral.

In summary, Sen. Don Harmon is an enemy of the 2nd Amendment; an enemy of the Constitution; and an enemy of the people. Harmon is an urban elitist foot soldier ready and willing to do the bidding of billionaire gun grabber Michael Bloomberg. As we know, Bloomberg's intent is to establish a gun-free America. To achieve that end, Harmon is intent on stripping you of your human dignity, intent on denying your family's right to protect themselves, and making a mockery of the Founding Father's intentions when founding this great nation.

Now that we've told you the real story, it's up to you to work tirelessly to neutralize Harmon and his gun-grabbing pals.