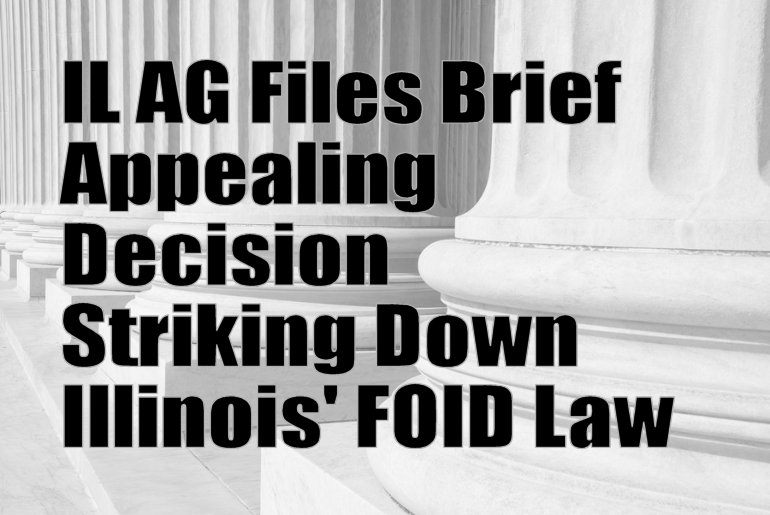 [Note:  An earlier version of this had it as the "White" case, when it was Vivian Brown.  We regret our color dyslexia.]
A judge in Illinois' Second Circuit found the Illinois FOID Act unconstitutional in a case against Vivian Brown last year.  We wrote about it back in March.  The Illinois Attorney General has appealed the case to the Illinois Supreme Court and last Friday, Kwame Raoul submitted the Illinois AG's brief. 
This is the case that the Second Amendment Foundation has taken on, with the assistance of the Illinois State Rifle Association and Illinois Carry.  The SAF has retained ISRA's General Counsel David Sigale (pronounced Seagle) to represent Ms. Brown as her court-appointed public defender has since retired.
Guns Save Life had earlier expressed some concerns about the ISRA / SAF attorney David Sigale.  However, the ISRA and SAF have both assured us that:
 David Sigale has won more gun law cases on Constitutional grounds than any other attorney practicing.  In fact, ISRA President Doug Mayhall told Guns Save Life members at Sunday night's Chicagoland GSL meeting that Sigale is 16 for 16.  "Nobody has won more," Mayhall said.  "And if I needed an attorney, I'd absolutely hire David Sigale."
Ultimately it is Mrs. Brown's choice about who represents her.  If she doesn't want more lawyers arguing on her behalf, that's her choice to make.  She reportedly contacted the SAF about her case and they took it.  That's what ISRA President Doug Mayhall told us in Chicago, and that's what Illinois Carry Spokeswoman Valinda Rowe has posted on social media and, if memory serves, at she and other Illinois Carry leaders have written the same there as well.
Both groups have expressed complete and total confidence that Mr. Sigale will see the case to a successful conclusion for gun owners.   ISRA in particular says we could not have a better attorney representing the Land of Lincoln's 2.5 million gun owners interests in seeing the FOID Act struck down state-wide.
We'll do analysis on the state's brief in the coming days.  For now, here it is for your reading pleasure.