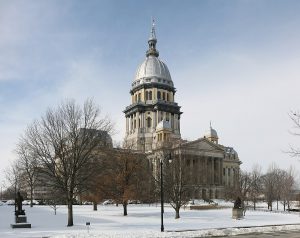 Photo Credit: Wikipedia
By Mike Keleher
Like most of you, I don't pay much attention to the sheer volume of laws passed each year by state law makers. This year, 1044 laws were approved by the legislature and signed off on by the governor.
However, I do perk up when I see firearms related laws going into effect on New Year's Day which I might not have paid any attention to during the previous year.
This week, the brand new Illinois Firearms Restraining Order Act, found at 430 Illinois Compiled Statute, Section 67, is open for business. This is one of those "Somebody Ought to Do Something" laws which allows people to file petitions with the court to get a judge to issue to issue orders to "temporarily" take personally owned guns and their rights to possess legally owned firearms away from a citizen who the petitioner believes may be a danger to themselves and others…despite the fact no crime has been committed. In addition to the emergency order, a petitioner can request an order keeping the gun owner from getting their property back for up to six months. By the way, the gun owner is not invited to participate in this emergency process- it is Ex Parte. Once such an order has been issued and firearms seized, the respondent is invited to come to a court hearing 7 days later to see what is being said against them.
These controversial laws are known as "Red Flag Laws"- allowing courts to jump in to try and stop people who are showing Red Flag warnings of impending possible violence. Gun Control advocates claim it is a "common sense" approach. Pro Gun advocates can see it as legislating their fear of gun grabs by the government with limited review.
Five states have recently enacted this type of Red Flag law and eighteen more are considering it. A Maryland resident objected to this type of order being served in November of 2018, became agitated and shot at police, who in turned killed him.
The only standard of review on this process, is if the local judge believes after reading the complaint, probable cause exists to believe the subject poses a risk to themselves or others by the fact they are in possession of firearms, are buying firearms or receiving firearms.
Upon issue of such a restraining order under the new Illinois law, a search warrant is issued by the court directing police search the subject's residence or other locations identified to seize firearms, FOID card and Concealed Carry Permits.
There are good and bad aspects to this law. It is of course impossible to only "do good" in such a complicated series of issues.
On the positive side, there are people in our society who are actively dangerous and this law can impact. Stalkers and Domestic Violence suspects are frequently observed by family and friends with escalating violent or mental health behaviors-these people should receive intervention by families and authorities to prevent homicides, suicides and other tragedies, and by the way, there are already laws in existence which allow retraining orders against the suspects and their behaviors.
Almost every spree shooter we have seen in recent years have openly displayed and foreshadowed their upcoming murder sprees. Intervention has prevented other tragedies when police, courts and family work together to prevent violence.
On the down side of Firearms Retraining Order laws, as seen in other jurisdictions, are the people who are complainants in these actions are not subject to much screening, and a simple perjury charge exists if they are found misusing this law to target firearm owners. Any angry family member, spouse, ex-spouse, or intimate can make a claim the subject should not have firearms and with the stroke of a judges' pen, the local police are directed to seize the subject's firearms and ammunition.
Another law that passed this past year under SB03411, allows employers, churches and schools to petition for orders of protection against stalkers, and if it is granted the stalker can be compelled to give up firearms and their FOID card.
Rounding out the new firearms/hunting laws starting this new year, is the new law which allows "Blaze Pink" to be recognized as an official safe color for hunting along with Blaze Orange—who says Illinois legislators don't do anything important?