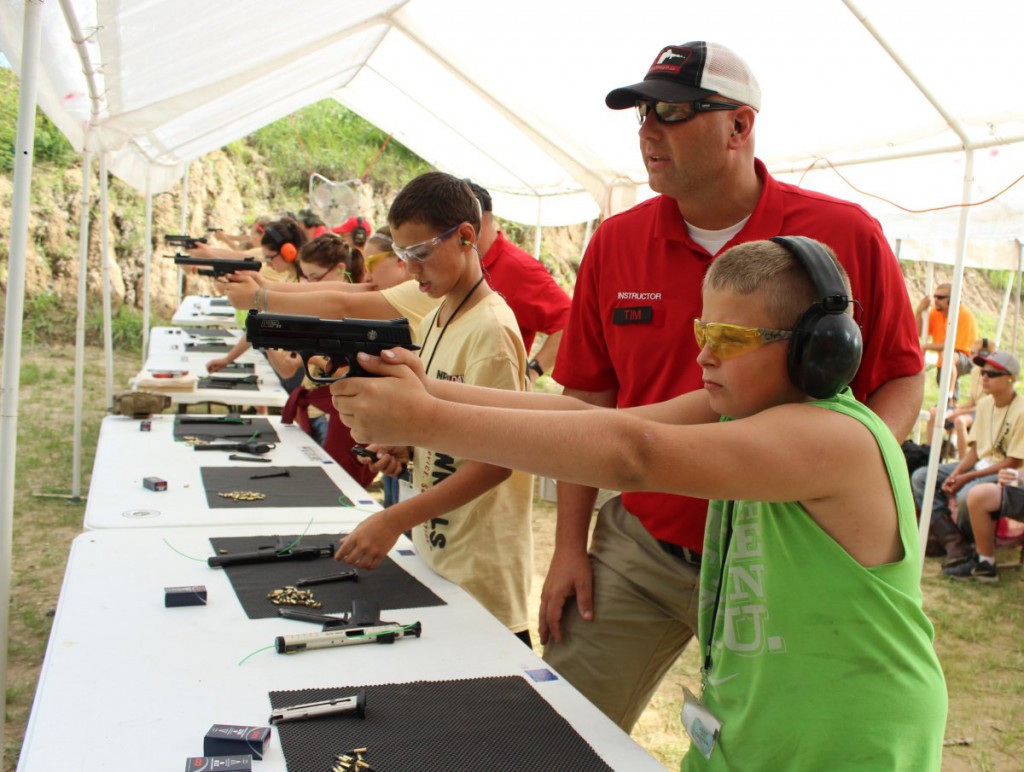 Click on any of the photos for higher resolution versions.
by John Boch
On July 23-26, 2015, about 130 young people aged 9-16 participated in the nation's longest-running (and probably the largest) NRA Youth Shooting Camp in the nation at Darnall's GunWorks and Ranges in Bloomington, IL.
It was the 22nd year for the event and saw young people participating in most of the major shooting disciplines during the daytime, while camping overnight on the property.
The campers were exposed to shotgun shooting (trap), rimfire rifles, rimfire pistols, black powder, archery, Cowboy Action Shooting, Ruger steel challenge (Cowboy Action Shooting with modern rimfire rifles and without the cowboy hats), air rifles, and more.  Instruction was done by veteran instructors, including Olympic level coaches at some stations.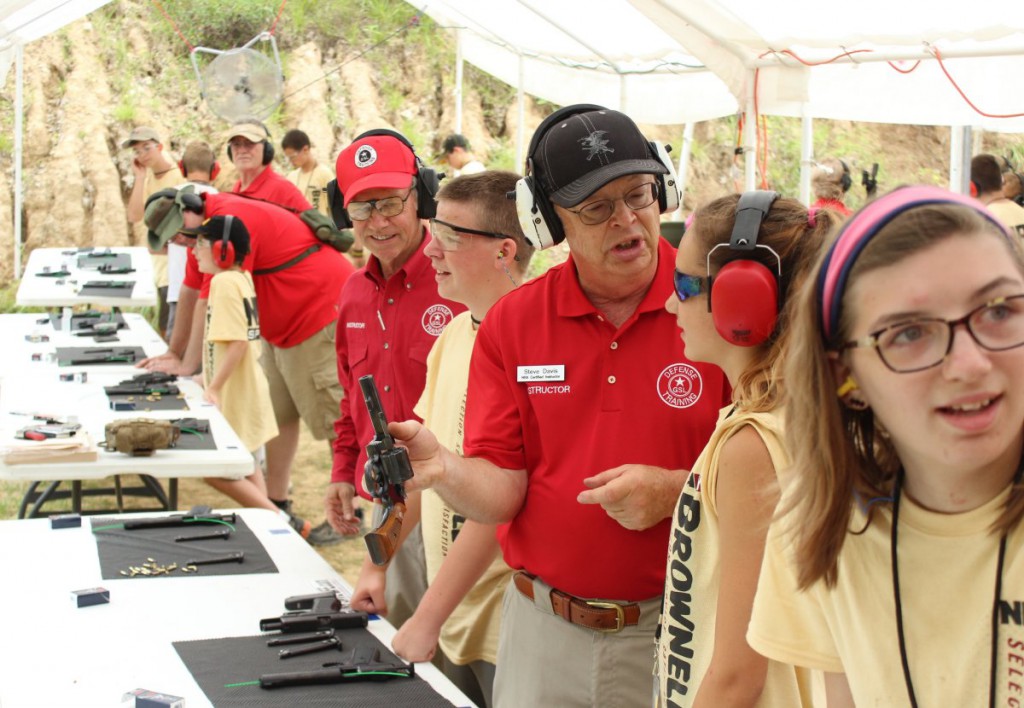 Guns Save Life was again a major sponsor of the event this year.  Guns Save Life members (including officers, staff and directors) participated as volunteers at the event as well, helping to inculcate the next generation of Americans in the safe use of guns and the excitement of shooting.  It's all part of our mission to educate!
In addition to Guns Save Life, the Friends of NRA, the McLean County Sportsmen, The Steel Group and a number of individuals contributed funds, product (prize guns, ammo) and much more to the camp.  The Darnall family coordinates the event and local businesses also provide food and logistical support as well.  There's a lot that goes into feeding and supporting 160+ people over four days and three nights.
GSL Defense Training provided the instruction at the pistol line and that's where I spent most of my weekend.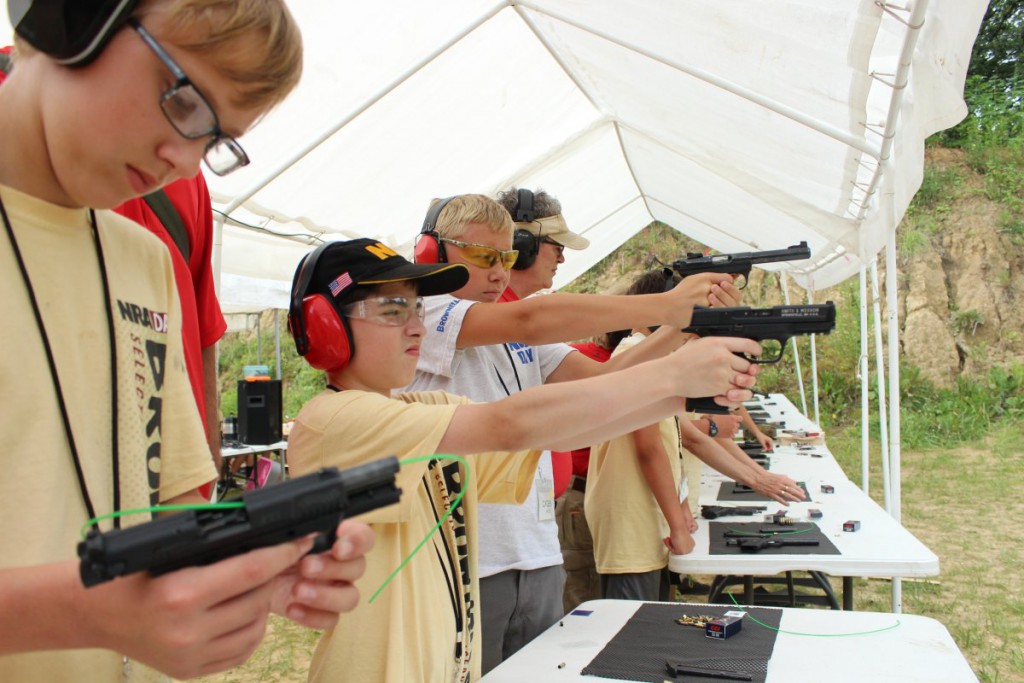 I've been a volunteer instructor every year since 1999.  Indeed, I've been there since before this year's campers were even born.
There's no greater satisfaction than seeing a big smile on a new shooter's face as they fire their first shots and see success.  I worked under long-time master instructor James C. Hagearty II for many years and about four years ago, after Mr. Hagearty left, GSL Defense Training team took over the pistol line.  In addition to GSL Defense Training staff instructors, we also welcome other top-notch handgun instructors in Central Illinois to help.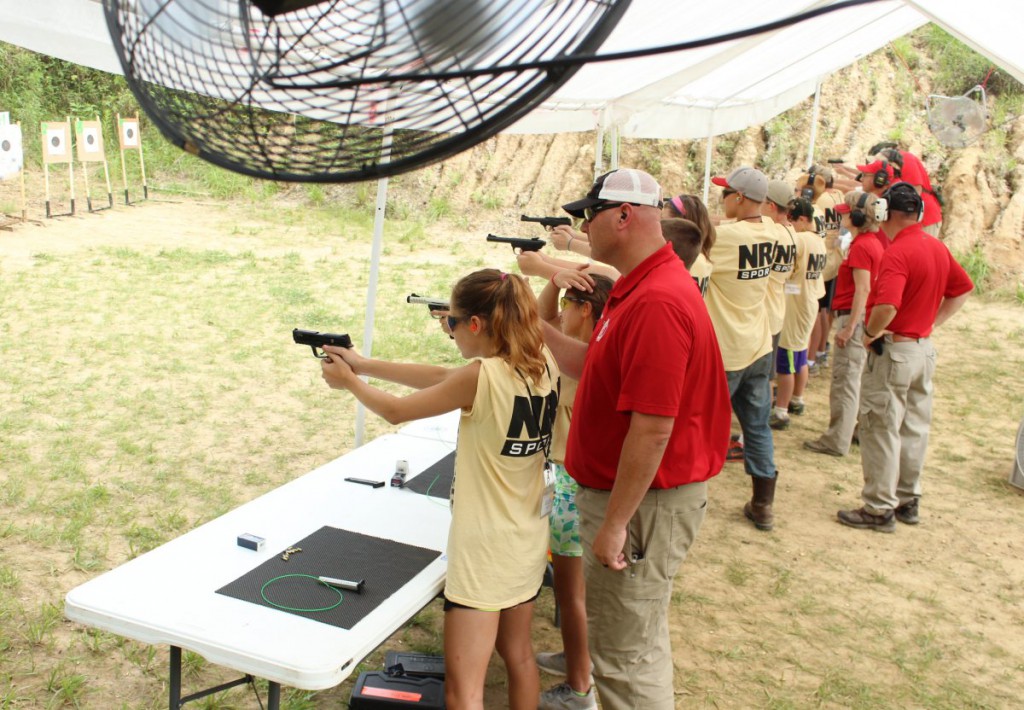 We brought fans and music to our station to keep it fun.  Some of the younger kids can be a little nervous about shooting pistols, but we put them in a good mood and make it the most exciting station in the whole camp.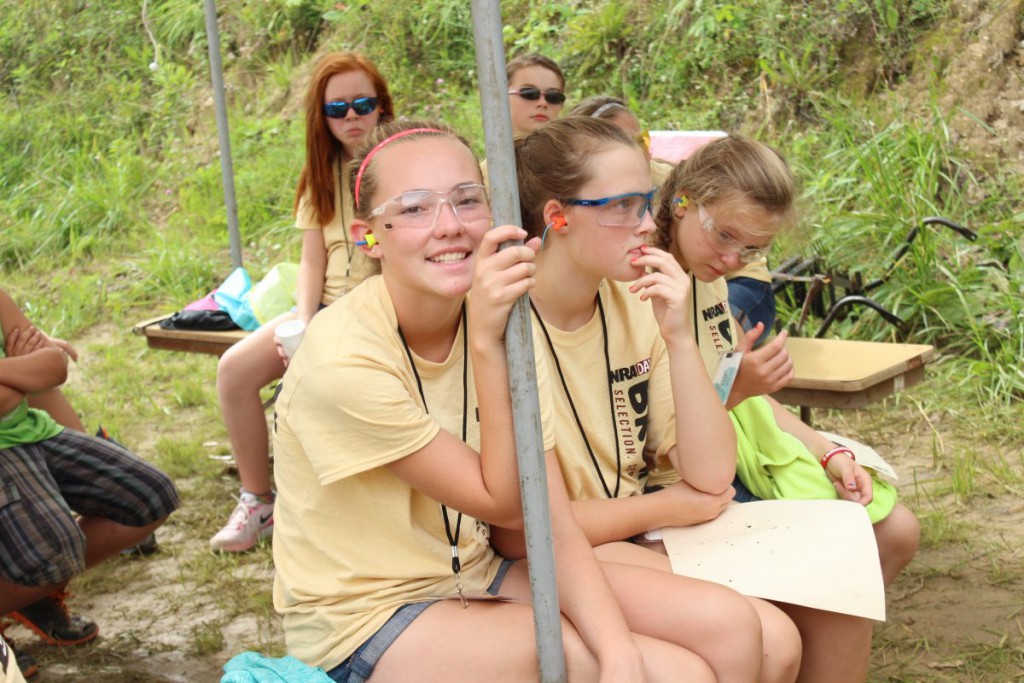 To spice things up a little, we allow the top five shooters from each 12-15 shooter relay to shoot five rounds from their choice of center-fire pistol.  We've got a host of handguns, from the 5.56mm "Giggler" to .38s, .357s, 9mms, .45s and others.  An opportunity to shoot "the big guns" is a big hit for the kids.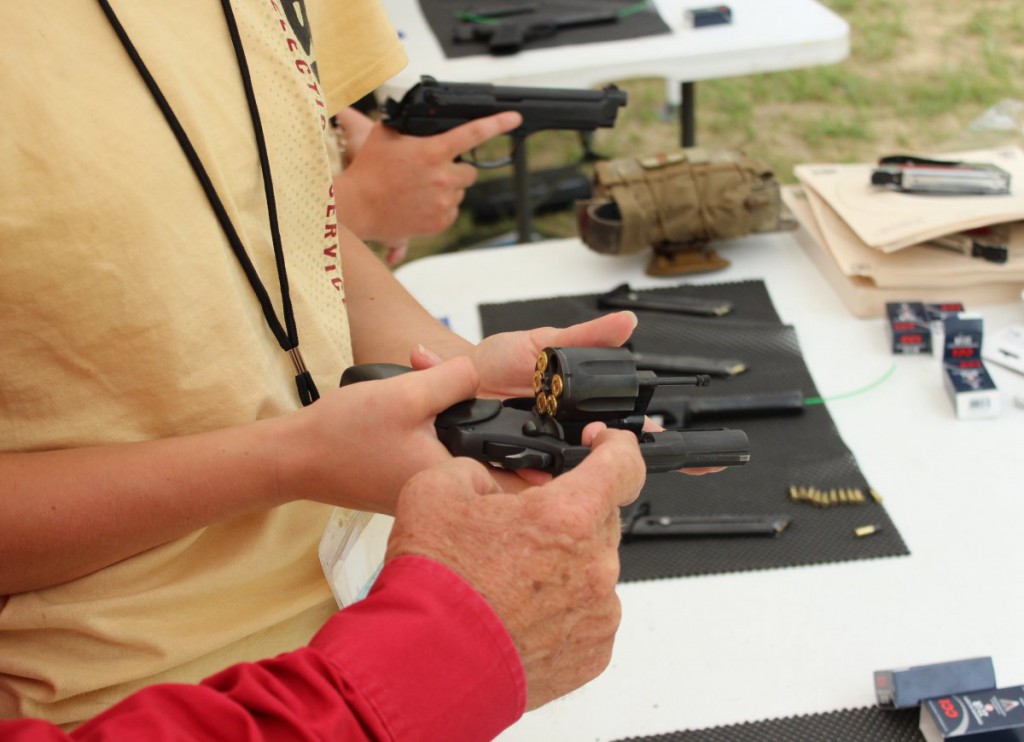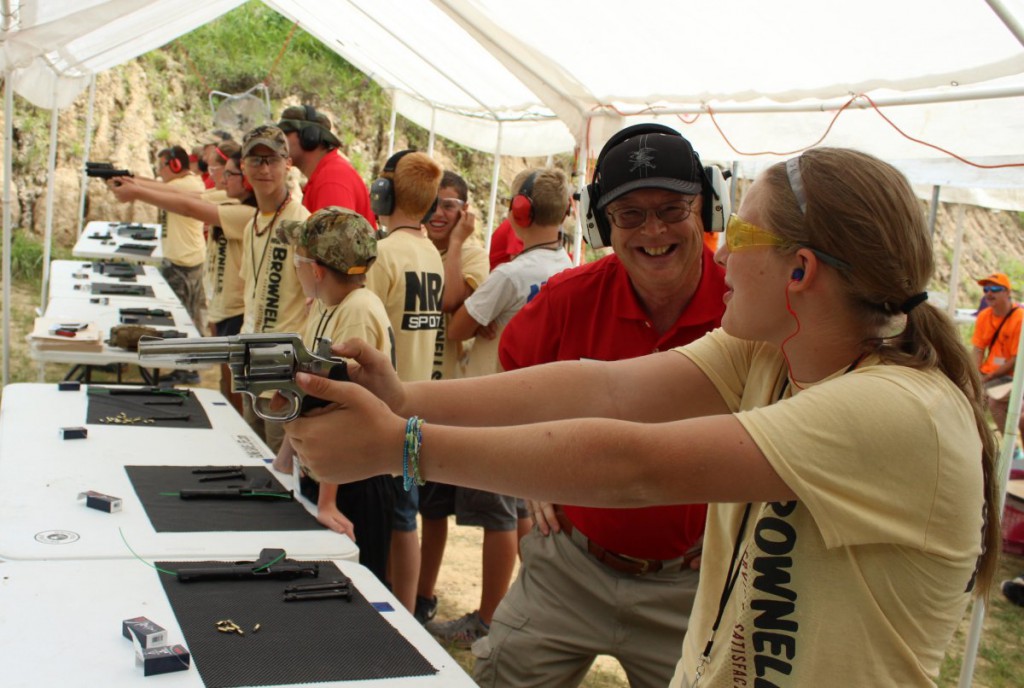 Remember this girl (from the top photo)?  She was a little nervous about shooting full-power .357s.   But with some coaching…
Five shots with .357 Magnum rounds.  30 feet.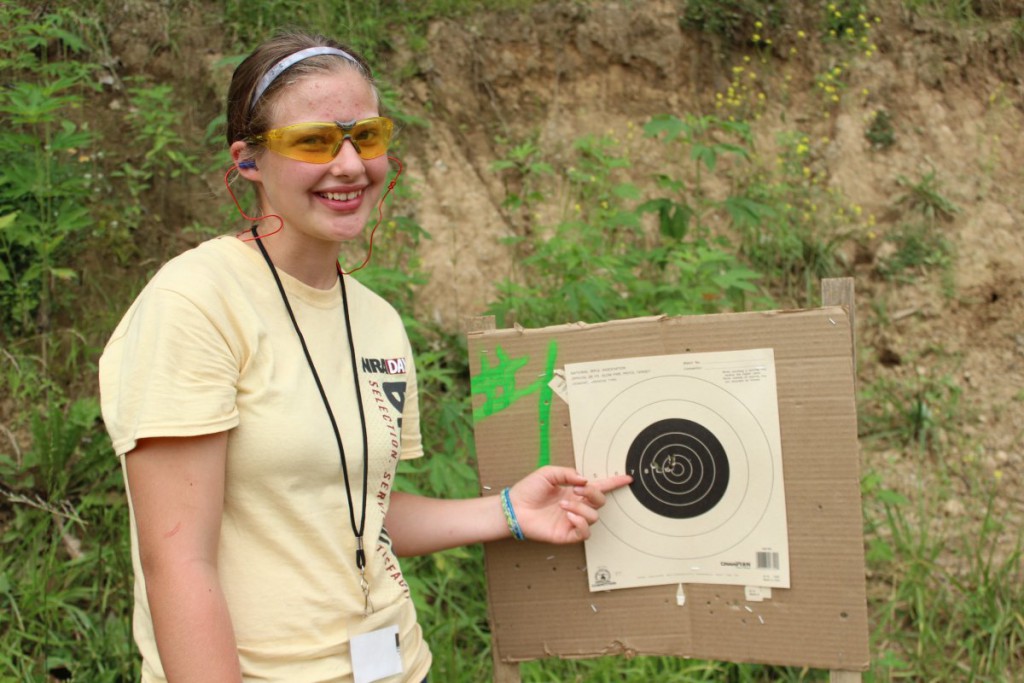 We told her to stop trying to outshoot the instructors.  Imagine what she could do with a little practice.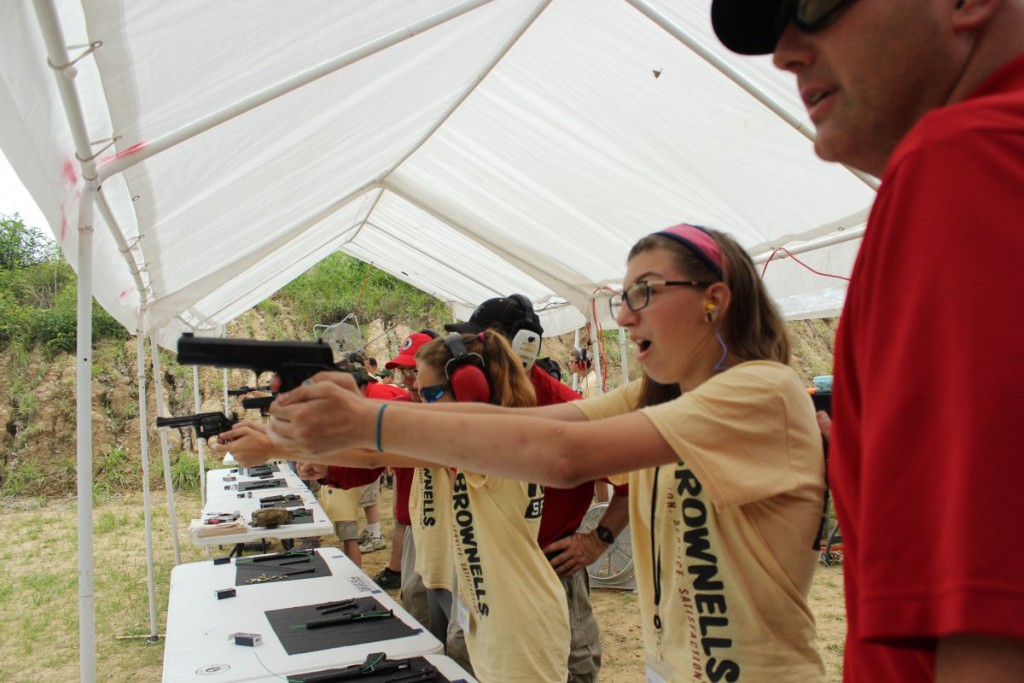 This young lady decided to try an "old fashioned" .45…  One like her grandfather might have carried in foreign countries fighting to liberate the oppressed.  The surprise of the first shot on her face was replaced with…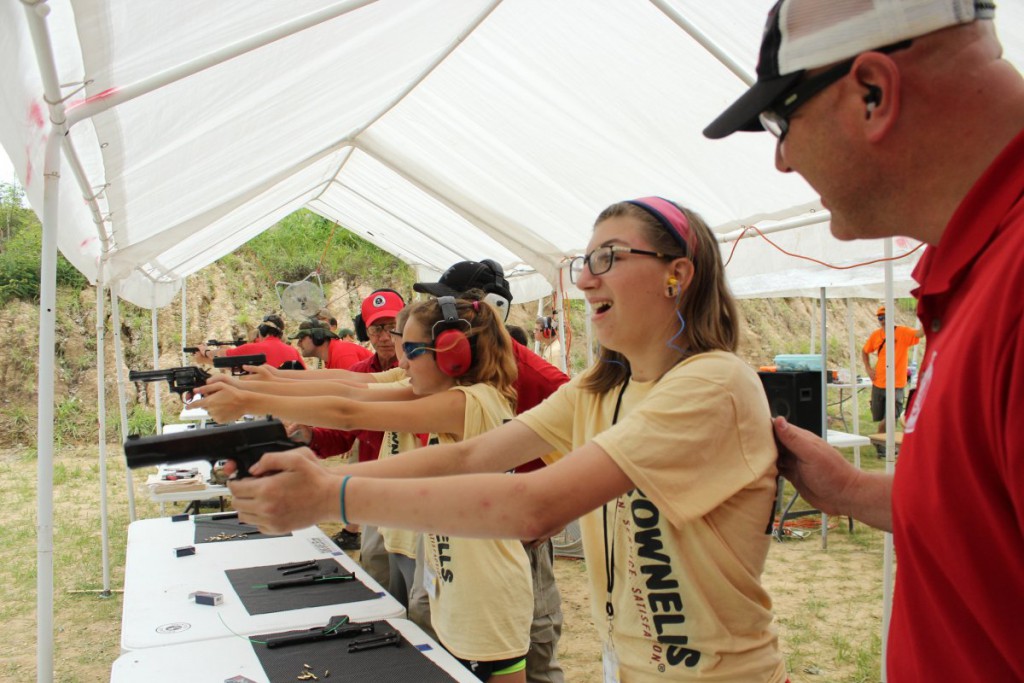 "Wow!  I can do this!"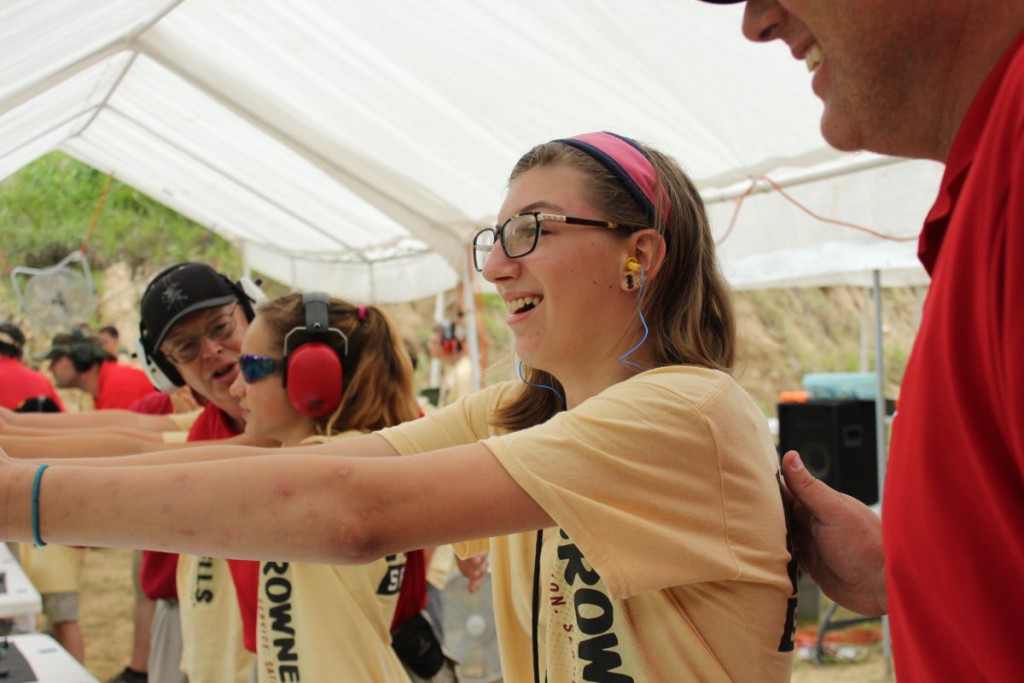 There were plenty of others.