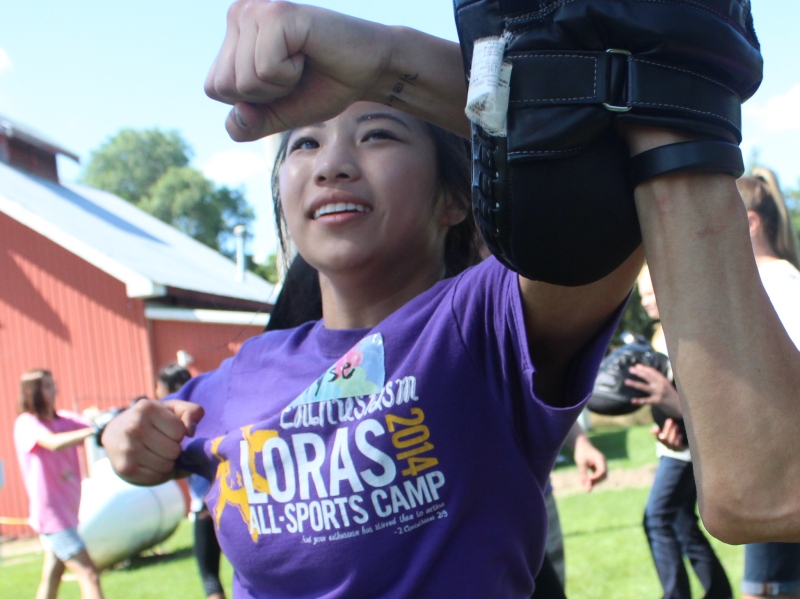 Clinton, IL (Guns Save Life) – GSL Defense Training held its first Personal Protection for Teens classes July 16-17 at the DeWitt County Sportsman's Club near Clinton. Nearly 40 young people ages 12-21 turned out to learn how to identify threats and avoid confrontations, and if necessary, how to use force to protect themselves and their loved ones from victimization.
Students came from three states and two nations to attend and had great fun learning from a diverse crew of instructors. The teens got trained in identifying and managing potential "external" threats from criminal predators as well as dealing with situations from known assailants like bullies. They learned about dating safety, internet safety and driving safety – as well as how to survive an active shooter situation.
The course placed a strong emphasis taking responsibility for one's own safety. It also emphasized avoidance over the use of force, but it did introduce enrollees on how to use justifiable force to escape or thwart a violent attack.
Exercises also demonstrated the shortcomings of pepper spray and tips on using all manner of improvised weapons against assailants. The hands-on practical exercises using fire extinguishers and ink pens as defensive tools bringing lots of smiles and self-confidence for participants.
Each student also shot both pistols and revolvers under the careful eye of experienced, highly-trained and patient instructors, equipping them with the fundamentals should they ever have an occasion to rely on a firearm to save their lives.
Krav Maga instructor Bill Martin introduced the young adults to Krav Maga, or Israeli empty-handed combatives. Students loved the Krav segments, including learning fundamental strikes and how to use their body sponsorship to vastly increase the energy behind the blows. Martin made it fun and helped empower these young adults with physical skills they can use for the rest of their lives to defend against attacks.
All in all, it was time well spent educating young people (and a bunch of parents who came along to watch and learn) about proven strategies for personal safety, and on safe and responsible use of firearms for personal defense. The evaluations from those present raved over this unique training opportunity for teenagers.
Once again, while GSL Defense Training, LLC is a separate and independent organization from Guns Save Life, the two groups have worked together on shared goals. This course marks yet another cutting edge training program brought to Central Illinois courtesy of Guns Save Life and GSL Defense Training.