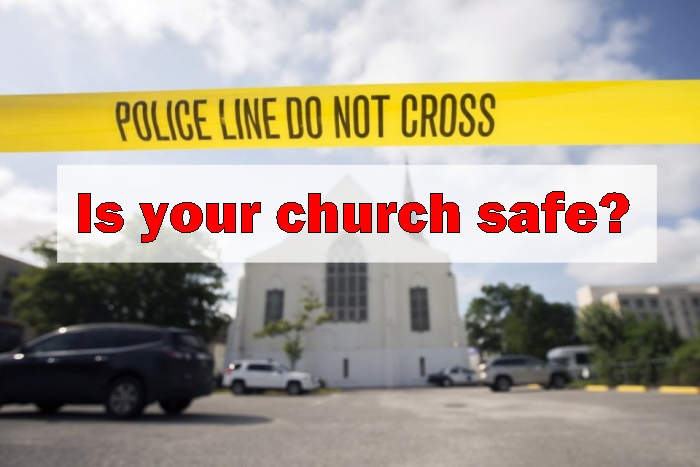 by John Boch
What are the lives of your fellow congregants worth at your church?
Is their health and safety worth spending some time and resources (including financial) to beef up security to help ensure everyone's safety in this day and age?
We think so, but not everyone is as proactive about personal safety as we are.
FoxNews reports on churches taking security seriously, especially in the face of potential terror threats. Frankly though, terror threats aren't anywhere near the top of the list of dangers most likely faced by church goers.
Churches take new security measures in face of terror threats


(FoxNews) – As Father Josiah Trenham prepared to read the Gospel, several parishioners discreetly scooped up their babies, retreated up the aisles of St. Andrew Orthodox Church and out into the spring air, so as not to allow the crying of little ones to disturb the divine liturgy.

The time-honored tradition was shattered when a car passed by the Riverside, Calif., church, slowing down as the front passenger leaned out of his window and bellowed menacingly through a bullhorn, according to witnesses.

"Allahu Akbar!" the unidentified man repeated several times as the unnerved parents drew their infants close and exchanged worried glances.

…"Many churches are now hiring self-defense instructors for classes or security guards that include off-duty police," said Ryan Mauro, a professor of Homeland Security at Liberty University and national security analyst for the Clarion Project. "If you are an Islamist terrorist seeking self-glory, executing a priest will bring you more attention than executing an average civilian."While no lethal terror attacks have occurred inside a U.S. church to date, experts like Jeff King, president of International Christian Concern, notes the threat tally is growing.
While no lethal terror attacks have occurred, other violence in churches have claimed the lives of scores each year, along with hundreds more injured in attacks annually in the past few years.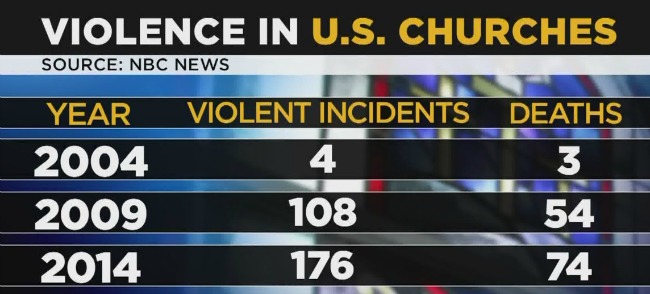 Domestic violence incidents (often relating to child custody issues) and lunatics are two of the biggest threats.


Church security training in the Central United States

Guns Save Life was lucky enough to hear a timely presentation from Tom Whitaker at our Sangamon County meeting last week. He's a trained professional and a world-renowned expert in Krav Maga, who started teaching church security after his pastor Fred Winters was murdered by a lunatic in March 2009 during a church service in Maryville, Illinois.
Here's just a sampling of his training history:
1st Degree Black Belt Shorin-Ryu Karate
6th Degree Black Belt Premier Martial Arts System
Black Belt Krav Maga
Instructor Patriot Knife Fighting Systems
1996 Heavyweight Golden Gloves Boxing Champion.
1997 USA-KIA United States Heavyweight Kickboxing Champion
1997-1999 Heavyweight fighter for Coors Light World Class Professional Kickboxing Team
Trainer of instructors through Premier Martial Arts International and Krav MagaUniversal
Sr. Instructor Rank from the Wingate Center in Israel.
Certified VIP Executive Security through Wingate Institute in Israel
Certified Basic Israeli Military Hand to Hand Tactics through Wingate Institute inIsrael.
Instructor of de-escalation tactics
Instructor of nonverbal communication in a security environment
He knows his stuff and if your church is looking for an expert consultant to come in to help train a security team for your church – at a reasonable price (a freewill offering, in fact), contact him:
618-344-9675
info@metrokravmaga.com
Consider this a formal recommendation for his training services. We at GSL Defense Training had an internal training date this spring bringing in Ernie Kirk to teach the GSL Defense Training crew Knife/Counter-knife, Counter-Home Invasion, Cheap Shots, Weapon Retention and a few other topics. Tom joined Ernie Kirk and gave us an abbreviated church security presentation that had us all sitting on the edge of our chairs. His training on de-escalation was priceless and I've stolen it for use in some of our GSL Defense Training courses.
Again, he does this for a freewill offering from churches. I'd recommend a generous freewill offering. After all, what is your congregants' safety worth?
Sticking your heads in the sand will not make you safer.