On Christmas Eve eve, 14-year-old Keontre Reese decided to go do some Christmas shopping in a residential neighborhood in Oklahoma City.
Young Keontre wasn't taking a break from his entrance exam to Harvard, nor was he retrieving some medicine from the store for his sick mother.
No, he was a gang-banging piece of fecal matter who ignored a sign on a residence that said, "Nothing on this property is worth your life."
That, as they say in the FBI Academy, is a CLUE.
Maybe Keontre couldn't read.  Or maybe he was too busy updating his social media page on his phone when he broke in.
Anyway, Keontre broke in but he didn't break back out.  He tripped the alarm and the resident, a local pastor who in previous media interviews, preached his support for the Second Amendment after finding himself victimized in a home invasion while doing missionary work in Africa.  See, the good pastor gave the home intruders what they wanted, yet they still split his head open for his troubles.
Here in America, he was a staunch believer in Sam Colt making him equal with predatory criminals.
Keontre heard the pastor coming in and hid in a closet, intent on ambushing the homeowner – and in all likelihood, killing the homeowner to facilitate a clean getaway.
Instead, he got perforated.
Good riddance, Keontre.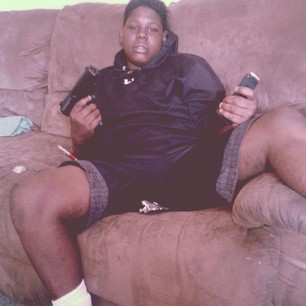 Where were his mom and dad?
Who know.
His mom will probably be along any day now to tout that her boy didn't do anything wrong.  Or something like that.
OKLAHOMA CITY (Oklahoma Sentinel) – Police say a metro pastor opened fire on an alleged intruder, killing him.
Reverend Tom Vineyard is known as the pastor of Windsor Hills Baptist Church.
However, authorities say Vineyard was protecting his personal  property and his family when he opened fire on an alleged intruder.
Police rushed to the home, near N.W. 23rd St. and MacArthur Blvd.,  Saturday afternoon after Vineyard's son told dispatchers that his father had shot an intruder.
Officers say the home's security system alerted the family to the break-in and Vineyard armed himself with a gun.
"The suspect was supposedly shot inside the home. I don't know whether he passed away inside or outside of the home," said Staff Sgt. Billy Payne, with the Oklahoma City Police Department.
On December 23, police identified the alleged intruder as 14-year-old Keontre Reese.
Several signs are posted around the pastor's home. One on the front door reads, "Nothing on this property is worth your life."
Police say Reese did not heed the warning, and they have no idea why he chose this home.