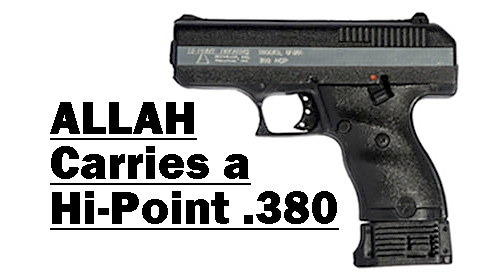 I've heard it on good authority that when God shoots recreationally, he shoots a revolver.
Now we all know what sort of gun Allah carries.  Police in Akron, Ohio nabbed Allah packing a Hi-Point .380 auto stuffed into his pants in recent days, letting us know what the famous head guy of the Islamic religion carries.
Yep, it's true  18-year-old Wise Intelligent Supreme God Allah got busted by the cops.  We're gonna call him WISGA for short.
First off, nice name.  It could have been worse.  His mommy could have named him Younique.  Or Deathray.  That's Dee-ought-trey, by the way, not Death Ray.  But she named him Wise Intelligent Supreme God Allah instead.  Bless her little heart.
WISGA is famous in part thanks to his name and his criminal career.  Oh yes, Allah's a criminal.  I suppose that makes it handy that his address is adjacent to a juvenile detention facility.  Perhaps he was such a frequent flier that his mom moved close by the juvy jail so he could walk home when he got released?
The Smoking Gun has his 4-1-1.
Meet Wise Intelligent Supreme God Allah.

Belying his name, the 18-year-old Ohioan made the imprudent choice Thursday night to be carrying a loaded handgun while a passenger in a car traveling in Akron.

During a police traffic stop, Allah was found with a Hi-Point .380 caliber handgun in the waistband of his pants. The Canton resident was arrested on felony weapons charges, according to Akron Municipal Court records.

None of the four other occupants of the 2014 Kia were arrested during the stop, which occurred in front of a Taco Bell. An Akron Police Department report states that Allah and two women in the vehicle "has history of drugs and weapons."

The accused pistolero–whose rap sheet includes a felony burglary conviction–was booked into the Summit County jail, where he remains locked up on $20,000 bond.