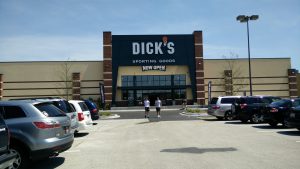 By Mike Keleher
Amid manufactured fanfare, Dick's Sporting Goods opened a new store in Gurnee, IL on Friday, May 26th in the Gurnee Mills Outlet Mall. They have been working on it for months.
Banners and flags were posted. A Chicago celebrity sports figure was contracted to sign autographs for a two-hour period, and giveaways for the first in line customers were also announced. An email campaign and snail mail offerings included liberal coupons for $10 off your first $25 purchase saturated the local area in advance of the Grand Opening.
Following John Boch's story about a visit to the Champaign, IL Field and Stream/Dick's Store in Guns Save Life earlier this month, and Dick's widely publicized decision to drop modern high capacity firearms and the choice to hire anti-gun lobbyists, I decided to stop by Dick's Friday morning to take a peek and see how they were treating the whole firearms issue in their brand-new store.
There were a fair number of cars in the parking lot near the store. But then again, it is located at Gurnee Mills, the worlds largest outlet mall-1.8 miles long if you walk it end to end, and the lots are usually inhabited by mini-vans and SUV's owned by hard core shoppers. They have more baby strollers and shoe stores in Gurnee Mills per square foot than anywhere else in the Midwest.
Inside the store, I found it was staffed with very helpful, smiling people on their first shift during the Grand Opening…about every ten feet or so. They were spaced out like an NFL Zone Defense. After being greeted by eight or ten employees I decided the large number of cars in the parking lot belonged to the large number of staff inside the store who merely wanted a short walk to work.
There were almost no customers inside the large store. I circled the store and finally talked to yet another smiling young man who asked:
Clerk: "Can I help you?"
Me: Do you have any firearms or ammunition in the new store?
Clerk: "Um, no."
Me: Hunting items?
Clerk: "Sorry no. Can I help you with anything else?"
Me: Um no.
To be fair, there were about half a dozen soft air guns on display and a couple of slingshots. The slingshots did not appear to be high capacity. Oh yeah, and some darts with plastic tips…I am sure Dick's will get around to them pretty soon. You could get a serious welt if you were poked with a dart by a criminal.
No guns, no ammo, no hunting, no archery…no customers. Not exactly investigative journalism on my part, but simple math. Businesses can make their own decisions, but when they so publicly stop supporting rights guaranteed by the Constitution and backed up by Supreme Court interpretations there will be business consequences.
As I strolled away over to the other side of the mall to hit up Bass Pros for some ammo, I was reminded of a banner I saw on the front of a small gun shop in Ohio two weeks ago that read: "We still sell AR's, because we are not Dicks."