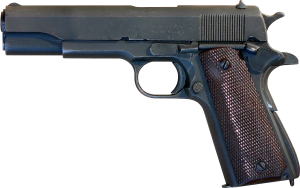 Photo Credit: //commons.wikimedia.org/w/index.php?curid=30214051
By Mike Keleher
The pending sale of 8,000 surplus U.S. Army M1911 and M1911A1 pistols has of course been quite well documented across the gun media, and shooters and collectors have been waiting since rumors broke out in 2015 such a sale could happen.
The Civilian Marksmanship Program, www.thecmp.org let NRA writers from the American Rifleman magazine come and view the new storage facility and crates of pistols in April 2018 and a story released this week on the American Rifleman website,
www.americanrifleman.org/articles/2018/5/22/the-cmp-m1911s-the-inside-story, gave some fresh details and a peek into this Arc of the Covenant type of treasure trove of pistols which will be available in September-October of this year.
We already knew the pistols which the CMP calls "Authentic Piece of American History" were going to be expensive. Those hoping for shooter grade or keepsakes for bargain prices were disappointed to learn the Service Grade guns will market for $1050, Field Grade for $950 and Rack Grade for $850. An Auction Service will also be held by the CMP and initial bidding point has not been identified.
It is also weird to know anyone applying to purchase one of the surplus weapons can only submit one packet (not postmarked before September 04, 2018), and if they are successful in their random draw bid and actually get to purchase one of the 8,000 pistols this year, then they cannot purchase another such pistol in their lifetime.
The pistols also can't be shipped to your house like CMP M-1 Garands or M-1 Carbines. The pistols have to be shipped to an FFL and you have to undergo NICB criminal background checks both at the CMP sales site and at your FFL.
According to the Rifleman article CMP is expecting 75,000 applications for 8,000 guns.
The American Rifleman and CMP have explained the pistols come from two sources, the Army Museum System and the Defense Logistics Agency Longterm Reserve. Both sources lead to a bit more disappointment.
The American Rifleman piece advises pistols from the Army Museum System (which may be original WWII parts) will probably hit the Auction side of CMP, not the general sales side.
The DLA piece casts an additional bit of shade, as these pistols have been held long term and all have been arsenal re-worked between 1978 and 1982, then packaged for long term storage. The DLA guns were cited as mostly M1911A1's and all were parkerized.
Original M1911 pistols would generally be much more collectable and valuable, the M1911A1 is a more shootable configuration, but military services continued to use both packages from WWI until the mid 1980's.
The M1911A1 variation, first adopted in 1924 and continued to be utilized in all new acquisitions included a thicker front sight, plastic hand grips, arched mainspring housing, longer hammer spur, a shorter trigger and a longer grip safety spur. The U.S. military purchased 2.7 million M1911's and M1911A1's from 1911 until 1986 when it was replaced by the Beretta M9.
The new CMP vault at Anniston, AL is not the Ark of the Covenant, and some Grails may be found inside like Remington Rands or Ithaca's, but they will probably be oh so few and far between and head directly to the auction site.