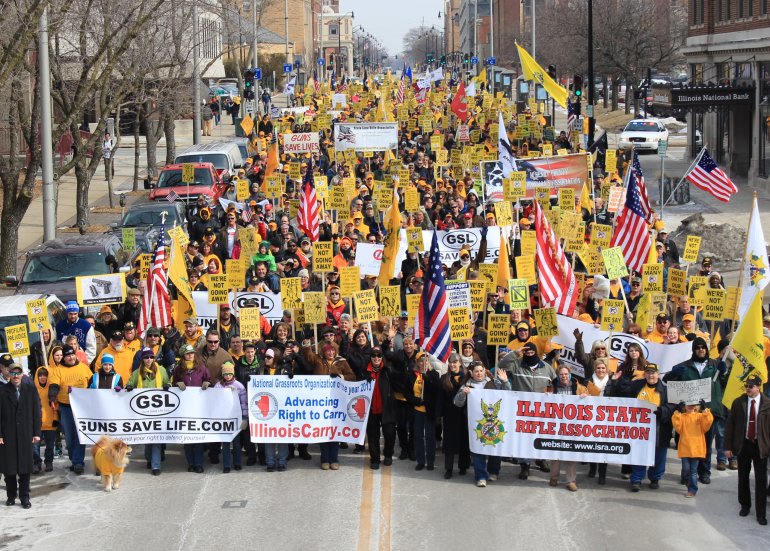 Illinois Gun Owners Lobby Day will happen this Wednesday in Springfield! Come one down to fight against Rep. Kathleen Willis and her cabal of gun control jihadists. The rally begins at 11:30 at the Prairie Capital Convention Center. From there, we shall march to the Illinois Capitol beginning a few minutes after 1pm. At that point, rally participants will saturate the Capitol complex and "influence" their legislators.
Even better, unlike the picture above, the weather forecast calls for temperatures in the 50s, not the 30s. And sunny! Or mostly thereof.
Tips, tricks and hacks:
Dress nicely. Like you're going to church. If church clothes mean camo or blaze orange, really dress up. No T-shirts with crude messaging. Because the mainstream media cameras will be drawn to you like flies to poop.
If you're not confortable making the seven-block walk, there will be a bus to take you from the Prairie Capital Convention Center to the Capitol Complex. And back.
Leave your shootin' iron secured in your vehicle. As we have a permit for the rally, the march is a "gun free zone". The PCCC is also posted no guns. And so is the Capitol itself. Worry not about security though. The Illinois State Police and Illinois Secretary of State Police perform overwatch of the march. With precision rifles. Keep your eyes peeled and you might see them.
Knives aren't very welcome. Most of the security folks will allow a blade of 1.5" or less to pass, but not all. Save yourself a walk back to your car. Leave even your utility knife in your car.
Bring a quart or gallon-sized zip-loc bag to empty your pockets into to facilitate a faster pass through the metal detectors at the doors for all. That way you're not standing there for 30-seconds patting yourself down and then another minute trying to find what you missed that set off the detectors.
Ammo too. I recall finding a single hollow-point round in my pocket with my other stuff one year as I was almost to the door. Thankfully, it had snowed and I tossed it into a pile of snow and covered it with my foot. (Yes, it was still there at the end of the day.) While nothing in Illinois law prohibits carrying ammo into the capitol, don't expect them to have a sense of humor about that.
Park near the capitol itself and walk to the Prairie Capital Convention Center ahead of time. After a day of marching and walking throughout the sprawled out multi-building complex, it's nice to only have a block or two to walk to your car.
It's a little late to sign up for buses, but here is the information from the ISRA website. Why their office repeatedly told people to contact GSL about buses is beyond me. They organize this event, not Guns Save Life.
IGOLD – Illinois Gun Owner Lobby Day – March 27, 2019
Update: Now Even More Buses to IGOLD

Buses are going, going, and going! Avoid disappointment, reserve your seat soon!

ISRA sponsored buses to IGOLD: Last day to reserve a seat on an ISRA bus is Monday March 25 EOD.

Go to the end of the list of buses to see the newest additions: Sterling IL, and Mundelein

If there was ever an IGOLD to attend, this is the one. Be seen, be heard.

The ISRA is sponsoring 4 buses at this time, and other organizations and businesses are also sponsoring buses. It is expected that there will be a good response to this announcement, and we ask for both your participation and patience. ISRA bus seats will be reserved by calling the ISRA office at 815-635-3198 between 9am and 4pm Monday through Friday. All ISRA reservations are $35 and are NON-REFUNDABLE.

If you are interested in taking one of the available buses, contact the appropriate organization only. Please do not call about buses from other organizations, the office staff will not be able to answer. If you have questions or comments about the buses, you can send an email to IGOLD@isra.org. . No reservations will be taken at this e-mail.

For ISRA buses, you are required to have a cellphone if you are an adult rider. Minor children must be accompanied by a parent or legal guardian with a cell phone. The ISRA buses will not stop for lunch for lunch. The food vendors will be available at the Bank of Springfield (BOS) Center. The cafeteria will be open in the Stratton Building in the afternoon.

All ISRA Buses will depart at 4:00pm from the north end of the Capitol (Monroe St). The BOS Center will be closed by then.

There will be a bus available (no reservation required), for those that need it, that will run from the BOS Center to the Lincoln Steps before the march. You will need to tell the bus captain if you require a ride back to the BOS Center vicinity.

If you have been a bus captain before on an ISRA bus and would like to resume that duty, please call the office at 815-635-3198.

Please remember that you will have to go through metal detectors at the Capitol, please plan appropriately.

The other buses are listed as a courtesy and to promote the unity of IGOLD, but the seat reservations are done through the other organizations. If you have a bus to add to our listing, please send mail to IGOLD@isra.org. Note that arrangements have been made for a free parking location for the buses just a few minutes from the event.

IGOLD Buses

All Buses Arrive BOS Center
All Buses Depart 4:00 pm north end of Capitol (Monroe St)

ISRA-Sponsored Buses

Chicago-South


Call ISRA 815-635-3198 to reserve
Evergreen Park – WalMart – 2500 95th St – 7:00am
Oak Forest – Eagle Sports -5900 W 159th St – 7:50am

$35 Non-Refundable

Chicagoland- West


Call ISRA 815-635-3198 to reserve
GAT Guns – 970 Dundee Ave, East Dundee – 7:00am
Glen Ellyn WalMart – 3S100 IL-53 – 7:45 am

$35 Non-Refundable

Rockford/Peru


Call ISRA 815-635-3198 to reserve
Rockford: CherryVale Mall – 7200 Harrison Ave – 7:00am
( Northeast corner of mall parking lot near Petland and Bell School Rd.
Peru Walmart – 5307 IL-251 – 8:00am

$35 Non-Refundable

Marion/Mt Vernon/Fairview Heights


Call ISRA 815-635-3198 to reserve
Marion – WalMart – 2802 Outer Dr – 7:00am
Mt Vernon WalMart – 110 Davidson Rd – 8:00 am
Fairview Heights – St.Clair Square Mall – 9:00am
(Red Bird Express Parking lot near the water tower)

$35 Non-Refundable

Buses Sponsored by others – Please do NOT call ISRA

Joliet

– IDOT Park and Ride – 7:00am
Sponsored by Aurora Sportsmen's Club
https://www.eventbrite.com/e/igold-2019-bus-trip-
joliet-springfield-joliet-tickets-54921941004
You can't click on the link from this page, so here is
a shorter link you can type: https://bit.ly/2UBrHjm

$27

Alton

– 3685 E Broadway – 8:30am
Call Piasa Armory – (618) 433-2715

Donation

Chester/Red Bud/Waterloo

– all along IL-3
Call Rick Hall – (618) 317-1176
Chester – Rozier's – 7:30am
Red Bud – City Park – 8:00am
Waterloo – WalMart – 8:15am

$25

Marion

– Cornerstone Church – 2705 Walton Way – 7:00am
Hood's Guns & More (618) 308-2348

$35

Quincy – RKBA Range


Pickup and time TBA
Call Mark Dempsey – 217-430-0338
mdempsey@adams.net

$25

Decatur – Decatur Civic Center – 9:30 am
Call The Bullet Trap – 217-764-5678
Questions: Stacey@thebullettrap.com

$20 Non-Refundable

Fairbury –

Dave's Parking Lot, 170 S 4th St, 8:00AM
Contact David Slagel, david@slagel.com 815-848-0705
$25
Provide Cell #

Chillicothe/East Peoria/Morton


Chillicothe Sportsmens Club
Contact: Art Remsik at 309-678-4827

$20

Effingham

– Thelma Keller Convention Center – 8:15 am
Contact: jldurbin94@gmail.com 618-919-1617


$25

Waukegan/Mundelein




Waukegan

–

St. Dismas Church – 6:00am
Mundelein – Jewel on Lake Street – 6:25am
Shrank's Smoke 'N Gun – www.smokengun.org/igold-2019

$40

Rockford

– Pine Tree Pistol Club – 7:00am
https://pinetreepistolclub.com

$20

Sterling

– Northland Mall – 7:00am
From between JC Penney and 5th3rd Bank
Register at: http://www.tcgc.net/igold-march/
www.facebook.com/Tri-County-Gun-Club-116301155061910/

$35


Check out ISRA's website at www.isra.org! Tell us what you think!