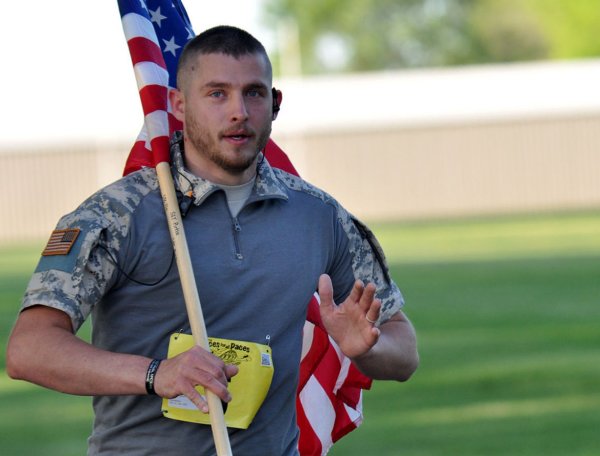 Another of Guns Save Life's leaders made it into the mainstream media in local days for his good works. Justin Bawcum, pictured above, serves GSL as the Charleston Regional Co-Coordinator. He found himself in a Mattoon-Charleston Journal-Gazette/Times-Courier feature story in recent days. Bawcum's determination to stay in shape, despite serious injuries he sustained in combat, has helped motivate another veteran named Blake Leitch to go the extra mile to help veterans and the community in general.
Leitch's job as a Veterans Service Officer at the Illinois Department of Veterans Affairs involves helping veterans. But Justin's tireless and selfless efforts make Leitch want to go the extra mile, in part to promote a local Races for All Paces event to benefit healthier families in the community.
Bravo to Justin for his courage and determination to not let his serious injuries stop him from living life.
CHARLESTON — The wheels in Blake Leitch's head starting turning after last year's Races for All Paces. Leitch, a U.S. Army veteran of the Iraq War, attended the race that day in support of fellow veteran Justin Bawcum, who ran the half marathon in boots while carrying an American flag with the names of his fallen comrades inscribed on the flag pole.

Despite daily struggles as he copes with a severe back injury he sustained while serving in Afghanistan in 2009, Bawcum was committed to running the half marathon.

"I just wanted to see if I could still do it. After mile three, my body was numb. I couldn't feel the pain," Bawcum said.

Yet he pushed on and ran all 13.1 miles of the race.

It was Bawcum's determination that led Leitch to put out the call for veterans to be more active by participating in this year's Races for All Paces. The event will take place on Saturday, May 13, at Eastern Illinois University's O'Brien Stadium.

Life in the service was all about mission, and for some veterans, this could be their new mission, he said.

"He (Bawcum) inspired me to reach out to others to get them involved," Leitch said.

Leitch knows better than most how critical it is to stay active and in shape, and he's on a mission to help others find the motivation to be fit, as well. He expects many of the 13 members of a veterans group he leads at his church to take part in the event. He's also been encouraging veterans that he knows in the community to participate.

As a Veterans Service Officer at the Illinois Department of Veterans Affairs, Leitch has made his mission known to veterans who come to his office in Charleston.

"You can't come to my office and not know that the event is coming up," Leitch said.

He has a lot of interaction with Vietnam veterans, many of whom have chronic health issues like diabetes or heart disease, he said.

"I know that just a small drop in body fat combined with exercise and counseling can reduce the occurrence of diabetes, and that can vastly improve their health," he said. "When these men and women were in the service, they were in phenomenal shape. My goal is to get them moving more to achieve a higher level of fitness."

Races for All Paces consists of a half marathon, 10K, 5K Run/Walk and 1-Mile Run/Walk. There is also a Toddler Trot for children ages 3 to 5 and a Diaper Dash for kids under 3 years of age. The variety of events at Races for All Paces has made it a little easier to encourage veterans to get involved.

Leitch plans to run the 5K and then join his 6-year-old son for the 1-Mile Run/Walk, he said.

"It is a family event," he said. "That is the way that is really going to get them (veterans) involved."

As far as tips for veterans and other participants preparing for race day, Leitch offers some simple advice.

"Don't be intimidated, even by the mile," he said. "Start walking now, and a month from now it will be nothing to walk a mile. Start small and know that a mile isn't that far. You can't do it if you don't at least take the first steps."

Leitch is also working alongside race organizers at Sarah Bush Lincoln to make sure veterans receive encouragement along the routes. Veterans will be given a special wristband to wear, and he hopes to have a flag put on the sleeve of their Races for All Paces T-shirts, he said.

Just as Leitch is supporting veterans participating in Races for All Paces, other groups are pulling together as well.

Doctors and their patients are coming together for "Walk with a Doc." Family practitioners Bernie Ranchero, Joan Alvarado, Lyndsay Chevalier and Tom Dust will walk and run alongside participants during the 1-Mile Run/Walk or the 5K.

"The whole thing about Races for All Paces is that it truly is for anyone," said Laura Bollan, director of Healthy Communities at Sarah Bush Lincoln. "It's about celebrating being active and getting started for a lot of people. It's a really moving day. People come together and feel encouraged."

While fewer than 10 veterans have registered for the event so far, Bollan said she believes more will register as race time approaches. In general, the numbers double and triple closer to the event, she said.

"This race really gives veterans a chance to come together to support each other and do what they can do to take either that first step or that next step to ultimately improve their health. It's great to have veterans come together to encourage each other like they did when they were in the service," she said.

Registration for Races for All Paces is open on the Sarah Bush Lincoln website. When registering, veterans can check the "Veterans" box and then select a race event. A training schedule and tips for running is also available on the website.
Photos courtesy the Journal-Gazette.