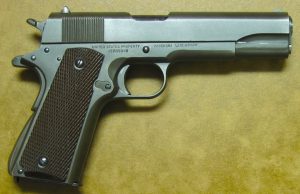 Blog by Mike Keleher
The Civilian Marksmanship Program (CMP) released an email today, January 29, 2018 on the status of the WWII era 1911 pistols which will be released by the US Army to the CMP program for sale to qualified civilian buyers. Apparently, 8,000 pistols have been transferred but the Army won't release their hold on them until a building and armory has been approved and completed sixty days from now. Upon completion of the building the CMP will begin their inspection and grading process. Actual sales to the public are still months away, but they will begin accepting orders 90 days ahead of the opening sales date.
Having gone through he CMP to acquire a 1944 M-1 Grand and a 1945 M-1 Carbine, I can confirm the application process is not all that difficult. For years people who never bought guns through the CMP told me the paperwork part was insurmountable. It is not. The rules are spelled out on their website and you must qualify for participation and submit some documentation, but it is not hard to do. The guns are very reasonably priced and are a wonderful piece of history you can own and shoot. One of my friends recently told me "Next to shooting guns, the next best thing is showing them off to your friends." I agree with this sentiment have have always taken great pride displaying my WW II vintage arms to friends.
Who wants one! Show of hands! Me. Me. Me.
The text of todays CMP email is below:
"The CMP has been authorized to receive 8,000 1911 type pistols from the United States Army.
The 1911s have been received by the CMP. A complete inventory will be conducted over the course of this week. The pistols will then be securely stored until the Army-approved 1911 building and armory infrastructure is completed. That completion is anticipated to be approximately 60 days from now. Once the 1911 armory is completed, inspection, grading, repair, and ultimately test firing of the pistols will begin. (Please be aware that the CMP was led to believe that we were ready to move forward, but three weeks ago facility requirements were changed, and we are now fulfilling those requirements.)
The CMP 1911 order packet will be posted 90 days prior to the order acceptance date and opening sales date. No orders will be accepted prior to that date. Please visit www.thecmp.org, click on the Sales icon then 1911 Information, for the latest. CMP customer service has been inundated with calls and emails concerning the 1911s and no further information is available at this time.
The CMP will keep everyone posted as we move through this process."