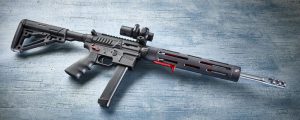 Photo Credit: JP Rifles.com
By Mike Keleher
The new competition kid in town, Pistol Caliber Carbine (PCC), which uses lightweight carbine length firearms primarily in 9mm, .40 S&W and .45 ACP has sprouted up almost overnight. The evolution of how PCC came to be so popular is a bit murky, but it is attracting shooters and selling guns in a time period that has otherwise shown sluggish AR sales.
In recent years, military and police agencies have almost universally dropped 9mm submachine guns from inventory in favor of the M-4 carbine. The biggest reason being the 5.56 or .223 cartridge can perform from point blank range out to several hundred yards if need be. The 9mm is limited to 50-100 yards of effective range. To quote Ross Saunders, the Lead Instructor for the Mid-South Institute for Combat Shooting, "The M-4 just has more spank!" The M-4 can be configured into very short packages similar to Submachine Gun length, and numerous sighting systems and useful items can easily be hung onto a carbine that are not well suited to existing submachine guns.
It looked like the compact 9mm guns were all but gone, until Sig Sauer showed up with their 9mm SMG length MPX carbine in 2015 which looked like an evolved successor to the H+K MP-5. It was a bit of a head scratcher-when military and law enforcement had given up on 9mm carbines, what was SIG thinking? Like every other new SIG product, it was introduced and promoted with great fanfare.
About the same time, another phenomenon started catching on with "AR Pistols". The internet was awash in videos and parts sales for home built short barreled AR's with no stock. They are super compact and feature all the familiar AR controls-and they were legal to build as dedicated pistols.
Moving ahead a bit, the AR pistols are fun to shoot and may be as handy a carbine as you could want, but there was no sanctioning body who would accept them into competition. You could not shoot them in a rifle or 3-gun shoot and also could not use them in a pistol shoot.
Well, this whole PCC thing started to take hold of the competition crowd who wanted to shoot some light recoiling 9mm and .45 ACP in a familiar platform. Also, a box of 50 9mm costs about half to two thirds of the price of a similar amount of 5.56 or .223 cartridges-who doesn't want to shoot more for less price?
AR configured 9mm's and parts have been showing up on the market with great vigor for the last two to three years and appear to be "the next big thing" in the competition world. USPSA added a PCC category in 2016 and recognized the platform as a separate competition which drew shooters from USPSA pistol, multigun and 3-gun sports. It was set up to have a single firearm shooting primarily pistol bay courses with a maximum distance of about 50 yards and maximum round count of 32 rounds. That 32 rounds is somewhat coincidentally the same capacity as most SMG magazines in 9mm (Colt SMG, Uzi and MP-5) and darn close to the Glock 33 round magazine.
The guns have evolved rapidly into some select categories with most being AR derivatives using either a Colt SMG mag or the Glock mags, the Sig MPX platform or the CZ Scorpion. The vendors currently selling PCC guns and parts are too numerous to list and there seems to be money in it during a time when the Hillary-For-President panic gun buying swell has dropped off. Apparently everyone in the US who wants an AR has already purchased at least one. (Did you know there are supposedly more AR's that have been built than Ford F-150's?)
This new PCC thing is a wide-open opportunity to shoot similar guns at a cheaper ammo cost and can even be shot on pistol grade ranges who might not allow rifle calibers. It is also a lot cheaper to shoot and a lot less gear to haul around than in 3-gun competition.
USPSA matches in 2016 and 2017 at the local club level started attracting a number of shooters who of course need little excuse to buy a new firearm that has a "purpose" as in "Oh I need it to shoot this new competition" or "It would make a dandy self-defense gun with large magazines, lights, dots and lasers."
In April 2018, Match Director Kevin Mayfield put on what I believe is the first regional PCC competition in the United States with JP Enterprises as the major sponsor. The JP Enterprises Area 5 PCC Championship was held in Sellersburg, IN near Louisville, KY in April in a USPSA sanctioned format. Being centrally located, the competition drew in hundreds of shooters from as far away as California and Virginia.
The match consisted of a USPSA type one day format-you got your shooter welcome bag/prize when you checked in, and then shot 10 stages and a chronograph stage all in one day. Shooters filled both days and saw a wide variety of USPSA type stages with a few tricks thrown in to take advantage of the inherent accuracy of carbine length barrels and high capacity magazines. There was only one mandatory reload in the entire match which was required on a USPSA qualifier stage.
Most competitors rarely had to reload due to the 32 round max round-count for each stage and many had magazines with aftermarket extenders which allowed for 40-60 rounds in one magazine.
I shot the match on Friday and stayed on to be a stage range officer Saturday and Sunday and was witness to the entire phenomenon of 3-gun and USPSA shooters getting the chance to go fast with new PCC guns. The match drew pro-shooters like Jay Carillo, Todd Jarrett, Corinne Mosher, Jessica Hooks and Brian Hobbs.
Most of the guns were AR based blowback operation guns with personal preference AR Equipment (stocks, handguards, barrels and every red dot you can imagine), and the developing nature of the sport was evident with feeding issues observed with some of the "big stick" add-on magazines. In 3-gun, it is fairly rare to see someone have a rifle malfunction. That platform has had 50 years to work out the kinks. This new PCC blowback AR style can have some voodoo required to get the recoil and feeding just right…and that is part of the fun of working one up from scratch to get it to run right. The blowback AR's are descended from the Colt SMG system.
Some competitors shot the entire 350-400 round course flawlessly and had obvious pride in their equipment. On my personal squad of 14 shooters, only one member did not have a feed issue/jam during the match. I saw a number of issues during the next two days watching a couple of hundred shooters come through my RO stage. Things will improve as the guns, parts and competition continues.
As stated before, AR based 9mm's were the most prevalent platform, and no two were the same. Everyone's dream of the "perfect" carbine continues. Sig MPX and CZ Scorpions were well represented, a single Kriss, some Kel-tec Carbines and even a factory sponsored 9mm Hi-Point Carbine. I was surprised I did not see any of the new Ruger 9mm carbines or Beretta Storm Carbines. The Ruger is fresh on the market, introduced at the SHOT show this year and can run with either Ruger or Glock Pistol mags. Aftermarket competition grade parts are already being offered by various vendors. I am sure these Rugers will show up at PCC matches later this year. The very accurate Beretta Storm Carbine has been around for many years and uses Beretta pistol mags.
One week after the PCC Championship, the inaugural Ohio State 3-gun Championship in Covington OH had PCC targets mixed in with the regular courses of fire. This is probably a never seen before hybrid concept.
On long courses which involved 75-200 yard rifle shots on white painted steel targets, there were a similar number of blue painted targets at 50 yards for PCC shooters. This allowed a competitor to shoot his PCC across the course as one of his three guns and not use a 5.56/.223 caliber carbine. Jay Carillo took top honors in this ground-breaking PCC three-gun division.
PCC is big and going to get bigger. Competition is leading the wave, but self-defense, target and plinking are all equally viable motives for getting a Pistol Caliber Carbine. Take your pick in 9mm, .40, 10mm and .45ACP…what's not to like?