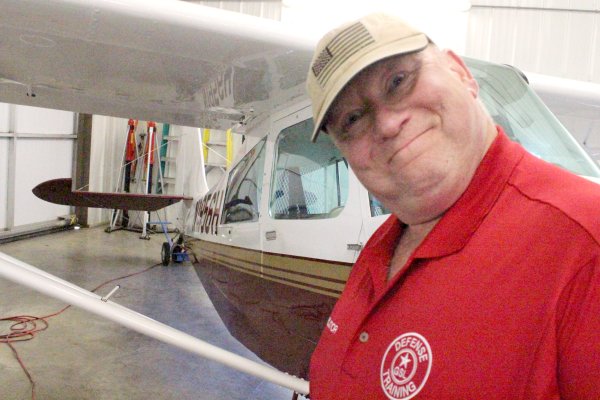 Guns Save Life lost a great man this morning, Wednesday, December 21. Pete Wheeler, a long-time Guns Save Life director, slipped and fell on the ice at his home this morning. He apparently struck his head and laid unconscious for some time before being discovered. Once found, an ambulance crew rushed him to the hospital where he later died from brain swelling. This all happened well before noon today.
GSL's Vice-President Adrienne Logue reached Deb Wheeler late today. Deb asked for prayers and said that Pete donated his organs. A special service will be held soon. Keep tabs on Gun Save Life for follow-up details. On behalf of Guns Save Life's members, I'd like to send our prayers, condolences and best wishes to Deb. Like you, we will all miss Pete dearly.
Pete Wheeler proved himself a good friend to many and he certainly had an interesting life. He grew up in the northeast – Connecticut if memory serves. He grew up a manly man, and certainly not a pajama boy. Pete did some work as a bodyguard for at least one celebrity after college. "Babysitting," he called it. He grew tired of that after a year or so, and moved on.
He preferred working for himself and made his living from a couple of very successful start-ups. He worked hard. Too hard. He had his first heart attack at 28. He slowed down to one sixty-hour job working for his own company. I'm not sure if his degree is in engineering or not, but we all knew him as the resident engineer guy. Sometimes we laughed at his solutions, but they worked. They were never "underengineered" but they were always bulletproof.
Hard work paid off and he did well for himself and retired in his early 40s. He married Deb, a wonderful woman and power executive. Their son Derek went to college and last I knew was a successful professional musician. Pete had a previous marriage and a daughter, but I never knew much about them.
He came onboard as a director about a dozen years ago – maybe more. He brought his business acumen and experience, along with his quirky personality and sense of humor. He also joined the GSL Defense Training team a couple of years after that. Being "retired", but young, he loved doing things he considered productive. He always had time and energy to help Guns Save Life. He came to the new regional meetings. He was always there when someone needed help. When the DeWitt County Sportsman's Club foundered on the verge of losing their range to property taxes that had been sold out from under them, Pete was there. He joined, volunteered to help on their board of directors, and shared business sense and volunteer labor to help get them back on their feet. For GSL Defense Training, he was our engineering guy. If something needed building, or fixing, Pete could do it.
In his spare time he built and raced cars and go-carts. He got his pilot's license. He loved to build things and make things better, faster or both. He drove like he had a hot rod, too. If it went fast, Pete was in. If it went boom, he was in for that as well. Tannerite became a favorite of his in pretty short order.
I remember the day he brought out a two-liter bottle full of the stuff to Darnall's. "Are you going to shoot this?" I asked him incredulously.
He laughed. "I'll try!"
"Sue's gonna crap herself when that goes off," I observed.
"Oooh, I'm afraid so," Frank Wright, the retired FBI agent said in his deadpan delivery. Frank is our father figure but he failed that day.
So Pete shot at it and missed. We made fun of him. More shots. More misses. More playful ribbing. "C'mon Pete. You're supposed to be a rifleman!"
He hands me the rifle. "YOU shoot it!" he says to me.
Never one to turn down a challenge, even if it leads to a concussion, I took his AR and marched twenty yards closer. I knew if I missed that I would hear about it. I shot and I missed. His rifle's not sighted in. Not even close. He probably was messing with his sights and forgot to re-zero it. I shoot again after moving closer and miss. Kentucky windage failed me. He loved paying back my earlier mocking.
"C'mon, Mr. Rifleman Smartypants!" Pete howled. The others certainly laughed and made fun of me too.
So I step closer and closer and finally I'm about 15 yards away. Entirely too close. I fired and can distinctly remember to this day seeing chunks of dirt suspended in the air as they headed straight my way. I held my breath and closed my eyes, thinking that safety glasses were a good last-minute choice) and got a stinging peppering with dirt. The concussion rattled me. They – Frank Wright, John Naese, Pete and probably five or six others – they all said I disappeared in a giant cloud of smoke and an enormous boom.
It rang my bell, and who knows how many seconds later, I came stumbling out of the smoke looking like Wile E. Coyote from the Road Runner. They were literally running towards the cloud figuring I got hurt.
When the smoke cleared and the dirt and debris stopped raining down, the tree he stuffed that charge under remained. It mocked us. It remained on the side of that berm for a couple of more years after that day.
Ron Darnall, the proprietor came out of the pro shop, along with sidekick Mike. Both looked somewhere between pissed off and concerned that someone got hurt. "What in the holy hell!?"
There's Pete, giving them a little wave.
"Oh, it's Pete," Mike said, shaking his head. He just turned around and walked back to the pro-shop to re-hang any pictures knocked off the wall.
It wasn't the first time Mike said that "Oh, it's just Pete".
Pete deconstructed a washing machine with Tannerite about that time there at Darnall's. They found part of it across the creek a quarter mile away. Other pieces of it landed all over the property.
And another day, we salted the berm with bottles of Tannerite to "surprise" our fellow instructors between rounds of shooting in class. Seems we didn't get them all and an unsuspecting customer was out the following week. He found it and soiled his britches when it went boom unexpectedly. Darnalls banned Pete from Tannerite after that.
Then there was the Mosin-Nagant he modified to shoot golf balls. It would have been more fun if you could see the golf balls, but it cranked them out so fast that half the time you couldn't see them. They would go through a half-inch of plywood at 50 yards though.
Pete survived all manner of crashes and explosions and he had a good time doing it. He made messes, got muddy and then fixed what broke while he was having fun.
He lived life.
And for that I'm envious.
Jeremiah Pitcher, one of our GSL Defense Training instructors wrote this today at Facebook:
Pete truly was a good man in every sense of the word that I know. He impacted so many of those around him and I always considered him a close friend. I wish all of us who loved him and held him dearly could have had more time with him, and I wish I would have made more time to talk with him on the phone and through email as he was always good about reaching out. His kindness, support, and perspective on life will be missed dearly.

Pete was never one for a lack of words whether they were to amuse you, encourage you, or to help guide you along your troubles. He was quick to lend a hand and to lift your burdens, physical or emotional. He was a constant in an inconstant world. He was a true Man.

I miss you, my friend. You are loved by all you have left behind too soon, but we will take comfort in knowing you have gone home to our Father. Until we meet again, my friend.