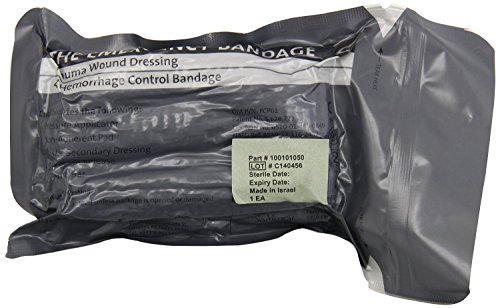 (Guns Save Life) – Membership has its perks. Guns Save Life has long promoted the Israeli Battle Dressing bandages as a versatile but simple wound dressing that can save lives. People ask us all the time, "What should I put in my blowout kit?" If you don't have much training – and even if you do – the IBD is one item that's indispensable. Anyone can use one of these. They are great.
Better still, they are back! Courtesy of First Care and Fortress Defense Consultants, Guns Save Life will once again be selling these to members. We will have the 4" IBDs at our monthly meetings in February as supplies last.
Members price? $7 each or 3 for $20. Buy three. Put one in your range bag, one in your map pocket or glovebox in the car and use the third to practice with. Usage is simple, but a few trial runs on various body locations with a training partner goes a long way to smoother application when fixing a real-life leak.
Got multiple cars or have multiple family members who like to shoot? Get them all one. Even on Amazon, these run in the $8-10 range, and then you pay shipping and sales tax on top of that. Members at GSL get them at $7 or under. Come out to one of our monthly meetings to get them.
Note: We aren't shipping these. You must come to a GSL meeting to access this opportunity. If you can't make a meeting, IBDs can be ordered here.
What are Israeli Battle Dressings?

(ITS Tactical) – …While the technical name is The Emergency Bandage, it's a bit of a misnomer, as the Israeli is really a pressure dressing. It combines a sterile dressing, elastic bandage and pressure applicator capable of exerting up to 30 lbs. of pressure on a wound. The closure bar, which secures the bandage at the end of wrapping, can also be used to exert additional pressure.
The Israeli is truly a multi-purpose bandage and can be used as a make-shift tourniquet, ACE Wrap, or even a sling to immobilize an appendage. It's truly a versatile item to include in your trauma kit or first aid kit. It can also be self-applied, even one-handed.
Another thing to note is that you should save the packaging from the dressing. A large piece of plastic can be used as a make-shift occlusive dressing to treat a pneumothorax aka sucking chest wound. For more on this, check out our article on Developing a Blow Out Kit.