The poor American mainstream media!
Faced with the inconvenient truth that an America teenage girl named Virginia Thrasher used her RIFLE to win the first gold medal of the Rio Games, mainstream media outlets struggled with how to report the news.
Some just ignored it, like it never happened (first three photos via Gun Free Zone).
Others like CNN reported the girl's win, but didn't mention the sport.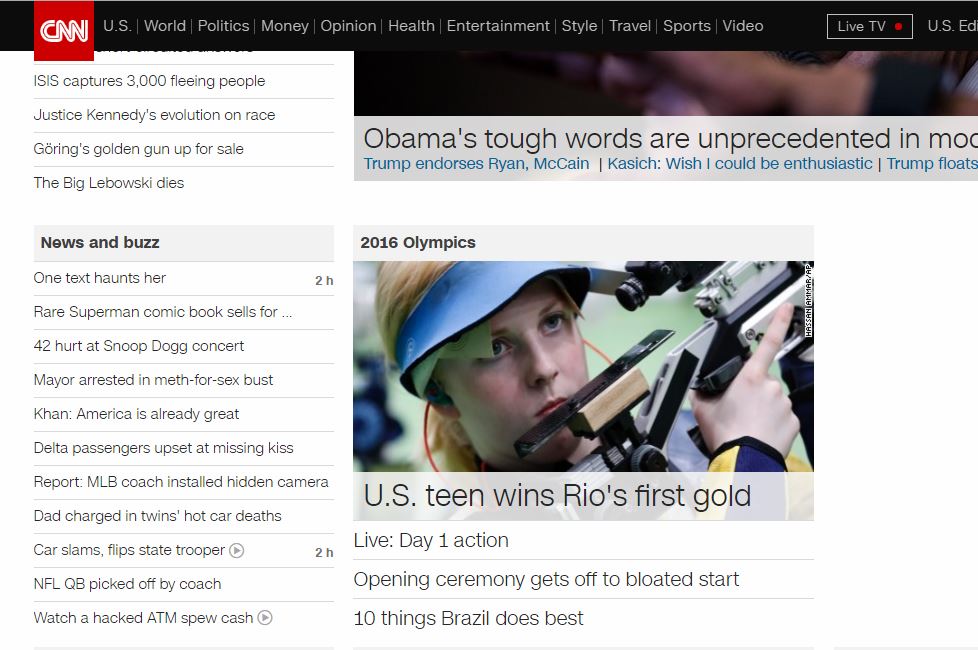 Only to strip down any mention of it hours later.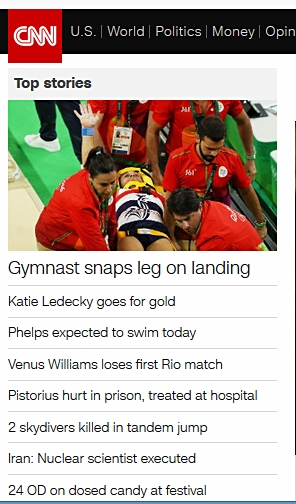 FoxNews finally got around to reporting the win, off in the corner.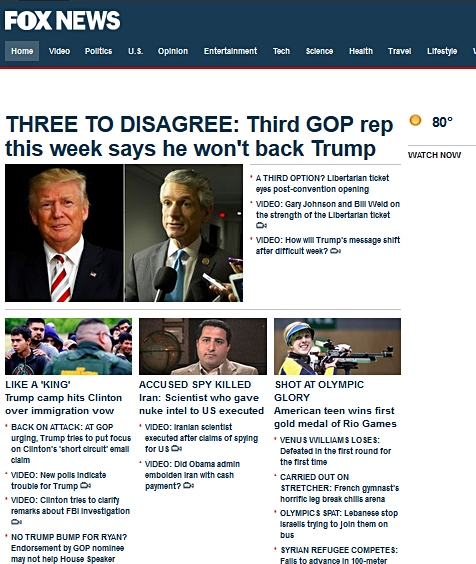 And the mainstream media wonders why 94% of Americans don't trust their reporting.
I'll add that when I went to the MSNBC News page this morning, I thought they should preface their website with "Once upon a time" and close with "Happily ever after".
Here's a snippet of the FOXNEWS report.
Virginia Thrasher went through a three-week spring whirlwind, winning three NCAA titles and a spot on the U.S. Olympic Shooting team.

The precocious 19-year-old closed out the summer with her biggest surprise yet.

Keeping her nerve on sport's biggest stage, Thrasher on Saturday earned the first gold medal of the Rio Olympics, outlasting two-time gold medalist Du Li to capture the women's 10-meter air rifle title.

"This is beyond my wildest dreams," Thrasher said. "I knew it was a realistic expectation for me to get into the finals and once you get into the finals, anything can happen. For me, this year has been incredible."

Thrasher had a quick rise to the top.

A figure skater growing up, she switched sports five years ago after a hunting trip with her family. Thrasher killed a deer with her first shot of her first hunting trip and has continued to hit the mark wherever she's gone.

Thrasher was not expected to be among the top five scorers — all that counts in NCAA competition — at shooting powerhouse West Virginia, yet got better as the season progressed. She became the first freshman to win both NCAA rifle titles and led the Mountaineers to the team championship.

Less than a month later, Thrasher won the U.S. Olympic Trials, earning a spot in Rio.