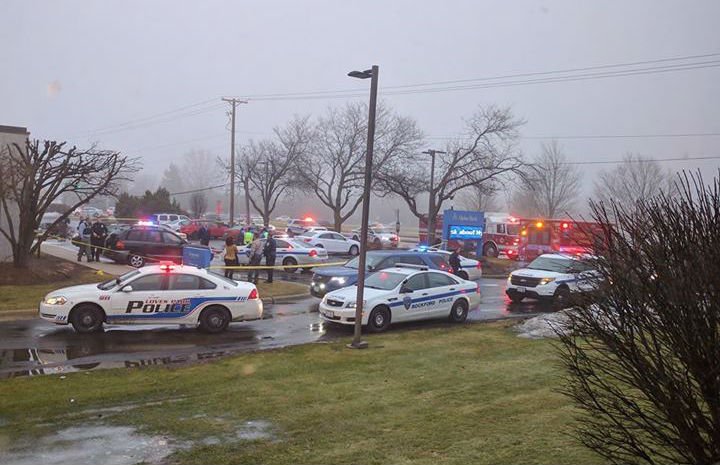 When someone rushes into a bank wearing a mask, that's a "Houston, we have a problem" moment.
This happened in Rockford, Illinois back on January 20th. The video of the incident has been released, making a lot of good guy aficianados smile warmly.
Here is the video everyone's been talking about.
Here's the original story identifying the bad actor.
ROCKFORD (WREX) – UPDATE (Saturday 1:45 p.m.): Rockford Police say the suspect killed in Friday afternoon's bank robbery was 34-year-old Laurence Turner of Rockford.

Police are investigating whether Turner is involved in other similar robberies that have occurred in the Rockford area over the past several months.

Police say Turner entered Alpine Bank on North Mulford Road Friday afternoon and fired a round into the ceiling. Police say he then fired at a armed security guard. The security guard returned fire and Turner was hit, according to police.

The names of the security guard and security company have not been released yet.
And the updated story announcing no charges for the security guard who put down the dope-smoking opioid abuser. Why would anyone consider charges for the hero security guard?
ROCKFORD (WREX) – Authorities announced Tuesday that the security officer who shot and killed a bank robber in Rockford earlier this year was acting in self-defense and will not be charged with a crime.

Winnebago County State's Attorney Joe Bruscato and Rockford Police Chief Dan O'Shea announced that Metro Enforcement Security guard Brian Harrison was justified in his actions and will not be charged with a crime.

Harrison is a former Winnebago County Sheriff's deputy who was working as a guard at the Alpine Bank at 2218 North Mulford Road on Friday, January 20 when 34-year-old Laurence Turner, of Rockford, came in to rob the bank armed with a gun.

Police say Turner first shot his gun in the air when he entered the bank, and Harrison shot Turner twice, killing him. Harrison was placed on administrative leave after the shooting.

State's Attorney Bruscato praised Harrison's quick thinking, saying "There's no doubt that the Metro officer's actions saved the lives of those in the bank and himself."

During the press conference Tuesday, Police Chief O'Shea said that Turner's family cooperated with the investigation and that they were "not complicit in his crimes."

Police believe Turner was also be responsible for other armed robbery incidents in Rockford including at Mincemoyer Jewelers, 6585 Lexus Drive, on November 23, Member's Alliance Credit Union, 6951 Olde Creek Road, on December 16, and Harvard State Bank, 2470 Eastrock Drive, on November 28.

Police say detectives were able to link Turner to these other crimes based on physical, scientific and other evidence recovered during the investigation. As a result of Turner's death, these other investigations are now considered closed.