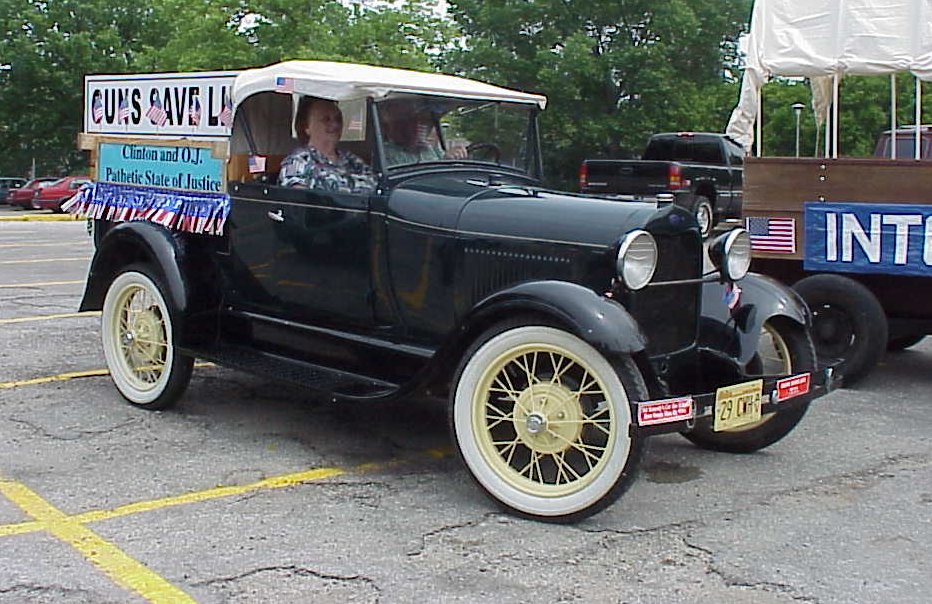 Dorothy E. Holland 94 of McLean, Illinois passed away 5:25 AM February 10, 2016 at Manor Court, Clinton, IL.

Services will be 10 AM, Monday, February 15, 2016 at the Calvert Funeral Home, Clinton, IL with Rev. Becky Barrow officiating. Burial will follow at Oak Park Cemetery, Clinton, IL. Visitation will be 2 – 5 PM, Sunday, February 14, 2016 at the funeral home.

Memorials may be directed to Guns Save Life, PO Box 51, Savoy, IL 61874.

Dorothy was born August 4, 1921 in Bloomington, IL the daughter of H. Ray and Dorothy Isla (Wilde) Buck. She married Carl W. Holland April 16, 1941 in McLean, IL. He passed away February 15, 2001.

Survivors include her children, Robert L. (Barbara) Holland, McLean, IL, Susan K. Lawler, Lincoln, IL; Marcia K. (Stewart) Shaffer, McLean, IL; Jack R. (Christine) Holland, Normal, IL; and Jill Rae Holland, Bloomington, IL; 18 Grandchildren, 23 Great-grandchildren and 1one on the way, and 3 Great-great-grandchildren with 1 on the way; sister-in-law, Virginia Abshire, Kenney, IL. Many Nieces and Nephews also survive.

She was preceded in death by her parents, 1 brother, William Buck, son-in-law, Thomas Lawler, and 1 grandson, Ray M. Allen.

Dorothy attended Eureka College and worked at State Farm, Bloomington, IL. She enjoyed playing Bridge, the McLean Supper Club, bowling, watching squirrels, traveling and wintering in Florida with her husband. She especially loved her family and being a farmer's wife.
Dorothy Holland:  Practically GSL's matriarch
by John Boch
Dorothy Holland was a remarkable woman, and probably GSL's oldest female member.  No doubt she was one of our longest members, and I'll tell you why…
I remember getting a phone call about an old fellow and his wife that showed up on then GSL President John Naese's doorstep.  The two stopped on the way back from wintering in Florida in the late 1990s.
Those two were Carl and Dorothy Holland.
They heard about Guns Save Life on a national radio show that had a segment on the pro-gun Burma Shave style highway signs along Interstates in Illinois.
In fact, if I remember the story correctly, Carl and Dorothy (well, mostly Carl) wanted to pull up stakes a little early for the return trip because he was so excited to meet these gun rights people so near his family's farm.
The two owned a lot of farmland.  By golly, as they were a gun-loving, patriotic Americans, the two of them wanted a set of those signs on their land near McLean, Illinois.  We got them signs and they were a great source of pride for Carl and Dorothy.   What's more, the two of them fell in love with Guns Save Life's aggressive and proactive gun rights advocacy, along with our great people, and became regulars overnight.
Dorothy was almost always at her husband's side it seemed.  She was a sweet, kind, Southern Belle – a graceful woman living in Yankee territory.
The two of them attended meetings, and when the Independence Day Parade in Champaign came along, they wanted to be in it, so they drove over an old, old car.   It looked like something out of the 1920s.
"What in the world?" I thought the first time I saw it rolling up to our float.  In the seats were Carl and Dorothy, both of them just beaming with happiness and pride to be there with their new friends to celebrate America's birthday.
It wasn't long before Carl and Dorothy got their adult children involved in Guns Save Life.  Son Bob and his wife became regulars.  The whole family started cycling through GSL Defense Training classes.  Carl and Dorothy's kids and grandkids, and their spouses pretty much all came through.
Carl and Dorothy had a bunch of kids, too.  All have enjoyed very successful lives.  Their grandkids are on the same path as well, and I'm sure the great-grandkids will as well.  They are the 1%, not so much in their wealth, but in successes in life.  Good families, good kids, successful careers in their choice of work – and blessed with good DNA as there's not an ugly one among them.
Son Bob joined our Board of Directors, and today serves as GSL's liaison on the Illinois Federation for Outdoor Resources Board of Directors.  Granddaughter Bonnie served as GSL's corporate secretary for many years.  Today Bob and Bonnie are outstanding instructors with GSL Defense Training, as is Carl and Dorothy's other son Jack.
It's been a blessing to meet and share life with the Hollands, all high-quality people thanks to their upbringing with Carl and Dorothy who found out about us from a radio show while they were in Florida for the winter.
Carl passed away in 2001, but Dorothy continued to live in the family home up until recently.
I remember running into her at the McLean, Illinois family restaurant about a year or two ago as we stopped there after teaching an Appleseed class.  I hadn't seen her in ages, but I recognized her right away, almost shocked to see her.  She gave me a very warm and kind welcome, having recognized me right off as well.  She seemed so happy and proud, running into old friends.  She seemed even happier seeing us still actively promoting and sharing the fun and excitement of gun ownership, something she and her husband embraced whole heartedly, with a new generation of Americans.
I'm sure her passing is a great loss for the entire family, as it is for all of us who have been touched by not only Dorothy's life, but the kind works of her children and grandchildren that she helped raise.  She will be deeply missed by all.