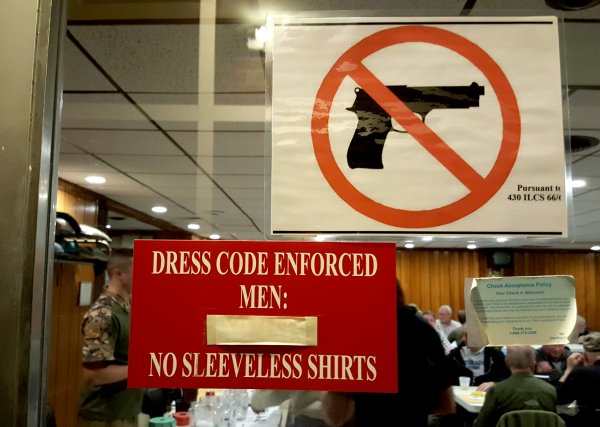 You need another reason to get involved at the local level? Pushing back against anti-gun bigots

by John Boch
There remain plenty of uninformed, ill-informed and just plain bigoted people out there who don't like guns. Bigots in particular will discriminate against gun owners at any opportunity. Our mission at Guns Save Life is to defend your right to defend yourself. That includes working as the "boots on the ground" to call out this discrimination and fight it where possible.
At the March Guns Save Life meeting in Charleston, our local directors were greeted with an 8×11" "no guns" sign on the front door of the Charleston VFW. The sign hit them about as subtly as a 2×4 to the face.
Inside, the "warm" welcome continued with a man who held himself out to be the new business manager. He appeared quite agitated and possibly more than a little intoxicated as well. He communicated that he didn't want guns in "his" VFW.
He returned a short while later to rehash the earlier tirade, perhaps after more liquid courage. I interrupted him. "No problem sir. This is our last meeting here. Problem solved."
Why the sudden change in direction from the veterans' organization? The man told us a GSL member passed out drunk at the bar the Sunday before – with a gun out in the open. That was news to us, and nobody read a report in the local paper of police making a related arrest.
The same agitated and possibly intoxicated man told me that he supports "Guns Save Lives" and our mission. He bolstered his claim not with a GSL or NRA membership card, but with a claim that he and his wife sent off applications for both their Illinois and Florida concealed carry licenses that same Sunday. When I pointed out that one needs an Illinois license to apply for a Florida license, he seemed even more agitated. "I know, because I spent $102 on an Illinois license!" Maybe he got his on sale.
The truth then came into focus. He didn't want us bringing or carrying guns in "his" establishment. They had a bar, which he said the law prohibits them from having guns on premises (it does not if they derive less than half their total income on booze sales), and some gaming machines (only gaming facilities licensed under the Riverboat Gambling Act or "Off-track betting" facilities have a blanket prohibition on CCW).
In short, the man's stature shrunk before my eyes. God bless him for his service in our nation's armed forces, but his bigotry is despicable, not honorable. He droned on as he tried to "educate me" on how "his" licenses were at risk. He wasn't interested in listening, only lecturing. That's why he put up the sign to keep our guns out.
I shouldn't have, but I laughed at the little man. "You should try putting up a legally binding sign then, sir." That just made him madder. First, "it was binding" he claimed of the sign, then came claims that "he knew" it wasn't. He just kept digging.
In the end, he left. We held another great meeting with a near-record attendance. And we wont be back to the Charleston VFW. Not until more sober-minded adults reassert themselves in leadership.
In the meantime, we'll take our guns and our money elsewhere. Granted, we only brought in a few hundred dollars a month into the VFW in rental fees and related business, but that is our hard-earned money. That represents gun owner money.
I didn't find it surprising that one of our members taped one of our "No Guns = No Money" cards to the door under the sign.
Indeed. Kudos to the GSL member who did that. It sums things up nicely.