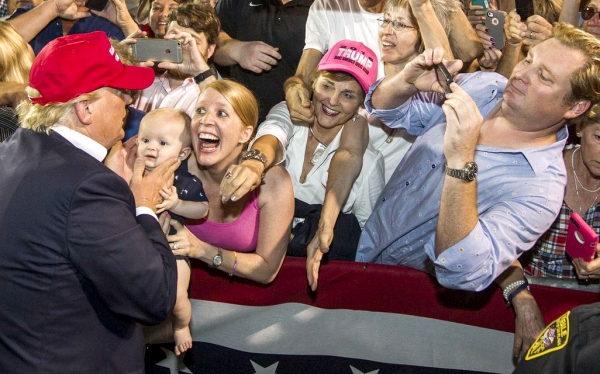 This election obviously carries with it serious ramifications for our gun rights, not only at the top with who we elect as president, but also in Congress and in our state and local governments. Donald Trump has presented himself as strongly pro-gun. Hillary, quite the contrary.  In fact, she's bragged about her F-rating from the NRA as a badge of honor.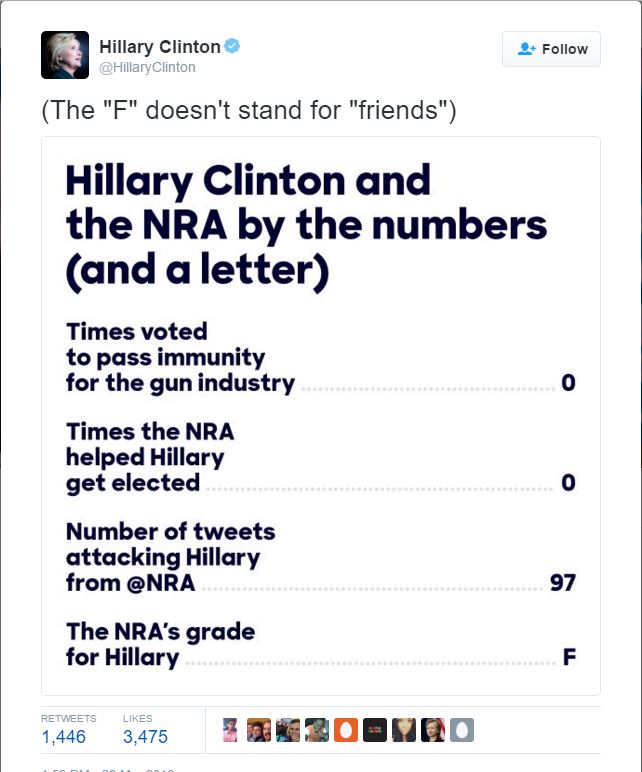 Some of her supporters will try to conceal her anti-gun intentions, just like they did with Barack Obama eight years ago, but The Truth About Guns did a nice job outing her in her own words in "The Trace Traces Clinton's Stance on Guns."
Voter enthusiasm is what elects candidates. When voters get excited, they vote and they tend to motivate their like-minded friends to vote.
The natural state of the electorate is apathy. When there's no charisma and no excitement, people stay home.
Right now, Republicans have exhibited record enthusiasm thus far this election season, while Democrats are showing a remarkable amount of apathy. All in all, it has the makings of a perfect storm for Democrats. If it continues or grows, not only will Hillary Clinton lose her race for the White House, but plenty of her fellow Democrats running for all manner of local, state and national offices will meet the same fate.
Let's look at the voting numbers from the primary elections:
Historically, Democrat turnout in the primaries has pretty much always crushed Republican turnout.
In 2008
22.0 million Republicans voted
38.1 million Democrats voted
In 2012
only 19.2 million Republicans voted
But so far in 2016
31.2 million Republicans voted  (+42% over 2008, +62% over 2012)
30.7 million Democrats voted (-24% over 2008)
Participation by Republicans in primaries exploded this year over the past two cycles, up 42% over 2008 and 62% over 2012. That's while participation by Democrats has fallen, plummeting 24% from ballots cast in 2008. That's an 86% enthusiasm gap thus far this year in voter turnout.
Let's look at the General Election bump:
While this has been anything but a usual year, there's another "given" in studying elections: the general election always turns out lots more voters than the primaries.
In 2008, Democrats saw 74.7% more votes cast for Obama in the general than were cast for all Democrats in the primaries. Republicans that same year saw an increase of 164.6%.
Transposing those 2008 "growth" numbers on this year's primary turnout would yield:
53.6 million votes for Hillary Clinton
82.7 million votes for Donald Trump
Yeah, that'd be a blow-out.
In 2012, the Republican "growth" in votes between from the primaries to the general was 208%, which would correspond to 96 million (!) votes for Trump.
Hillary Clinton has already proven that she can't generate the excitement and enthusiasm that "America's Greatest Gun Salesman" did in 2008. But for argument's sake, let's assume she's able to do so between now and November. For Donald Trump to remain competitive in the general election this fall, he'd only need to achieve a similar 75% growth in the number of general election votes cast over the primaries.
Let's look at the optics shaping up in this campaign:
Let's face it, the majority of Americans aren't as informed as they should be about the candidates in particular, or frankly, the parties in general. Optics play a huge role in many peoples' decision-making.
First off, in this year's presidential race, Donald Trump has been filling huge auditoriums and stadiums with tens of thousands two and three times each day. Here's a shot from his Wilkes-Barre, Pennsylvania stop…where there were 6,000 people who couldn't get in the building.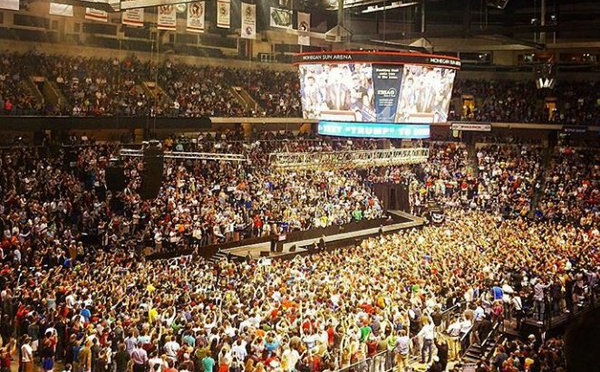 At the same time, Hillary Clinton is struggling to fill high school gymnasiums. This is from West Philadelphia, right next to a city with three-quarters of a million Dems.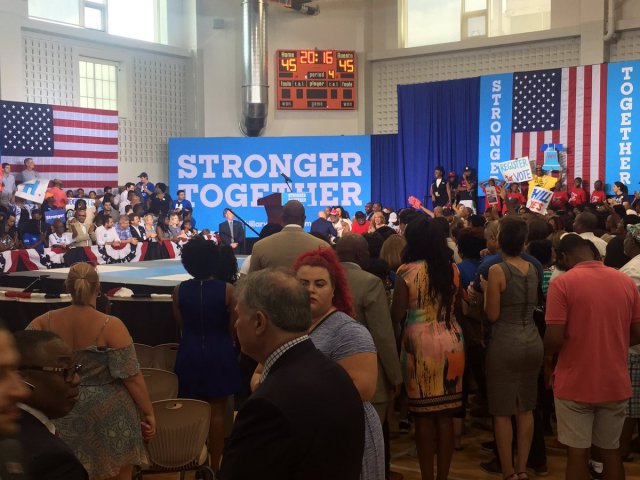 What's more, there's all the talk about Hillary taking weekends off from campaigning to rest up and looking unstable, needing to get up stairs.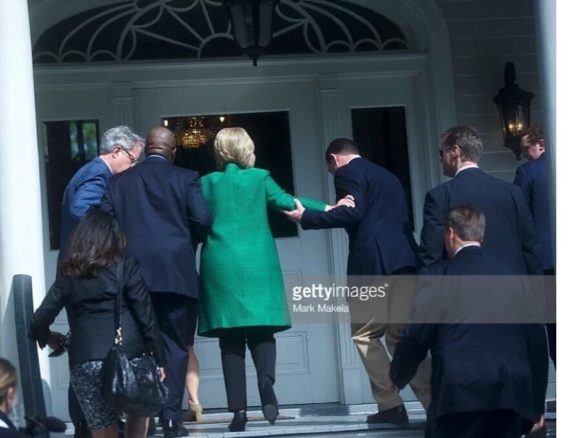 There's also her mental lapses during campaign events. Just in the last week or so, we're seeing more pictures of Hillary looking weak. She's taken to using a stool.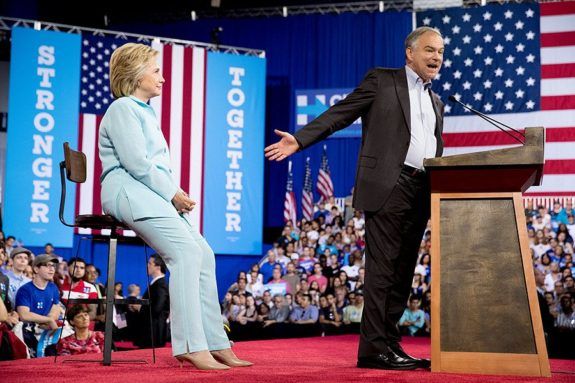 Now people have begun noticing how she's being propped up by pillows (photos via Heat Street):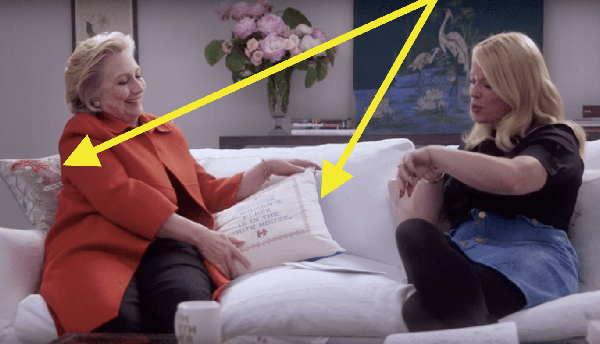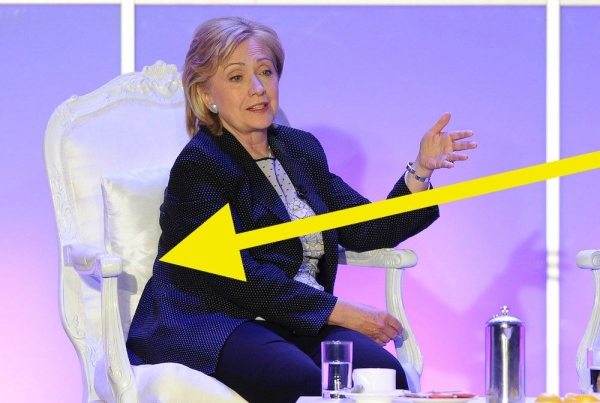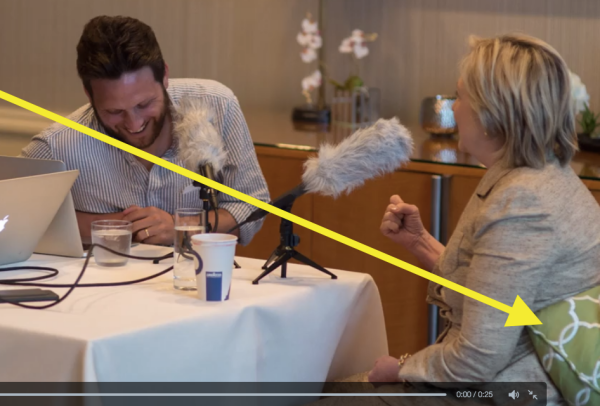 In short, she doesn't exude strength and vitality. Instead she looks visibly weak. As if that wasn't bad enough, now there's news that she's got no public appearances scheduled for the next few days.
Americans can smell weakness and they don't like it. Optics are everything.
Just ask Michael Dukakis.
Or John Kerry.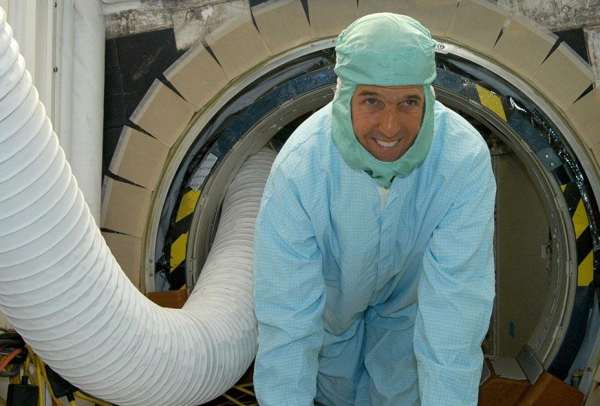 Americans saw these photos and they saw weakness. Weak optics bode poorly for Hillary, and if people aren't excited about her, they are less likely to go vote. That's just more bad news for Democrats, and they've had plenty of bad news already.
The Obama Legacy hasn't been good for them, either. Since his inauguration in January 2009, Democrats have lost:
** 14 Senate seats
** 69 House seats
** 12 governorships
** 910 state legislature seats
If this enthusiasm gap holds or grows, 2016 will not only add to those totals, but do so in big way. While I know some staunchly pro-gun Dems, by and large there's a reason Democrats are known as the party of gun control.
Republicans, on the other hand, are more often than not the party that defends and protects our right to self-defense and our right to keep and bear arms.
Let's work hard to help ensure a big year so our kids and their kids can enjoy the rights we've grown up with.
"But I can't vote for Trump"
Yes, some conservatives and not-so-conservatives are upset that "their guy" in the crowded field didn't get the nomination.
Guess what?  There are millions of people in that other party that are in the same boat.  In fact, without the party insiders known as "super delegates", Hillary likely would have lost for the second time in her bid for the Democratic nomination for president.   It's bad enough she won this year's nomination with fewer votes than in 2008 when she lost to Barack Hussein Obama, but there are plenty of seriously upset peeps who feel badly berned by the whole crooked process.
Whether you were a Kasich fan or a Rubio follower, or Ted Cruz was your guy – the voters have spoken.  Donald Trump is the nominee.
You might need to work through your five steps of grief (or anger?).   You might lose some sleep over it or you might just be a big fan of Donald Trump's no-nonsense, brash presence.
Regardless, either Hillary or Donald will win this race to fundamentally transform America – either finishing the job BHO has begun or rolling back his policies like Ronald Reagan did with the Carter administration's disastrous four years.
Before Obama, many people thought Jimmy Carter's term was the worst presidency in American history.
It can get worse.
If you vote freedom first, you're going to vote for Donald Trump.  A vote for anyone besides TRUMP is a vote for Hillary Clinton.  Ponder that dispassionately before you pull the lever.
The next president will nominate replacements for three to five Supreme Court justices who will shape American life for the next generation or two.
It's your call on the temperament of those justices.  Will they be Antonin Scalia-like protectors of our guns and gun rights or Ruth Ginsburg-like?