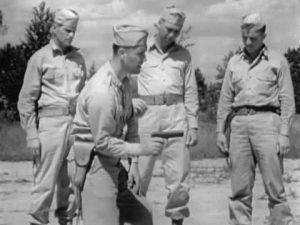 By Mike Keleher
History and firearms buffs have been waiting patiently for two or more years for the actual release dates and possibly more importantly, the prices for the anticipated slake of WWII era surplus .45 ACP pistols by the Civilian Marksmanship Program (CMP).
CMP sales have typically been quite a good value for U.S. military surplus firearms which have been authorized for release to the public. Rifle sales have included M1903 Springfields, 1917 Enfields, M-1 Garands, M-1 Carbines and .22 LR trainer/target rifles.
The CMP can transfer 10,000 pistols this year, but the Secretary of the Army has only allowed 8,000 to be transferred to the CMP for civilian sale.
Well the good news, is they have finally announced the sale date-October 5, 2018. CMP is posting the order form on their website, www.thecmp.org on June 4, 2018. You can download the form and fill it out all you want….just don't mail it in prior to September 4, 2018, as they will just throw your application away. Geez they have a lot of rules! You can't hand deliver, email or fax in order forms either.
The CMP advises they will take in all the order forms after September 4th and on October 5 will run the applicants through a random number generator (for apparent fairness) and then orders will be filled based upon numerical placement on the random generator list. Gee it all seems so random orderly. They did not mention if subsequent entries received after September 4 will be submitted to the random order generator as well, or if they will be first come, first serve. Pure supposition here, is the CMP may be anticipating already having 8,000 entries in hand by the time they officially begin filling the orders.
The bad news, one issue has emerged which may throw serious shade upon the "Good Deal" anticipated for surplus .45 pistols-the announced sale price. The CMP has finally let prices for these guns hit their website, and the word "cheap" or "bargain" does not appear to be associated with this long-awaited sale.
Service Grade-$1050. May exhibit minor pitting and wear. Grips have no cracks.
Field Grade-$950. May have rust, pitting and wear. Grips have no cracks.
Rack Grade-$850. Pistol will have rust, pitting and wear. Grips may be "incomplete", cracked or broken. Rack Grade pistols will require some work to put them into useful condition.
$1050 for an old but serviceable .45 pistol in decent condition? Yeowch. This far exceeds the original sale prices for M-1 Garands and M-1 Carbines in recent years. You can still get a Field Grade Garand for $750 vs $950 for a 1911 pistol via the CMP.
When you compare the CMP prices to modern manufacture 1911's, this public sale now seems more aligned purely with historical or collector sales than with a decent souvenir price for America's old warhorse pistol. Modern designs feature all the best upgrades instituted since WWII and have outstanding metallurgy including stainless steel, vastly improved sights, internal and external safety improvements, redesigned bushings and all new springs-which won't be found on the old CMP surplus guns.
Some MSRP prices on current basic name brand .45 ACP 1911's includes: Remington R1 $679, Springfield Armory $671, Kimber $816 and Ruger $745.
By all means, buy a CMP firearm for your collection and to have, hold, and show off. It is an actual piece of American freedom well worth owning. You can also research serial number history-which adds historical esteem to every military firearm. It is just a bit disappointing to learn only 8,000 of 10,00 guns are being released and the prices have been set so high.