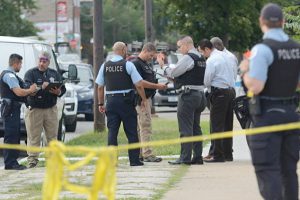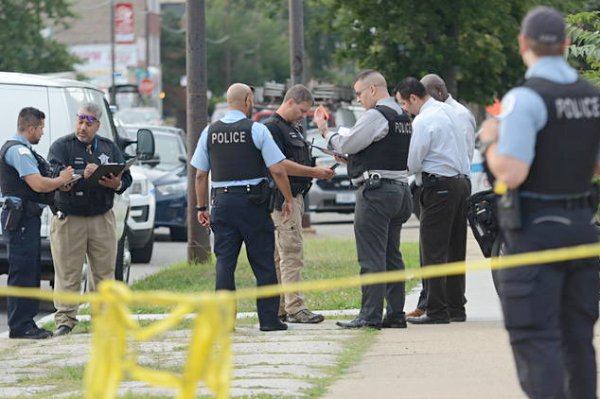 Blog by Mike Keleher
Well the numbers are in, and believe it or not, they are less than last year's Chicago's Annual Year Long Shoot-Fest. Finishing 2017 with 675 homicides and 3,561 shot it is still lower than 2016's 808 homicides and 4,380 shot. 133 fewer murders is welcome news. 675 deaths still remain a horrific number.
By going over the 600-death mark, 2017 surpassed a record broken only twice in the last ten years. 2015 had 510 homicides, 2014 had 464 and 2014 had 455 by comparison.
Some combination of things did drop this past year's total shootings by 819 incidents. Thank you for increased patrols, increased manpower, gang suppression round ups and aggressive indictments Some publicity may have helped as well. People from different public agencies can espouse many reasons why the numbers are lower this year, and the Chicago Police deserve their due. Many projected this year's obvious carnage was going to top last year's numbers. That 2016 number of 808 homicides has only ever been beaten out by the statistics from the old 1990's crack cocaine days with 900+ homicides in a year.
Some new technology also hit the Chicago streets this year which has contributed to an ability to "hear" and locate shots fired. "ShotSpotter" gunshot detectors were brought in to several south and west side CPD districts in 2017. This technology was developed by the military for combat zones, and has made it to the civilian sector in the last decade. The devices actually listen to the noise in the area, records and triangulates possible gunshot locations for police via the shot and echoes. This technology has been noted to be effective in Milwaukee, Washington DC and over 90 other jurisdictions.
It is difficult to give thanks for "only" 3561 people shot, a number which exceed the population of most cities in Illinois, but it is a step down from last year.
Some other interesting facts gathered by the people at www.heyjackass.com showed Chicago Police killed 11 people and wounded 12 in the last year.
Those 11 fatal police shootings received huge media exposure-the 664 thug-on thug deaths do not receive nearly the same attention. Out of the 675 recorded homicides, the Chicago Police only contributed to 1.63% of that total. So much for the public outcry against the police shooting down droves of law abiding poor people in the streets. When will the activists, community organizers and media take up the hue and cry for the other 664 homicides committed by criminals? Police shootings are routinely criticized for being unnecessary or "bad shoots." Yet every gang and thug shooting is illegal and wrong.
Some other interesting but not too surprising year end stats show males are killed at a rate almost 10 times higher than females, and wounded almost 8 times more often than females.
The heyjackass.com people also collected information on the dollars and sense cost of these shootings. They advise the cost to the public and victims are an enormous one hundred ninety-four milliion dollars.
Turns out, thugs rarely have a good insurance plans (gangs rarely provide good coverage or 401(k) plans!) and much of the $194,664,600 Chicago specific shooting treatment gets eaten by the hospitals. "One hundred ninety-four million dollars!" sounds like a Dr Evil line delivered as a world ransom in an Austin Powers movie.
Some additional amazing dollars and cents data shows the average gunshot wound treatment with a hospital/Emergency Room exceeds $55,000. Yes, day in and day out these shootings rack up bills and bodies, they don't take holidays. Christmas weekend in Chicago, the blessed time of good will towards men left 11 dead and 41 shot.
Carjacking in Chicago continued to reach all-time highs this year with 898 completed. There were 663 in 2016 and only 339 in 2015. Yes, the rate of 2017 carjacking is almost three times higher than just two years ago. That is an empowered set of criminals operating almost at will.
In other end of year violence news, Rockford was just announced as a high-ranking city in the FBI's list of most violent cities in America. The FBI statistics are a bit dated, gathered in 2016 and only released at the end of 2017, but Rockford showed up with a solid showing as the fifth highest per capita violent crime rate in America. Way to go Rockford. The most violent was perennial favorite Detroit, followed by St Louis, Memphis and Baltimore. Milwaukee made the Top 10 also showing up as number 8.