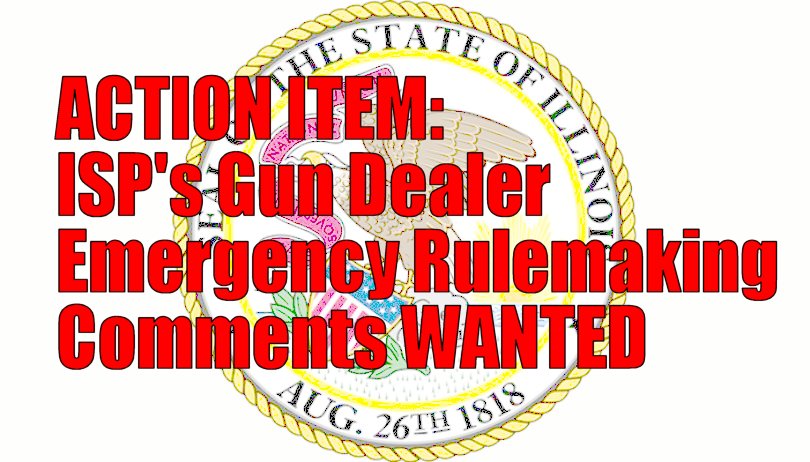 The Joint Committee for Administrative Rules will meet on Tuesday, February 18th.  On the agenda is discussion of the Illinois State Police's Emergency Rulemaking on the Gun Dealer Licensing Act.
Recall that the initial proposed rules submitted by the Illinois State Police were utterly shredded by gun dealers, gun owners and some gun rights orgs in the state. 
In response, the ISP abandoned many of the most onerous provisions of the proposed rulemaking.  However, a couple of seriously problematic areas remain.
We at Guns Save Life urge both licensed gun dealers, as well as gun owners, across Illinois to contact JCAR and urge them to reject some aspects of the ISP's Emergency Rulemaking.  You have until February 18th to submit your comments either by letter or electronic submission.
Guns Save Life will submit an organizational comment in the coming days.
Here is the date, time and place of the meeting.
STRATTON OFFICE BUILDING
ROOM C-1
SPRINGFIELD, ILLINOIS
FEBRUARY 18, 2020
10:30 A.M.
NOTICE: It is the policy of the Committee to allow only representatives of State agencies to testify orally on any rule under consideration at Committee hearings. If members of the public wish to express their views with respect to a proposed rule, they should submit written comments to the Office of the Joint Committee on Administrative Rules at the following address:
Joint Committee on Administrative Rules
700 Stratton Office Building
Springfield, Illinois 62706
217/785-2254 jcar@ilga.gov
While there may be other areas of great concern, here are two that we identified at first read:
1.  Inspections.
Section 1232.50 Inspection of Certified Licensees' Places of Business

a) Certified licensees shall have their places of business available for inspection by ISP and law enforcement agencies assisting ISP during all hours of operation involving the sale, leasing or transfer of firearms, provided that ISP, acting on its own or with an assisting law enforcement agency, may conduct no more than one unannounced inspection per year without good cause. Nothing in this subsection shall be construed to interfere with any federal agency or any federal agency investigation.
That's good.  However, nothing in the emergency rules places limits on announced inspections.  How many "announced" inspections could each dealer face?  What constitutes an announced inspection?  Five days' notice?  Five minutes' notice? 
2.  Requirement that ammunition be stored out of reach of customers.
Section 1232.80 Safe Storage By Certified Licensees

…

7) Keep ammunition stored securely and out of the reach of customers;
Retailers that have large quantities of ammunition or wide varieties of ammunition in terms of calibers and loads will face burdensome remodeling costs in their stores to maintain ammunition out of reach of customers. 
One of the overarching requirements of proposed rules is that they not create an undue burden upon small businesses or small communities.  The requirement for moving – in some cases literally tons of ammunition – to an area where it is out of reach of customers will prove a very cost-intensive burden.  As such the arbitrary rule needs to be struck.
Furthermore, the ISP's rule-making authority is likely exceeded by its micromanaging of where ammunition may be stored in a retail space.