Guns Save Life's new President Steve Davis has been working hard behind the scenes to build stronger bridges between Guns Save Life and the Illinois State Rifle Association. President Davis sees a good relationship between our two organizations as crucial, particularly in light that the anti-gun folks in Illinois haven't given up with the landslide election weeks ago.
Davis has met with the ISRA's E.D. Pearson on a couple of occasions in past weeks, and the two have talked on the phone as well, for lengthy talks about working together. In fact, just last night, Mr. Pearson met over dinner with Mr. Davis and John Boch from GSL.
"It was another good meeting," Steve Davis said on the way home. "We're making real progress moving forward. There will be no daylight between us for the anti-gun groups to exploit."
When asked what he thought of the meeting, GSL's John Boch said, "Great meeting. It couldn't have gone better. Better yet, Mr. Pearson is here tonight to talk directly to our membership!"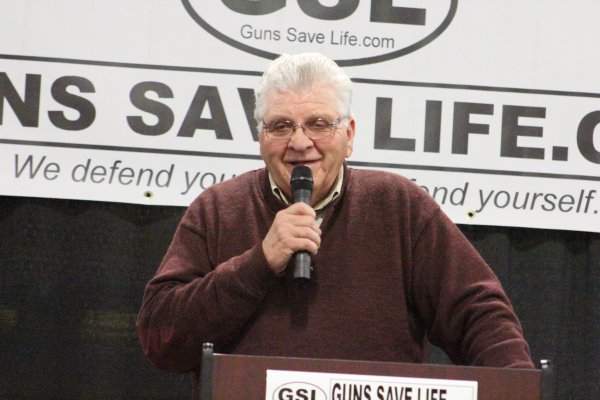 For the first time in many years, the ISRA's chief executive spoke to GSL members, and he gave a very candid assessment of where we are at in the Illinois General Assembly. Mr. Pearson expressed cautious optimism, but echoed earlier remarks that the Democrat Caucus in Illinois has become more radical as a number of moderate, pro-gun Democrats lost this election.
"In essence," John Boch noted, "Democrats in the Illinois Statehouse have become even more radical that before."
The Illinois State Rifle Association is the National Rifle Association's state affiliate in Illinois and has been one of the most active state-level gun rights groups nationwide.