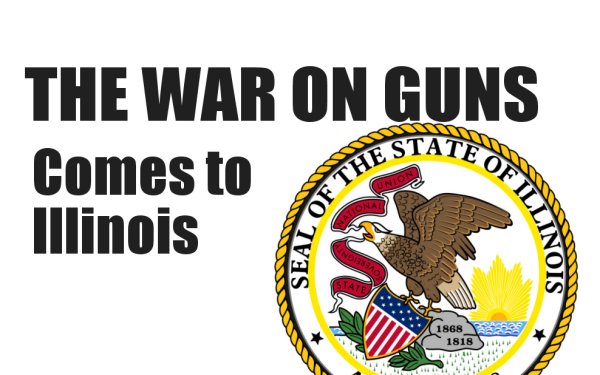 by Todd Vandermyde and John Boch
(I've taken Todd's update and cleaned it up for grammar and added some information.)
Illinois House member and progressive Democrat Marty Moylan hates guns and couldn't care less about gun owners. To Marty Moylan, gun owners are no better then sex offenders.
Earlier this year, the former union "enforcer" wanted to add $75-$100 to the cost of a FOID card renewal. And now, he couldn't even wait until the first funeral in Las Vegas before he pulls a political stunt and introduces House Bill-4107.
His gun control bill serves as a big grab bag of gun control wishes. The following serves as a quick and dirty analysis. In short, it's bad.
HB-4107 contains a broad ban on all semi-automatic rifles that can accept a magazine or shotguns that can hold five plus rounds.
It contains a ban on all magazines over 10 rounds. Should this bill pass, if you have two or more standard capacity magazines, you will spend a minimum of four years in prison. Considering that armed robbers regularly receive probation in Cook County courts, that's something.
4107 bans not only bump-fire stocks, but also all trigger modification parts. Under this bill, your gun with a fluff and buff trigger job would land you in prison for a minimum of four years. Ditto for replacing a spring in your shotgun's action.
In addition, all .50 caliber firearms and .50 caliber ammunition would be banned.
Existing firearms could be registered, at $25 per, with the Illinois State Police. They could not be transferred except to a dealer, an heir or to police. No grandfathering for magazines.
Legislative Chaos
Don't fool yourself and think this bill cannot pass given the breadth of gun control it contains. "Don't be concerned" some say.
Don't seriously and foolishly underestimate the political winds.

We not only face a hostile legislature, but the anti-gunners remain quite butt-hurt over concealed carry. What's more, we have beat back their gun control initiatives repeatedly. Gun control advocates and anti-gun Democrats want a win, and almost feel entitled to pass some sort of gun control to balance the scales for the passage of concealed carry.
Add to this a near-open revolt within the Republican party. The Republican House caucus that appears to be at war with the governor.
First the tax hike passed, then the Chicago school bailout bill passed, and then the Governor signed the taxpayer-funded abortion bill. A good many Republicans are beyond livid with the governor, and it grows with each passing day.
We may become collateral damage of that war.
The prolonged budget debate and tax increase has led to a number of "retirements" from both parties. Our sway with "retiring" legislators is seriously undermined as they no longer have to worry about voters rejecting them at re-election time.
What's more, several retiring legislators are extremely upset that their careers have been short-circuited by a billionaire governor and his friends with threats of well-financed primaries.
Yes, in the past we could count on legislative over-reach to help defeat bills. However, after the Mandalay Bay attack, logic and reason have left the building.
It's even worse:
Gun grabbers have begun working hard to breathe life back into SB-1657, the Illinois Gun Dealer Licensing Act. They reportedly are burning up the phones.
You remember that one – the bill that Springfield Armory and Rock River Arms' lobbying outfit traded away opposition in exchange for an exemption for the two companies. Thanks in part to that treachery by the Illinois Firearms Manufacturers Association, the bill squeaked through the Senate. Fortunately, we held it up in the Illinois House, with the bill's sponsors unable to achieve the 61 votes needed for passage.
We hear how anti-gunners hope to bring both bills up during the upcoming veto session which kicks off October 24th.

While one retiring Republican found himself on the bill as a co-sponsor, when we reached out to him, he indicated that was a mistake and he did not authorize anyone to add him as a co-sponsor of the bill. He will have his name removed as a co-sponsor as early as possible.
Illinois legislators in Vegas during attack
At the time of the Vegas terror attack, the gaming industry held their annual trade meeting. About a dozen legislators from Illinois where in Vegas for this event. These reportedly include Kathleen Willis, the sponsor of SB-1657 (The Gun Dealer Licensing Scheme). No doubt she and perhaps others will regale us with emotional, possibly embellished tales used to try to sell their latest gun ban.

Call and / or write your State Representatives.
Start calling calling about these two bills. Call or write everyday. Have your friends call, and also your neighbors, coworkers and spouses. Ditto for your kids.