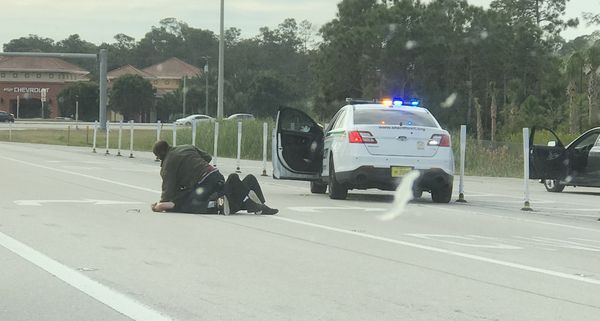 NBC2 has the video from bystanders of a good Samaritan shooting a violent attacker mounted on a Sheriff's Deputy beating him to death.
The good guy's rounds took care of the problem when the bad boy didn't heed warnings to cease his unlawful attack. NBC2's accompanying story:
NBC2 obtained the witness videos from the good Samaritan fatal shooting of Edward Strother, the man who attacked a Lee County deputy near Corkscrew Road.

A single photo of the incident shed light on just how serious it was. Deputy Dean Bardes believed Strother was armed but was pinned to the ground.

The newly released cell phone videos show exactly what witnesses saw that November morning.

The terror can be heard in the voice of those recording while they watched Strother on top of Deputy Bardes. Strother pinned Bardes to the ground after the deputy chased the suspect several miles on I-75. Strother reportedly beat the deputy in the middle of the exit ramp on I-75.

Drivers pulled over to see it unfold, but the man in the blue shirt walked into the scene to stop the attack.

Strother was shot and killed by a civilian, Ashad Russell, a witness to the whole incident with a concealed weapons permit and gun. All three shots hit Strother. Within moments, Russell dropped his weapon and slowly walked away to wait for deputies.
NBC-2.com WBBH News for Fort Myers, Cape Coral & Naples, Florida