The National Rifle Association has a new training program associated with their Carry Guard insurance product. The NRA touts their instructors as former Navy SEALS or other high-speed, low-drag type operators. Of course, the NRA promises "The best carry firearms training on the planet. Period." Not that the NRA has ever been accused of excessive hype, but has the gun rights org created the best firearms training on the planet? Time will tell.
I've been a firearms instructor for twenty years. My fellow instructors and I teach everyday Americans how to safely and effectively use firearms for self-defense. Over the years, we've taught defensive shooting skills to thousands of adults in the civilian world.
My own learning has never stopped. In my time, I've been to a couple of dozen classes from nationally known instructors, recognized by many as the best of the best. Ayoob, Rogers, Farnam and Tarani just to name a few.
I've observed trainers both good and bad over the years. I've worked to lure some of the best ones onto our training team and I've seen some sad excuses for instructors, too. Sadly, some are not only incompetent, but also unscrupulous enough to sign off on fraudulent training certificates.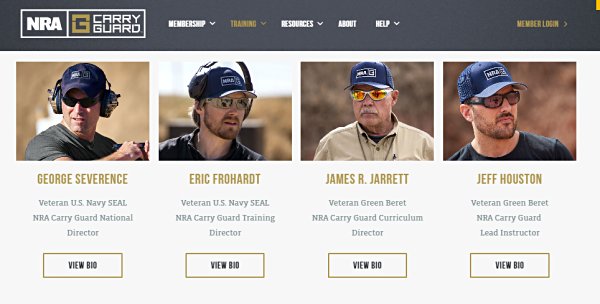 The NRA's Carry Guard classes may indeed be the best firearms training on the planet. I have my doubts, though. The NRA's (or their PR firm's) decision to promote their program as the product of cops and vets is worrying.
Generally, I have nothing but respect for people in law enforcement and military. But what difference does it make whether an instructor learned their skills on the mean streets of Oakland or were "taught downrange" in Iraq or Afghanistan?
Far more important: can the instructor communicate the fundamentals effectively to everyday people, empowering them with the skills they need to avoid becoming a statistic.
Civilian self defense classes aren't about teaching students how to kick in doors to hunt the Crips or the Taliban. We teach civilians the strategies and skills, including firearms proficiency, to avoid victimization in their daily lives. These skills and tactics will give them every advantage if the worst happens and they have to use their gun to protect innocent life.
While SEALs and SWAT cops might be great at killing people and apprehending criminals respectively, that's not what civilians need to learn. We don't go forth each day, sans body armor, radios and the best long-guns and gear available to go after bad guys and gals. Instead, we live our lives looking to avoid trouble.
Track record?
While the NRA has created plenty of hype about the new training program, Carry Guard has zero proven track record of teaching civilians yet. Their instructors have an unspecified number of years teaching civilians self-defense. What's more, legal considerations don't even merit a mention in the Carry Guard course description.
My advice to The People of The Gun: before succumbing to the marketing pitch of this brand new, uber-hyped, super-expensive training program, sit it one out for a while. Read reviews of Carry Guard's training to see if the course merits your time and hard-earned cash.
If Carry Guard training proves itself worthy of the title "best on the planet," word will travel fast. If it turns out to be like the NRA's "blended learning" debacle introduced a couple of years ago, word of that will travel just as fast.
Meanwhile, if you want the very best, I recommend Masaad Ayoob's 40-hour MAG-40 class. To this day, I believe it stands as the best handgun training in the nation for civilians. Ayoob, a former cop, remains one of the best instructors in America. For $800, his four-day class has a thirty-plus year proven track record of excellence.
Ayoob's shooting curriculum and his authorized instructors are among the best. The extensive legal lectures in Ayoob's class set it far apart from any firearm training course I've ever experienced. If, God forbid, the worst happens, Ayoob teaches his students how to manage the aftermath of a deadly force encounter.
Go, get your training and stay safe. You can get your gun education at the Harvard School of Business… or your local community college. While there's no difference in the fundamentals each teach, there's certainly a difference in tuition and travel time to get there.