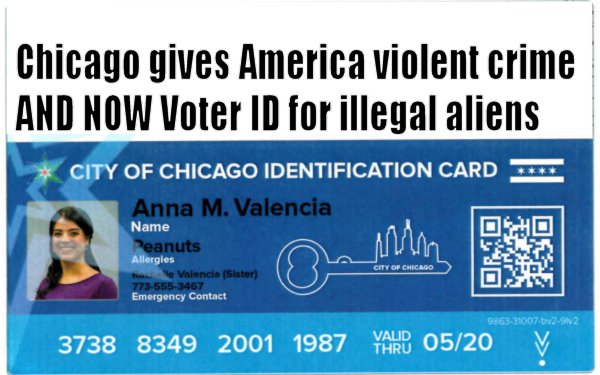 Just when you think the Chicago Democrat Machine can't go any more un-American than their votes to make felons out of Illinois' most law-abiding folks, news comes of the new "CityKey" ID card. Created specifically for illegal aliens, the new card will be recognized as valid voter identification. Really.
Oh, Chicago officials will tell you illegal aliens voting in American elections never happens. Ironic, for a city where that cast almost 15,000 more ballots in 2016 than they had registered voters. Via FoxNews:
The head of the Chicago Republican Party is claiming the city reported thousands more votes cast than voters in the 2016 election — sparking a battle with Chicago officials who call the allegations overblown.

First reported by the Chicago City Wire, the Chicago GOP filed a Freedom of Information Act request with the Chicago Board of Elections in January for a list of voters who had cast ballots in November. According to the party, the board responded with a list of 1,101,178 individuals, though its website reflects 1,115,664 votes cast.
14,486 more votes than registered voters? Ah, don't worry about it. Concerns are overblown.
And now, Chicago officials plan to use the new CityKey ID as a acceptable identification to vote. From the Chicago Tribune:
Municipal ID cards that Mayor Rahm Emanuel is launching for undocumented immigrants and others will be a valid form of identification for people both registering to vote and voting in Chicago, according to a letter aldermen received Friday.

Clerk Anna Valencia, who's heading up the CityKey program, cited state election rules to explain why the Chicago Board of Election Commissioners will accept the card.

"The Illinois Election Code requires the Board of Elections to accept current, valid photo identification cards and other local governmental documentation that includes an individual's name and address, as proof of identity and residency," Valencia's letter reads in part. "The CityKey fits both of these requirements."
Nothing to see here with the CityKey program. Move along, citizen.
Chicago Democrats, working to eliminate gun rights one illegal voter at a time.