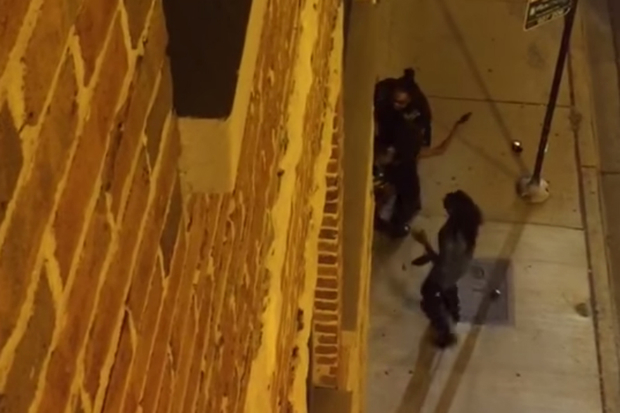 We wrote about Florida having the lowest level of firearm violent crime in that state's history not even two weeks ago:
Florida enjoys high levels of gun ownership, and  nearly 8.2% of that state's population of 19.89 million have some form of concealed carry license.

The Sunshine State simultaneously enjoys that state's lowest recorded level of firearm violent crime.  Ever.

What else does Florida have besides great beaches, lots of sunshine, and lots of good guys carrying guns?

It has a 10-20-Life law when it comes to using a firearm in the commission of a crime.  In a nutshell, this law imposes additional time in prison for those who use a firearm in commission of a crime.
If you produce a firearm in the commission of a felony crime, you get an extra 10-years in prison, minimum.

If you fire your firearm, you get 20-years in prison, minimum, on top of the sentence for whatever felony you were committing.

If you wound or kill someone with a firearm, the minimum sentence is 25-years in prison and the judge may impose Life in prison.

It also has a lesser known provision that felons merely possessing a firearm get an automatic three years in prison, no ifs, ands or buts.
Compared to Florida, Illinois has a relative paucity of concealed carry license holders, beaches, warm sunshine (at least for three months of the year) and no 10-20-Life law.
We do have prosecutors and judges who take a very easy-going approach to charging and sentencing violent criminal actors and we have, particularly in Chicagoland, high levels of firearms violent crime.
Here's yet another example:
A woman in Chicago is in an argument after coming from a nightclub.  She pulls out her pistol and starts shooting at one or more people who she feels has "disrespected" her.
Here's a video of what happened (NSFW with ghetto language.)
She's identified, arrested and guess what?  She's charged with a misdemeanor.
If she had done that in Florida, under the 10-20-Life law, she would be looking at 20 years in prison, minimum.   Add in the charges for actually shooting at someone and she's out of circulation for a generation, protecting the good people of Florida from a repeat of her piss poor decision making.  In Illinois, it's unlikely she'll be out of circulation, much less prison.
Illinois doesn't have a gun problem.
Illinois has a criminal justice problem.
Until and unless we get serious about putting violent predators and monsters misusing unlawfully possessed firearms away in prison for a very long time, we will not see Florida's record low rates of firearm-related violent crime.