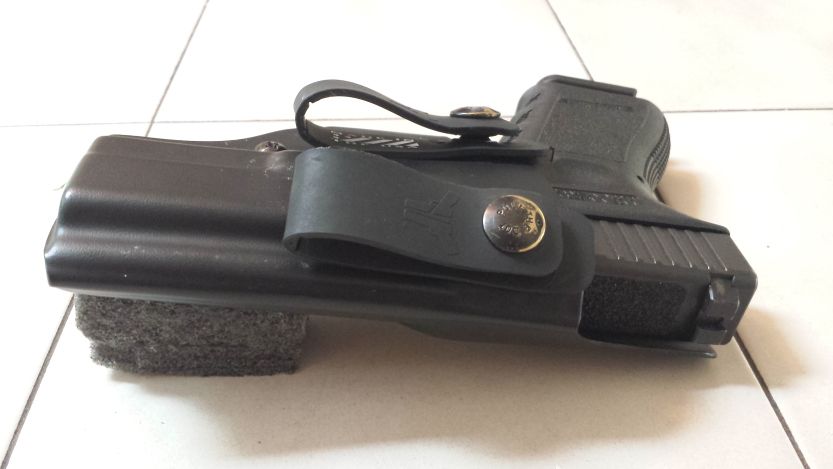 by John Boch
In my line of work as a firearms trainer and "gun guy" for GSL, there's scarcely a week goes by that somebody doesn't ask me what I carry and why.
Well, folks 98 days out of a 100, I've got a Glock bubble-gum dispenser in a Blade-Tech Inside the Waistband (IWB) holster. Most days it's been Blade-Tech's "Nano", but recently it's been the Phantom as well.
The $50ish Nano has proven itself exceptionally comfortable at the 4 o'clock position. Frankly, after carrying it for 18-hours a day, everyday, I'd notice even the slightest pressure points or problem areas. Most of the time I forget I'm wearing it, even when it's against bare skin (commando, cough) on hot summer days. If I were handing out bear paw ratings, this would be a 5-paw product.
The Phantom isn't quite as comfortable, but it provides a little better retention (via two tension screws instead of one) and seems a little more rugged in construction. Priced at under $30 from Midway USA, it's quite a bargain for those looking for a quality rig at an affordable price.
In both holsters, I bought the Glock 17 size and I'll tell you why: You can carry the Glock 17, the Glock 19 (my usual carry gun) or the "Baby" Glock 26 securely, all in the same rig. Yes, there's a little more unused material inside your pants with the smaller guns, but I don't notice it and it gives me the flexibility to scale up or down on bubble-gum dispensation as mood and circumstances warrant without having three times as many ($$$) holsters.
The retention mechanism does a nice job holding all gun models in place so you don't lose your steel in the commode. The the belt snaps hold the holster on your pants so it doesn't fall off and skitter under the naked 70-year-old man – dripping with sweat in all the wrong places – at the health club when you're changing clothes.
All are made of kydex or kydex-like material: the durable, easy-to-clean, gun finish-friendly polymer/plastic. The belt clips are durable material, and adjustable for belt-size and holster cant. Both allow easily gaining the proper firing grip for Position One on the draw and neither collapses when the gun comes out, making re-holstering safe and secure.
The Nano I've carried for about 500 days now did develop a couple of cracks in the kydex material, so I sent a nice email to Blade-Tech asking if they would repair or replace the unit. Frankly, I considered it normal wear and tear. I don't wrestle professionally with my rig on like our GSL Pres does with his, but I've flown, climbed, ran, grappled, napped (oh yeah), slept overnight, rappelled, competed, camped and ridden roller coasters (and even sauntered into improperly posted venues) without any problems.
It literally rides on my belt 24 hours a day as I leave the holster and gun on my pants in case I need to evacuate the house at night on short notice (think house fire or storm).
In response to my query, Blade-Tech's rep emailed me a return shipping label a day later at no charge. About two weeks later, Mr. Christmas (aka my UPS driver) left me new holster. As an added bonus, they also enclosed a copy of the wonderful little booklet from the Armed Citizens Legal Defense Network, "What Every Gun Owner Needs to Know About Self-Defense Law". Sending that booklet is a huge value-added bonus for most folks. (You can download and read it online here.)
Customer service at Blade-Tech gets a solid A-grade as well, going above and beyond in a prompt manner. Even better, unlike my flashlights, I didn't have to send anything half-way across the world on my dime for customer service issues.
I know there are a plethora of carry rigs out there, and I've got more than a few in my gun safe, but the Blade-Tech Nano is easily my favorite and the Phantom comes in second.
Try 'em. You might feel the same.