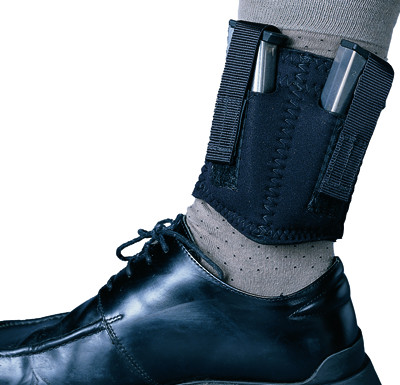 Product Review
DeSantis Gunhide Neoprene Ankle Double Mag Pouch
by "Bear" St. Pierre
If you remember from last month's installment of BEARing All, I am on the search for an ankle rig that I can call a winner. I'm still looking for the perfect ankle rig for my pistol, but I do believe I have found one for my spare magazines!
Enter the $25ish DeSantis Neoprene Double Magazine Holster. I wore this product with two single stack 9mm extended magazines.
Some folks may suggest that ankle carrying spare magazines is overkill. Why on earth would you need to have that many rounds? You should always carry spare magazines, and in my case, sometimes I can't carry on my waist, so having a viable solution to carrying on my ankle is important to me.
For instance, in my time at the gym, the drawstring on my shorts doesn't provide enough support for the weight of the firearm with or without ammo involved. Of course, it's always embarrassing when anything falls out the bottom of your gym shorts, and ankle carry solves that issue for me.
Secondly, if I am carrying a backup gun it would be nice to have some one or more extra magazines. If you have the firearm on one ankle why not have the magazines on the other? As an added bonus, it will help increase your cardio health while walking, improving your fat and calorie burning. You will lose those extra holiday pounds in no time.
What's more, it may be faster and easier to reach your ankles if sitting in an office chair or vehicle.
This holster keeps the moisture off my gear, which in turn keeps my gear from rusting. That's very important! I have had checked inside the magazine after some serious workout sessions and found no moisture coming through. The design was well thought out and the final product was well-crafted!
The nylon retention straps on each pouch can be helpful or a hindrance, depending on the situation. When wearing tall boots, it can become difficult to extract a magazine from the holster. With sneakers, they were relatively easy to access, as long as you don't put the straps too tight. I left them loose enough to allow for extraction, but tight enough where they wouldn't fall out when doing a handstand, or inverted pushups. When wearing boots, I stuck the straps down in the same hole the magazines went down and had no issues.
Finally, I need to boast about the comfort of this holster. Even though I had to test the limitation of the holster on my bear-sized ankle, it was the most comfortable ankle holster I have ever put on, ever. You will forget it is on until you reach down to remove your shoes then you remember, "Oh yeah, I got that on."
This fine holster scores 4.5 Bear Paws out of 5. I would have given a 5 if the straps were removable.
P.S. DeSantis, if you read this review, put the soft side Velcro inside the compartment where the magazine goes. Then add Velcro to both sides of the strap allowing the strap to be removable when necessary, but able to re-connect when needed.