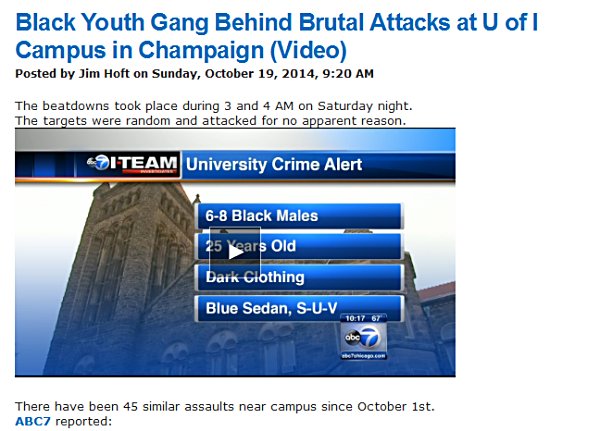 If you needed another reason to get your Illinois concealed carry license and carry your gun – even in areas you perceive as safe, we bring you shocking news from the University of Illinois campus area.
The violence on the campus of Illinois' flagship university is far worse than we imagined when we reported a week ago on a series of attacks by a group of young black males on innocent pedestrians in campustown.
The attacks, which sent several to the hospital for treatment of facial injuries, cuts and other problems, seem to be just the tip of the iceberg as Chicago's ABC7 reported that as of Monday, October 13th, there had been 45 similar assaults since the first of October.
Suspects in the attacks on the UI students are described as six to eight black males, in their mid-twenties, wearing dark clothing.
In the comments section from last week, the mother of one of the victims identified her son as a black male, so it wasn't exclusively white U of I students subjected to a beat-down at the hands of these hoodlums.