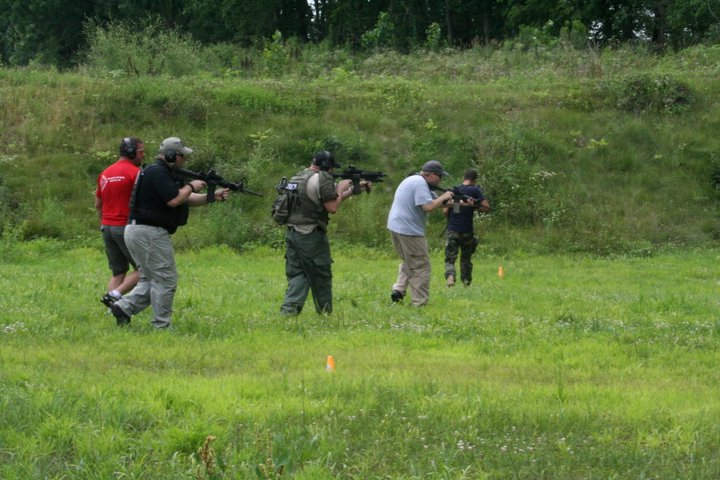 Nick Rabenau, the head of Type A Training Group from the Galesburg area, was arrested Monday on a host of charges, including a dozen counts of forgery, for signing off on Illinois concealed carry training certificates when he was not properly certified as an instructor.
State: Instructor not concealed carry certified
GALESBURG (Register-Mail) — A Galesburg man appeared Tuesday in Knox County Circuit Court on multiple forgery and theft charges for illegally instructing concealed carry firearm classes.
Nicholas J. Rabenau, 36, was arrested Monday on 12 felony counts of forgery — six of which placed him as the perpetrator and six alleging either Rabenau or someone he was legally responsible for committed the act — and three misdemeanor counts of theft. A grand jury indictment was filed in November of last year.
According to court documents, Rabenau knowingly made Illinois State Police Concealed Carry Firearm Training Certificates for at least three people despite the fact he was not certified as a concealed carry instructor.
In addition, he collected $250 payments from a number of people who believed Rabenau to be a certified instructor in exchange for what they believed to be valid certificates.
…Rabenau remains in the Knox County jail on $100,000 bond.
Rabenau first made it onto our radar when last fall, he was interviewed by a local newspaper and had some rather disparaging things to say about NRA instructors.
As Jan. 5 nears, a few steps remain to conceal and carry

(McDonough Voice) – Applications for concealed carry can be submitted to the Illinois State Police on Jan. 5, but local residents can start preparing themselves to apply today.
…"We've ran just over 200 people through in the past three weeks," said Nick Rabenau, director of Type-A Training Group, which has begun instruction in the region. "The type of people that are coming through are people that want concealed carry … they've experienced it before and they want it here."
…Rabenau stresses that the qualifications necessary to receive instructor approval aren't strict enough and suggests people research their instructors.
"Be careful on who you pick as a training provider," Rabenau said. "They opened it up to NRA instructors, which could be you, a school teacher, or a farmer … at the end of a two day course you're an instructor."
Illinois state certified instructor Michael Maddalozzo said that, because the program is new, that people are coming out of the woodwork, handing out fake certificates and overcharging. He, too, stresses only using certified instructors off of the ISP website and to be wary of scams.
Oh, the sweet irony that Rabenau – Mr. High Speed / Low Drag – was arrested on allegations of making fake certificates and scamming students a year later.