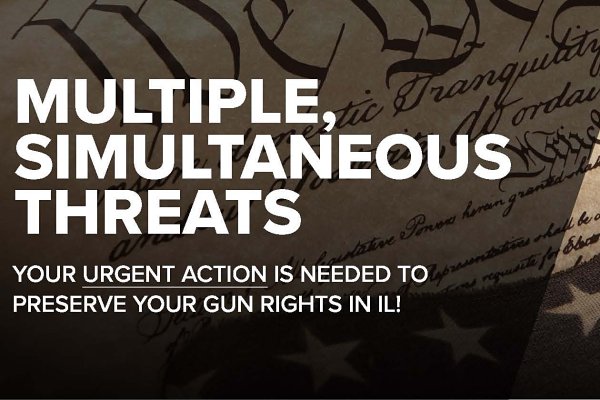 Jim Durkin's offices aren't getting enough phone calls. I managed to reach both his District Office # (630) 325-2028 and his Springfield Office # (217) 782-0494 without catching a busy signal at 10am this morning. We need to call him early and (more) often.
For those who missed it earlier: House Minority Leader Jim Durkin is urging his fellow Republicans to support the bill to ban magazines (HB-1469). Yes, Jim Durkin wants to send you to prison for 7 to 14 years for your Glock 17 magazines. Or your AR magazines. 7 to 14 years in prison!
And he's urging his fellow Republicans to vote for the bill – known as the "Bauer" Act – as well. From the Sun-Times:
Sneed also hears House Republican Leader Jim Durkin is encouraging Republican members to support the Bauer Act.
"Leader" Jim Durkin needs to hear from gun owners. Call his office Monday morning. And again Tuesday, as the magazine ban bill may "be ready for a vote" as soon as Tuesday. Tell the person answering that you are opposed to all of these gun control bills. Tell them you're opposed to the magazine ban and how you would urge Mister Jim Durkin to urge the same with his fellow Republican caucus.
ALSO:
CALL YOUR ILLINOIS STATE REPRESENTATIVE TO VOTE ?NO? ON THE FOLLOWING BILLS WHICH COULD BE VOTED ON NEXT WEEK (MARCH 6 OR MARCH 7):
HB 1469: Bans the sale, purchase, transfer or possession of any gun magazine over 10 rounds and use of body armor (applies to all gun owners; even retired law enforcement or military veterans).
HB 772: Creates the Lethal Order of Protection Act to allow family members to petition the courts to have citizens be labeled a "danger to themselves or others" just for owning a gun. HB 772 would cause the surrender of your FOID card, CCL and firearms without notice or due process. AND you will bear the costs of fighting to restore your FOID/CCL, both legal and for psych evaluations.
CALL YOUR ILLINOIS STATE SENATOR AND URGE OPPOSITION AND TO VOTE "NO" TO THE FOLLOWING BILLS TO BE VOTED ON IN TWO WEEKS (MARCH 13 OR MARCH 14):
HB 1465: increases age to purchase or possess rifles to 21.
HB 146: bans sale, purchase, transfer or possession of bump stocks and trigger cranks.
HB 1468: increases waiting period on rifles to 72 hours.
SB 2314: Grants municipalities authority to regulate possession and ownership of assault weapons (takes it away from State of Illinois).
SB 3297: Bans the transfer of a modern sporting rifle, .50 caliber firearm, and large capacity magazines of more than 10 rounds.
SB 3298: Requires local law enforcement agency to approve conceal carry licenses (in addition to IL State Police).
CALL AND WRITE GOVERNOR RAUNER TO VETO SB 1657 AND HB 1273 THAT WOULD ADD BURDENSOME REGULATIONS TO ILLINOIS GUN DEALERS BY REQUIRING A STATE LICENSE
Here is a nice, printable brochure to share with folks.