With the fall from grace of a host of high-profile Democrats like reprobate Al "Groper" Franken, pervert Anthony Weiner, and Democrat mega-donor Harvey Weinstein, you would think Democrats would wash their hands of candidates who abuse women in private while pretending to support "women's issues" in public. You would think. But no, not in Illinois.
Convicted wife-beater Tio Hardiman wants the nod from Prairie State Democrats to run in the general election to replace Governor Bruce Rauner. On his campaign website, he's got "Women's Rights" right there front and center. Pretty big words for a guy who caught his first arrest for beating his wife in 1999. That's right, cops hooked up Tio Hardiman for beating his first wife in 1999. At the time, his then-wife said he punched her and threw her to the ground, telling her, "When I get finished with you, nobody's gonna want you!"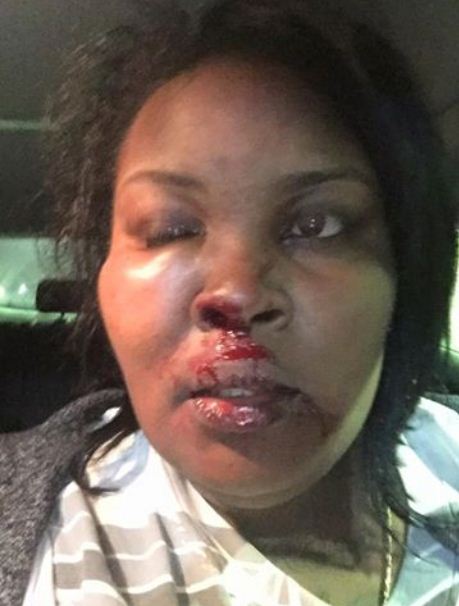 Nice guy right? He pleaded guilty in court and a judge gave him court supervision for one year and afterwards, no conviction was entered into the court system. But try to buy a gun with that conviction that "wasn't entered" into legal files and that'll cost you a federal felony. That's right: Tio Hardiman, the long-time, paid professional gun control activist, became a prohibited person when it comes to gun ownership after his guilty plea for beating his then-wife (not pictured above) that later wasn't entered into court records.
But wait! That's not all. Hardiman somehow wormed his way into the executive director of CeaseFire, a state-funded anti-gun organization that basically paid felons to behave and mediate gang disputes before they become homicides.
Of course, felons are gonna felon.
Exhibit A: A 46-year-old Ceasefire employee who was molesting a teen girl, raping her dozens of times when he was supposed to be "interrupting" crime.
(Chicago Sun-Times) – On the streets, Richard Hernandez was supposed to stop violence as an "interrupter" in the celebrated CeaseFire program.

But Chicago cops have another name for him: rapist.

Hernandez faces 36 counts charging him with sexually assaulting and kidnapping a teenage girl while he worked for the program, the Chicago Sun-Times has learned. He's among at least nine employees of the anti-violence program to face serious criminal charges in recent years.

Hernandez, 46, started as a temporary worker in December 2010 before becoming a $16-an-hour "violence interrupter" in May 2013, records show. The program is affiliated with the University of Illinois at Chicago.

On April 16, 2012, he allegedly took a 17-year-old girl to a White Sox game and plied her with alcohol. Afterward, he allegedly sexually assaulted her in a junkyard. The assaults continued through August 2013, prosecutors said.
Exhibit B: But cops also "interrupt" crime… even right outside CeaseFire's headquarters(!)… as happened to this model Ceasefire employee from the same story:
Police have long been suspicious about whether CeaseFire provides a cover for employees to commit crimes. They point to CeaseFire worker Sylvester Hudson, who was charged last year with selling heroin to a federal informant outside CeaseFire's headquarters at UIC.
And wifebeaters are gonna (allegedly) wifebeat. Fast forward to June 2013, from the Chicago Tribune:
June 01, 2013|By Jeremy Gorner and Joseph Ruzich, Chicago Tribune

Tio Hardiman, director of the anti-violence group CeaseFire Illinois, was arrested Friday morning on a misdemeanor domestic battery charge at his home in west suburban Hillside.

The arrest clouds the future of Hardiman's leadership at the organization, where he pioneered the role of "violence interrupters," ex-convicts who mediate gang conflicts and prevent gun violence in some of Chicago's most crime-plagued neighborhoods.

…Hardiman's wife came to the Hillside police station about 8 a.m. Friday with "signs of injury" and filed a formal complaint against him, according to police Chief Joseph Lukaszek. Hardiman, 50, was taken into custody an hour later.
In the same story, Dr. Gary Slutkin, founder of "CeaseFire" said that his group has "zero tolerance" for "anyone with domestic-related charges, or crimes against women or children, currently or in their background."
In a statement, CeaseFire's founder, Dr. Gary Slutkin, discussed the seriousness of the allegations against Hardiman, saying, "As a matter of established policy, CeaseFire and the University of Illinois have zero tolerance for anyone with domestic-related charges, or crimes against women or children, currently or in their background."
Really? How is it that you hired a man arrested for wife-beating and then pled guilty to wife-beating as director of the Chicago chapter, Gary? Oh, that's right. Upon completion of court supervision, no record of conviction was entered. Right-oh. Carry on.
Within a day after news broke of Hardiman's 2013 wife-beating arrest, the CeaseFire people dismissed him from his long-time gig as CeaseFire's Illinois director.
Not long after, in a petition for an order of protection later granted by the judge, Hardiman's wife Alison claimed she was "beaten like an animal". From DNA Info.
CHICAGO — Ousted CeaseFire Illinois director Tio Hardiman beat his wife "like an animal", her attorney said Tuesday.

Alison Hardiman was granted a criminal order of protection Tuesday from her husband, who was put on leave from his position at the anti-violence organization.

Tio Hardiman was arrested last week on a domestic battery charge in west suburban Hillside.

Hardiman said outside the hearing Tuesday that he "did not touch" his wife. He was released on $20,000 bond from jail Sunday.
Mmm hmmm. It's all just a big misunderstanding.
"I think my wife's lawyer is a sinister individual because [he's] trying to pump hatred into my wife, and my wife knows that I love her," Hardiman said. "I'm not a violent guy."

Alison Hardiman's attorney, Ferdinand Serpe, said she was "pummeled," and that she "is in fear that anything may happen."
A couple of months later, after his second wife filed for divorce, she appeared before the court asking that the charges be dropped. Given how she suddenly became an uncooperative complainant, a judge acceded to her wishes and dismissed the case. From WGN Channel 9:
Prosecutors dropped the domestic battery case against Tio Hardiman after his wife said she no longer wanted to press charges Tuesday.

…In May, Hardiman was arrested at his Hillside home and charged with misdemeanor domestic battery. At the time, an attorney for Hardiman's wife alleged Tio had beat his wife "like an animal."

Hardiman lost his high-profile job at Ceasefire. He says he is still angry about his firing, but is open to continuing his work with the organization.

"I need people to know, I'm not a hypocrite. I'm not a guy that's preaching peace in the daytime and then at night I'm doing something contrary," said Hardiman
Yeah, sure, Tio. And Harvey Weinstein is a nice guy who loves to support women too. Here he is at the Women's March on January 21st.