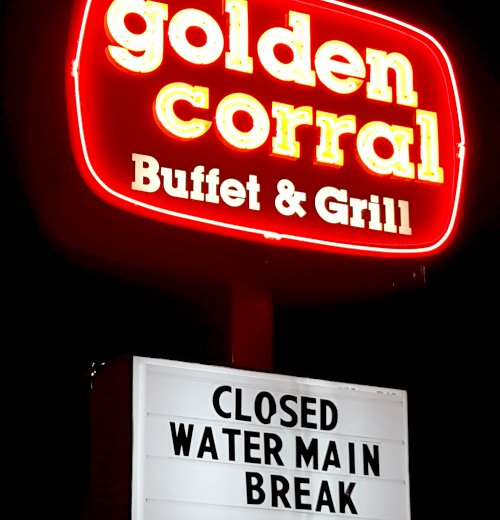 For only about the third time in 25 years, Guns Save Life cancelled a meeting at the last minute. This time, at the January 2018 GSL Peoria meeting, our host site closed because of a water main break. The parking lot had a lot of ice on it and disaster remediation people worked inside to dry the place out. It looked as though their sprinkler system in the attic froze up and a pipe burst. Stuff like that happens with a week or more of sub-zero temperatures. Thursday evening proved no exception as temperatures struggled to the positive side of zero.
We often fly by the seat of our pants, so Alan and Wanda Schoch suggested we try an informal meeting at the nearby Pizza Ranch.
The good people at Golden Corral posted a sign that we cancelled the meeting, but were headed to Pizza Ranch for some food and fellowship. Close to 50 still showed up and ate, giving the Ranch a big boost for an otherwise typical Thursday night. Most shared fellowship until we could have their meeting room at 7pm. At that point, over forty remained, crowding into a smallish room until it was standing room only (for Mr. St. Pierre).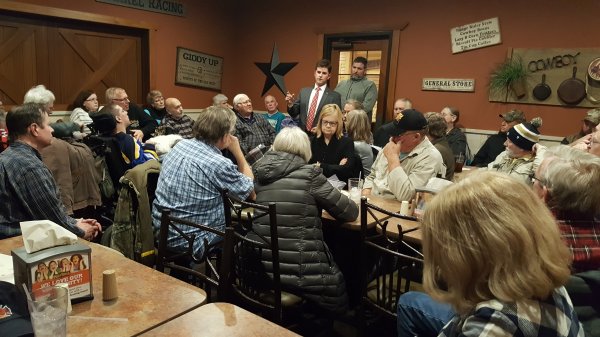 In even better news, our planned main speaker, State Rep. Ryan Spain showed up at the alternate location. "I don't think I've ever had a crowd of over 40 at a cancelled meeting before!" he said as he took the floor. The rep delivered a great presentation not on why to vote for him, but on the importance of remaining engaged with your state elected officials – even if you know they are on your side.
More on this in GunNews, but Rep. Spain did a great job explaining the importance of remaining vigilant and active, much as Guns Save Life members have a reputation for doing.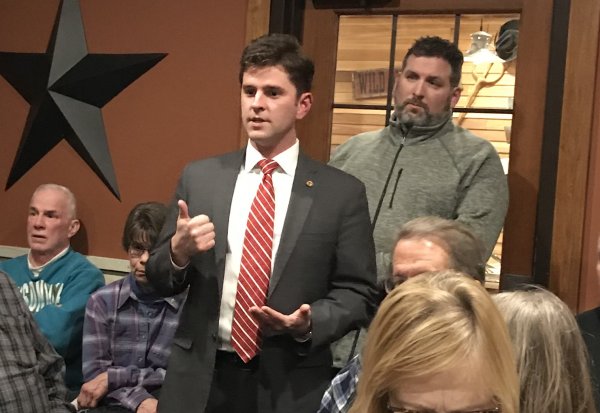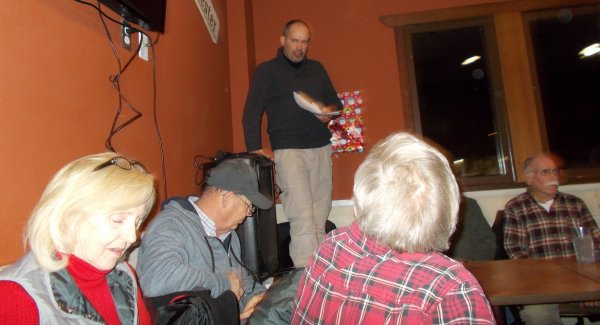 Also, GSL's Executive Director delivered the latest in news and information, almost all of it good, except for residents of (and visitors to) the crime-plagued City of Chicago.
When any organization can get over 40 of its people together for a cancelled meeting – especially in zero degree weather – it shows its strength… GSL members are some of the finest people out there, and they make GSL the formidible force it has become in gun rights politics in Illinois.