Officers
Steve Davis, President
Adrienne Logue, Vice President
Stacey Sweeney, Treasurer
Lois Morton, Secretary
Eric "Bear" St. Pierre, Immediate Past President
Executive Staff
John Boch, Executive Director

Eric St. Pierre is more commonly known by his nickname Bear. If you've ever stood next to him you'll understand why!
Bear first came to know about Guns Save Life when he was invited to a meeting in 2011. He was elected President of Guns Save Life, Inc. in 2014 following John Boch. He knew he had big shoes to fill but felt that he was up to the task.
Bear is the youngest president in GSL history, but you wouldn't know it by his list of accomplishments.
When he was asked how he has accomplished so much in such a short amount of time he said, "I've been blessed by God. He has put so many opportunities in front of me, and I have always made myself available to step out in faith, letting Him lead my steps."
Bear's leadership development began the same time as his first experience with firearms. He began developing both while in Cub Scouts and continued as he went through the scouting program, eventually earning the rank of Eagle Scout in 1996. It was during this time that Bear developed his passion for the outdoors including hunting, fishing, and conservation.
It is because of this passion he was led to begin Cross Trail Outfitters of Illinois. CTO is a ministry that Bear founded in the state of Illinois in 2010. He developed a solid foundation for this ministry that continues to grow today. CTO is a big part of Bear's life, and not only does he serve as the State Director for CTO in IL, he also serves as the COO at the national level.
It was CTO's cornerstones: Building Men, Preserving our Heritage, and Sharing our Faith, that drew Bear to Cross Trail Outfitters. He saw Building Men as an opportunity to develop leaders and teach personal responsibility to a generation whose idea of manhood has been hijacked by the media and lack of attentive fathers. Preserving our Heritage he saw as an opportunity to share not only outdoor heritage, but the heritage of our founding fathers and the documents that our country was built on. Bear cherishes helping all he comes in contact with to understand the original intent of the founding fathers. Sharing our Faith in Jesus and helping answer some of life's great questions through Scripture is an important part of Bear's life, which is why he appreciated seeing these values reflected in CTO as well.
It was because of these principles that Bear was also drawn to Guns Save Life. Bear believes the reason some people have a problem with guns is because of a lack of understanding of how guns truly work. It is this lack of knowledge that breeds fear. He believes that the best way to continue to win the debate over guns is to teach those who have no experience with guns how to properly use firearms. Once ignorance has been erased, one will see the fear of guns begin to melt away which will allow many previous dissenters to become avid gun owners themselves. These people will especially benefit when shown all the fun and safe activities there are within shooting sports.
Even outside of CTO, Bear has been sought after to help develop leaders in business, ministry, and athletics. It was during his time with World Wide Dream Builders he was given the opportunity to exchange ideas with leadership guru John C. Maxwell. Maxwell told Bear that he not only looked to him as a mentor but as a friend.
Bear continues leadership development to this day both in CTO and also through working with John Wright at Greyfield Legacies in St Joseph, IL. There he works with industry leaders and athletes, both collegiate and professional.
Bear was asked how he balances all of these responsibilities, "I see all of my roles working together as one. To me it is all one and the same calling I have in my life. God has put these opportunities before me to impact the lives of others. Whether I am doing that while wearing a CTO hat, a GSL hat, a ZERO1 hat, or even a Greyfield hat, I'm helping people come to the understanding of truth. Sometimes that truth is guiding them to Jesus, sometimes that truth is sharing with them about personal responsibility and self-defense, and sometimes that truth is helping them chase their dreams and realize how they can reach their unlived life by overcoming the river of resistance. All in all it's about how I can encourage and equip people to be the best God has called them to be."
Bear graduated in 2001 from Trinity Christian College where he double majored in Theology and Christian Education with a minor in Music. He was ordained Reverend Eric G. St. Pierre in 2013 through Windsor Road Christian Church in Champaign, IL.
Finally, Bear has been an American professional wrestler for over eighteen years. He is currently under contract with international promotion ZERO1 Pro Wrestling. If you ever want to see him compete, find ZERO1 Pro Wrestling USA on the web and come to an event!
When asked to leave a scripture about how Jesus felt about self-defense, Bear gave Luke 22:36 "…And let the one who has no sword sell his cloak and buy one." – that's from Jesus' mouth – and that's a fact Jack!
Adrienne Logue, Vice President
Stacey Sweeney, Treasurer
.
Top
Eric "Bear" St. Pierre, Immediate Past President.
Executive Staff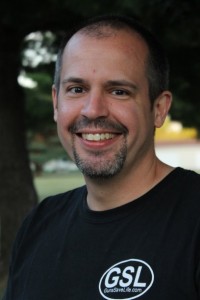 John Boch, Executive Director
A few years after graduating the University of Illinois, John found a tiny, local group of gun owners who met monthly in the basement of a restaurant in Urbana. They met as the predecessor organization to the predecessor organization that later became Guns Save Life.
Among those people there were some incredibly talented shooters and instructors who learned more about John's passion for shooting and nurtured him into becoming a personal protection instructor, among them another long-time NRA and IDNR instructor (and local attorney) Paul Vallandigham. John did so in 1997ish, and began holding NRA Personal Protection classes right away – back when NRA Personal Protection was basically the NRA Basic Pistol class plus self-defense tactics and legal considerations that were John's passion. Soon, he and similarly interested John Naese settled into Darnall's Gun Works and Ranges in Bloomington and both continued to learn and grow as instructors, sharing their passion with hundreds of students in those early years.
As a firearms instructor, he's helped instruct thousands of adults and kids over the years as an NRA-certified Rifle, Pistol and Personal Protection in the Home instructor, a US Rifleman's Association Rifle and Pistol instructor, an Appleseed instructor-in-training and a Live Free USA survival instructor.
If you hadn't guessed, he's married to guns, but not only as an instructor, but also as a gun rights activist and a student of the gun.
John served as vice-president for over a dozen years before taking them helm as president in 2010. The non-profit saw membership grew over 300% during his two terms at the helm. Also in that time, GSL expanded from one meeting location each month to four, and enjoyed numerous national and even international news splashes. Accepted a position as GSL's Executive Director in 2015 with the goal of continuing growth of GSL and promoting gun rights for all Illinoisans.
His training began with Massad Ayoob's Lethal Force Institute, the 40-hour "Holy Grail" of national firearms classes, which teaches not only advance defensive pistolcraft, but legal considerations of using deadly force. Paul Vallandigham, an LFI-grad and adjunct legal instructor, raved over the class and told John to take it. John did and shot a 299/300 on the qualification, meriting only #3 in a class filled with outstanding shooters. Since then, he's been to almost two dozen other schools and classes.
He's also the published author of hundreds of articles on self-defense strategies, firearms use, defensive mindset and product reviews. He's also (legally) carried a gun everyday – as a civilian in Illinois – since the late 1990s.
John also serves as editor emeritus of GunNews Magazine, Guns Save Life's monthly journal with a circulation of roughly 20,000+ copies.
He's also married to Wendy (Lund) Boch, a delightful woman who could do better.
He's also got the reputation for being a terrible boat driver, tragically losing most of his guns and ammo in a series of boating accidents, including boats lost in the Gulf of Mexico, Lake Michigan and most recently, Lake Bloomington.
Directors